May 22, 2015
How My Parents Showed Me I'd Be OK in the Dark if I Lost All My Vision
---
When I was in preschool, my dad came home from work one night, walked downstairs to the corner bedroom the four of us (my parents, my brother and me) shared and stood me directly behind him, facing the door.
He told me, "We're going to play a game to see how well you can copy me. When I walk, you walk and when I stop you stop." He took me all over the house, and when we made it back to the room, we repeated the game. At the time, I thought it was fun, and I really wanted to impress my pops as all daddy's girls hope to do.
It wasn't until about 24 years later, when I was just starting out in my current position at work, that I asked Dad about it. He paused for a few seconds and told me the reason we did that was because at the time, my eye doctors didn't know if I'd keep or lose my useable vision. He wanted me to be prepared for being left in the dark.
As I sit here remembering all the amazing things my parents, brother and baby sister did to make me the person I am today, it gives me goose bumps. My parents weren't experts in children with special needs. At the time, neither of them had even finished college. They didn't read books or go to seminars; they just adapted as needed.
I remember that over several hot evenings one summer, my mom taught me how to jump rope by having the neighborhood girls swing the rope while she put my hands on her hips so I could feel when it was time to jump. She would say, "Listen to the rope," and that's how I learned.
When I was a little older, my dad built me this awesome light box to enhance the things I was able to see. My brother Jon and I promptly took it apart because we needed the lightbulb from it. Incidentally, I got splinters in my fingers from the wood, and we both got in trouble. More important — we got our lightbulb.
When our sister came along, Jon and I were 13 and 12 respectively. We were instantly enamored with our doll baby. He taught her how to dance; I taught her numbers and letters. I'd like to take the time to tell you that my teaching her these things wasn't an effort to create a tiny genius… I just needed her to be able to spell out the directions on the side of the Hamburger Helper boxes so we could allude starvation while our parents worked late nights.
All of these little moments I took for granted were actually pretty extraordinary. Even now, I'll whip out a skill and when asked how I know how to do it, I can almost always pinpoint how my parents used games or stories to show me. When I'm asked if we had adaptive equipment or physical therapists come over, I can honestly say no; my family just helped me figure it out. 
Tonight will be a late night for me. I'm going to class after work. It'll be dark when I get back home, and I'll walk into my cozy kitchen, put my stuff down, get ready for bed and turn on the light I leave on every night (as an afterthought).
Because I do just fine in the dark.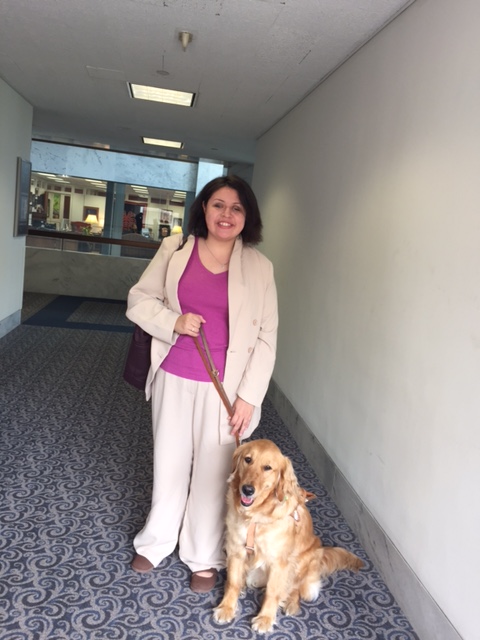 The Mighty is asking its readers the following: Share with us the moment, if you've had it, where you knew everything was going to be OK. If you'd like to participate, please send a blog post to [email protected] Please include a photo for the piece, a photo of yourself and 1-2 sentence bio.
Want to end the stigma around disability? Like us on Facebook.
And sign up for what we hope will be your favorite thing to read at night.