June 8, 2015
My Best Friend and I Are Both Blind. This Is What I See in Her Eyes.
---
My best friend, Caitlin's, eyes are among the precious few I've seen, although I haven't seen them in any conventional way. I didn't gaze into them during heart-to-hearts when we met in person back in 2009 after five years of long-distance friendship. Instead, the first time I saw them was nine years ago, in a picture of her snuggling her first guide dog, Lannie. I'd blown the image up on my ancient 19-inch Phillips monitor and pressed my nose to the screen as I strained to make out details through my right periphery.
Caitlin had a serious case of red eye in that photo. It almost looked kind of eerie. The camera flash, refracted through the vitreous humor in her eyes, bounced off of her weakened retinas and made her pupils and irises look almost like red marbles. I laughed. Somehow Caitlin managed to even make red eye look cool. My own cases of red eye always show up splotchy. Although I didn't see the brown hue of Caitlin's irises, I noticed the shape of her eyes. They were large, open, somewhat slanted and had a laughing look about them. How I understood that expression despite being visually impaired myself — how I was able to see that Caitlin's smile met her eyes — I'll never know.
The second time I saw Caitlin's eyes was when she sent me an obligatory junior prom picture. She looked truly stunning, standing in front of a tree in her simple blue dress with that familiar, pearly smile stretched across her face. With my own cheek glued to the same monitor, I enlarged the photo to its full size and honed in on her eyes. No red eye this time — her friend's mom had a fantastic camera — and I finally saw the wonderful, warm shade of brown.
I can't tell you what it looks like when people have a twinkle in their eyes, or what it looks like when two people love each other deeply. But what I can tell you is, although it may have been a trick of the light, I saw warmth in the depths of her eyes — warmth and light — and that same, smiling shape about their edges. That image is still branded in my mind's eye eight years later.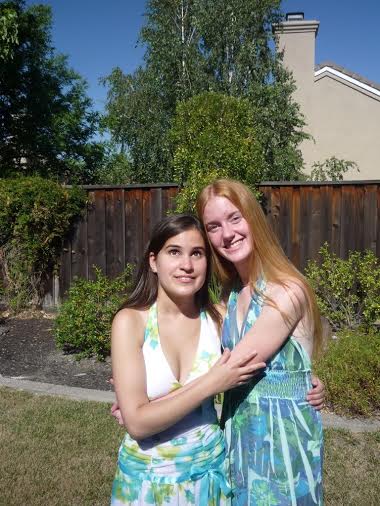 Caitlin was born with only light perception, and she's always seemed set in her identity as a blind person. If she's ever lacking in confidence, it almost never shows.
For me, despite the fact that my degenerative eye condition is also congenital — and although I've been blessed with a built-in support network of family, about half of whom are blind — I haven't always been secure in my identity as a person with a disability.
As Caitlin confides in me about problems with her eyes, I reflect on how far I've come thanks to the countless hours she's spent reading letters about my various shocks of vision loss, how terrifying it felt when my vision would fluctuate from one day to another and how uncertain it was when I'd lose my vision completely. Years later, although I wouldn't say being blind is a walk in the park, I'm far more secure about who I am, and I even consider my blindness to be a positive aspect of my identity. Now, even though I can't really fix what's causing Caitlin pain, I get to support her the way she supported me.
There's scarring on Caitlin's right eye now, left by a few nasty cases of keratoconus. People are always asking about it, she says. She worries it's prominent — that it's among the first things others notice about her appearance — and she despairs her inability to look in a mirror and ascertain how bad it is or isn't.
I want to cup her cheek in my palm. I want to show her hand over hand the residual scars on my left leg from my near-fatal rail platform accident last summer. But we're 1,700 miles apart, and I know it's not the same. Our legs convey us forward, but our faces are in the foreground. I want to knock some sense into people for barging into Caitlin's business, because even though they're genuinely concerned, they ask questions before considering how they might make her feel. And perhaps most of all, I wish I could see her now so I can tell her it's not so bad. I know it can't be. It's just different than what people are used to seeing when they look into her face which, mind you, is still most often smiling.
And her eyes still shine. Both of them. They shine with an outer beauty and the joy dancing behind them. No scar can blot out that light. And I may be seeing this with love, but that doesn't make it any less true. My eyes, though feeble, have seen enough.
The Mighty is asking its readers the following: Describe a time you saw your disability, illness and/or disease through the eyes of someone else. If you'd like to participate, please send a blog post to [email protected]. Please include a photo for the piece, a photo of yourself and 1-2 sentence bio. Check out our "Share Your Story" page for more about our submission guidelines.
Want to help celebrate the human spirit? Like us on Facebook.
And sign up for what we hope will be your favorite thing to read at night.