July 27, 2015
To the First Stranger Who Didn't Reject My Son With Special Needs
---
Dear Sir,
I'm sure you don't remember us, but we certainly remember you.
You most likely began your day expecting it would be just another day at work, one which might not contain any moments of great importance. 
I'm sure when you first saw us enter your building, you had no idea I was already dreading the next few minutes.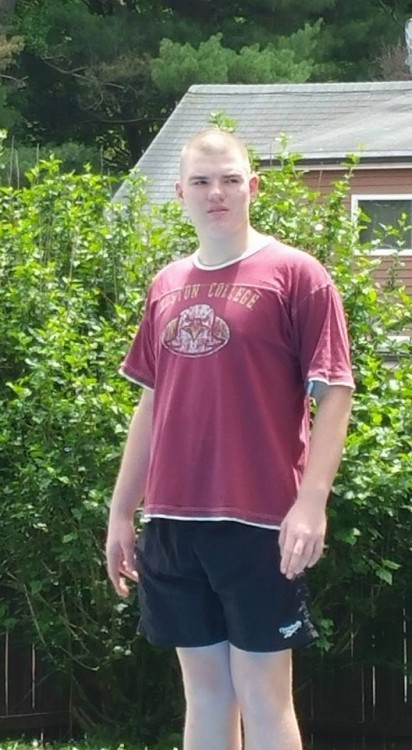 You see, my son, a sweet boy with a huge heart and a body that makes him look older than he actually is, doesn't comprehend the social niceties you and I can. 
He doesn't realize some people don't want to be hugged by a perfect stranger, even if that stranger is a child. He doesn't understand people don't necessarily want to be his friend, despite his constant requests of every person with whom he comes in contact to be his friend. 
He doesn't comprehend the curt and often cruel comments spoken in response to his requests and gestures of friendship — unfortunately, the kind of comments he might continue to receive throughout the rest of his life.
He has no idea that every time we're in public, I constantly expect my heart will break, yet again, for the rejection relentlessly experienced by my sweet boy.
For the cruel words spoken by ignorant people.
For the grace-lacking comments about his obvious difference from everyone else.
For the looks of derision constantly sent his way.
For the looks of pity I regularly receive.
These strangers don't understand that my son doesn't yet have the capacity to understand he's being rejected. 
While I should feel relieved that my son will not have to — at least for now — experience the feeling of rejection, it does not. It is at once infuriating and heartbreaking. So when we entered your building, I was expecting you to react in the same way that the vast majority of people have, rejecting my son.
I have to apologize for judging you — an ironic statement because I was expecting you to do the same to us. When my son wrenched his hand out of mine so he could run over to you, introduce himself and ask if you would be his friend, I braced myself for the rejection I knew was coming.
Instead, you knelt down so you were at his level, eye-to-eye with my son, held out your hand to him, and said you would be honored to be the friend of such a fine young man.
I burst into tears at that moment, something which I initially felt embarrassed about. The feeling quickly morphed into gratitude when you looked at me with a kind expression and asked me if it would be all right if my son helped you with your work.
You had no way of knowing that ever since my son first found out we were going to visit the village, the one thing he was most excited about was the blacksmith shop. For a reason I still don't understand, he had become obsessed with the idea of becoming a blacksmith. I waited until the end of the day to visit your building because I knew any rejection experienced at your building would not only cause my son's hopes to be destroyed, but would also completely ruin the entire day for him.
Your request made his face light up with a joy I'd never seen before on his precious face.
I'm still in awe of the patient way in which you allowed him to "help" you, answering his incessant questions while making sure his body, always awkwardly and constantly in motion, remained safe. 
You took a full hour out of your day to spend time with my son, giving him the greatest gifts that anyone had given him before. Kindness. Acceptance. Value.
You not only gave my son the ability to experience something for which he had longed to experience, but also gave him the gift of actually seeing him as a person. Someone of worth.
When we left your building that day, my son proudly clutched the piece of metal he had "helped" you forge and walked away with his head held high.
My heart was full, not only because of all that you did for my son, but also because for the first time, someone actually saw my son as a person of significance.
So thank you from the bottom of this grateful Mama's heart. 
With eternal gratitude,
Will's Mom
The Mighty is asking its readers the following: Describe the moment a stranger — or someone you don't know very well — showed you or a loved one incredible kindness. If you'd like to participate, please send a blog post to [email protected] Please include a photo for the piece, a photo of yourself and 1-2 sentence bio. Check out our "Share Your Story" page for more about our submission guidelines.