Why I Don't Have to Ask If My Brother With Special Needs Knows I Love Him
---
Sometimes, I casually throw into a conversation that my brother is my favorite person. This is a truth. This is something I know for sure.
Benjamin is 3 years younger than me, and I don't remember life before him. My older sister insists I was feisty and the terrible twos hit me hard. Apparently, I made a strange guttural sound while drinking juice and had a haircut like D.W. from "Arthur." They used to dress me in pink. It was a weird time.
Then Benjamin came along, but I don't remember that, either. There are pictures of me when I was 3, holding a stuffed panda bear and looking oblivious, while my mom has a look of sheer panic on her face with eyes turned upward to the sky.
I hear stories of my parents' confusion. They didn't know anything would be different until he was born, and then the list didn't stop growing. His brain was severely underdeveloped, he was deaf, he wouldn't walk, he was blind. "How will he know that we love him?" they asked.
I don't think I ever asked that question. I don't really remember, but I'm pretty sure I didn't. I've always known he knows I love him. It's a fact.
Here's the thing: I don't remember life without my brother. He's just that, my brother. He's a goof who loves it when I sing as loudly as I can in his ear, push him as hard as I can in the swing and put weird spices under his nose while we're cooking.
I know he is who he is on purpose. It's hard for me to understand when people say it's so sad and so tragic. It isn't. To me, it's a beautiful reality. I have a favorite person in the world, and it's him.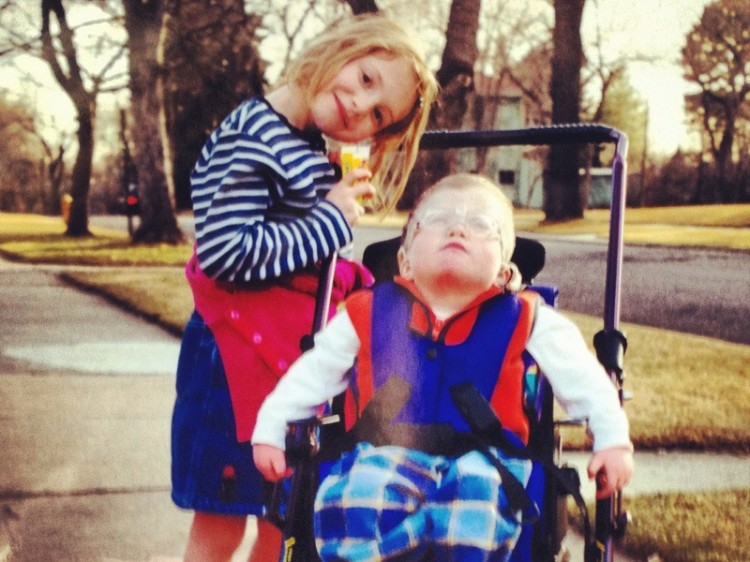 Follow this journey on Arms Are for Good.
The Mighty is asking the following: Share with us the moment you stood up for yourself or your child in regards to disability or disease, or a moment you wish you had. If you'd like to participate, please send a blog post to [email protected] Please include a photo for the piece, a photo of yourself and 1-2 sentence bio. Check out our "Share Your Story" page for more about our submission guidelines.