August 7, 2015
When a Troop Leader Asked My Son With Special Needs to Join the Scouts
---
When I answered a phone call four years ago, I had no idea the stranger on the line would eventually become one of the most important people in my son's life.
I didn't know Mrs. B, but I did know we both lived in the same small town and that she was a special education teacher at a local school. I saw her occasionally walking her dog down the road but never really ever spoke with her.
I was shocked when I heard the reason for her call.
She had called to ask if my son could possibly become part of the town's Cub Scout troop.
I was floored.
No one had ever asked for my son to be part of anything.
I honestly can't remember some of the details of the conversation because I was in too much shock. But I do recall stammering about his disability, trying to explain why she might not want him there.
Mrs. B kindly reassured me she knew about his diagnosis, and that she and the other boys in the troop wanted him there because my son was a "good boy."
That simple phrase, kindly delivered, gave me hope my son would be able to experience the joy of being part of a group of other children around his age.
So with great trepidation, I gave my permission for my son to join the troop.
As the troop leader, Mrs. B proved to be incredibly patient and calmly addressed my son's socially unacceptable outbursts and actions in a way he was able to process. But she also genuinely seemed to like him and made him feel like he was "one of the guys."
She found humor in many situations that would have caused almost everyone else to choose to not interact with him and related his activities and interactions with the other boys and leaders to me in a consistently positive manner.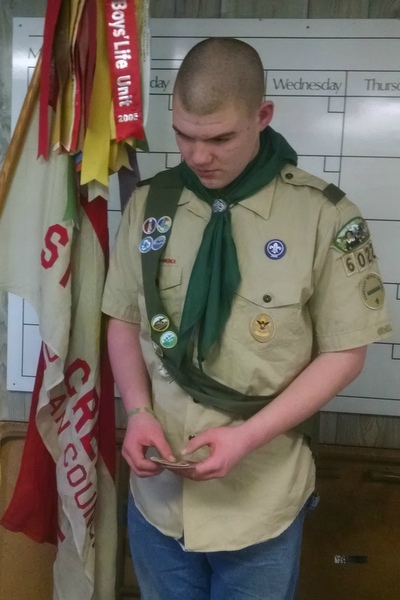 To ensure my son would be properly supervised, she actively participated in every activity along with the boys, weathering sub-zero temperatures so my son could compete in the mid-winter Klondike Derby, handling the fish and worms for my son who wanted no part of that aspect of fishing and allowing herself to be carried through the woods on a travois pulled by my son as part of a first aid badge activity.
She also personally bought my son Gatorade and pizza countless times as a reward for his hard work, pulled strings so he could attend Boy Scout camp under the safe oversight of her co-worker and spent countless hours helping my son complete his badge paperwork.
She also became one of my best friends, providing information, advice and suggestions, which have helped me to ensure my son's academic success. She encouraged me to allow my son experience some "normal" activities, telling me that he might surprise me. She also asked me to walk with her several times a week so I would experience a few minutes of respite.
I wish there were more people like Mrs. B in this world. Her obvious compassion and care has made all of the difference for my son, giving him the gift of being treated just like everyone else and giving me the gift of seeing that someone else truly cares for my son.
My son is only a few months away from earning his Eagle Scout rank, an achievement which is due to the sacrificial work and care of Mrs. B, a former stranger who is now one of my son's greatest advocates.