October 31, 2015
Doctors Said She Wouldn't Be Like 'Other Kids,' but They Couldn't Predict This
---
Set as the wallpaper for my laptop is a split-screen shot of the two pictures below. I have them there to remind me that miracles do happen.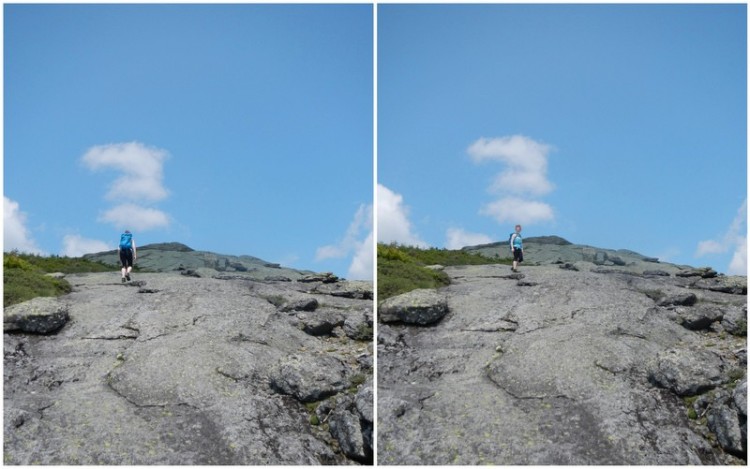 If you look at these pictures, you might think they're just some nice shots of someone climbing a mountain.
But there is so much more to the story.
The photos were taken this past July on our daughter Bree's 18th birthday. We celebrated by undertaking a 19-plus-mile hike with over 4,800 feet of elevation gain. We would summit three of the tallest mountains in New York in the process.
On the way up the last mountain of the day — Mt. Marcy, New York's highest peak — my daughter asked if she could race ahead while I took a little break to catch my breath. As she ran up the last portion of the summit, my husband took the picture on the left and then yelled, "Bree!"
My daughter turned around to face us, grinned as her dad took another picture and then continued her run up the mountain. At that point, my eyes filled with tears.
On that same day and at that exact time, 18 years before, I was undergoing an emergency caesarean section, not knowing if our daughter would live, and if she did, what sort of life she would have.
Early on in my pregnancy, it became clear there was something seriously wrong. After an ultrasound, we were given the diagnosis: gastroschisis with associative complications. Due to the large amount of intestine protruding from our daughter's abdomen and the results from some other tests, my husband and I were told to expect the worst. We were told that if she survived her probable premature birth and corrective surgery, we shouldn't expect her to be able to experience a good, functional life.
Termination was initially strongly recommended, but my husband and I chose to continue with the pregnancy, hoping, praying and believing for the best while preparing that we would likely have to face the worst.
Around the beginning of my seventh month of pregnancy, my daughter stopped growing. And then she stopped moving. She would need to be born via emergency caesarean section in order to have a fighting chance at surviving. I was terrified, trying to brace myself for the worst.
Finally, the surgery began. I can tell you with utter honesty that my daughter's angry cries were the most beautiful sound I have ever heard in my life. She not only was born alive but was so full of life and fighting spirit that the doctor actually had to place her back on my incision as she attempted to wrest herself from his grasp.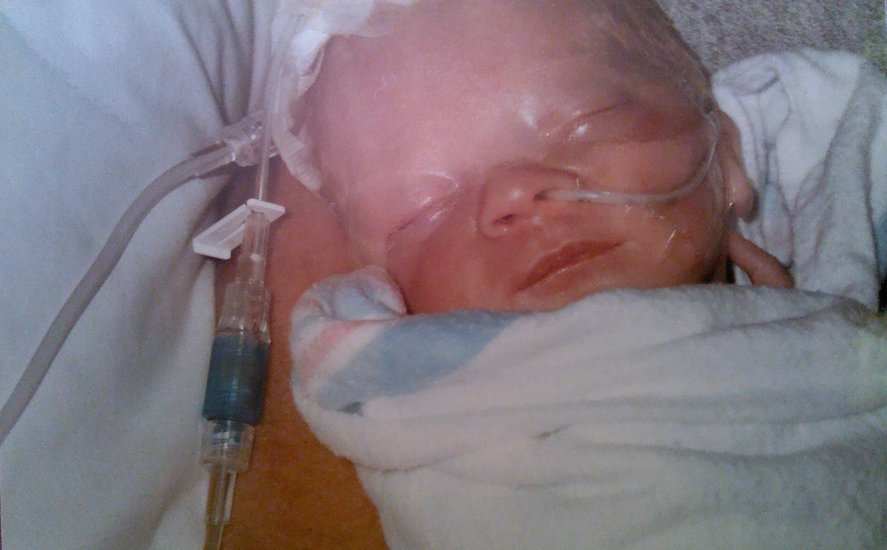 Before my daughter was taken away for surgery, they let me kiss her sweet face, holding her so that her carefully wrapped mass of intestines, which covered her from her shoulders to her tiny knees, would not be jarred.
Late that night, we received a phone call from the surgeon. He said that he couldn't explain it — it was a miracle. Somehow, he had gotten all of her intestines back into her tiny, premature abdomen. We were cautioned that even though she had beaten the odds so far, she would likely still require physical and occupational therapies. We were also cautioned she would likely exhibit compromised cognitive abilities in addition to her physical challenges and to not expect that she would be just like "other kids."
The specialists were right in the fact that she would not be like "other kids," but not for the reasons they might have thought.
My daughter ran — not walked, but ran first — 10 months after her premature birth.
Throughout her childhood, she not only won multiple physical fitness awards, but was always at the top of her class, excelling at everything she attempted.
Today, she is an award-winning artist who has created incredible charcoal and pencil sketches. She's also an accomplished Irish step dancer and performed in Ireland this past year.
And on her 18th birthday, at the exact same time she was born, my daughter reached the summit of Mt. Marcy, having finished the last few hundred yards by running up the side of the mountain.
My daughter, who we had been told wouldn't ever live a "normal" life if she survived at all, ran up the summit of the tallest mountain in New York.
And that's why these pictures are set as my computer wallpaper, because they remind me that miracles do happen.
My daughter is living proof of that.