October 12, 2015
The 9 Stages of My Daughter's Unexpected Diagnosis
---
I can still remember it like it was yesterday. The shock of it all was so surreal and yet frighteningly real at the same time. A doctor's words forever changed my life, and I could do nothing but stand there, frozen, and wait for the realization of those words to hit me with all of the force of an oncoming freight train.
How many other people have been there?
Even though we know the unexpected is always possible, we somehow never think it will actually happen to us. Things like that only happen to other people, right? One moment life is as it should be, with all of its struggles and joys, and the next moment, your breath is taken away by the awareness of your new reality.
1. First, there is the delivery of the initial diagnosis.
Your fetus has a severe birth defect.
There are also associative complications.
…possible chance of fatality.
What is a person — never mind a soon-to-be parent — to do when faced with news like that?
Even though there had been a teeny, nagging voice in the back of my mind telling me something might be wrong with my baby, I never thought my biggest fear might actually become my new unwanted reality.
It had.
2. Then numbness sets in.
I somehow managed to process the initial news of the diagnosis, greatly helped by the support of my mother-in-law who had decided to join me for what I had thought would be a routine check-up. That brave woman asked all the questions I was too numb to formulate, knowing my husband and I would want to know everything so we could then make the best choice for our family. She also made sure she got me home safely, since I was in such a state of shock that I was incapable of functioning, and then also explained what we had learned to my husband, since I was still too numb to speak. I could only sit there and weep.
3. After the numbness comes an engulfing sense of despair.
When that numbness wore off about an hour later, feelings of overwhelming grief and hopelessness more potent than anything I had yet experienced set in, threatening to overwhelm me in its all-consuming and smothering embrace.
How could this have happened? What had I done wrong that had somehow harmed my baby? I thought it had to be my fault somehow.
4. Then comes anger.
It was not fair at all. What had my child done to deserve this? What had my husband and I done to deserve it? We were good people — surely that should count for something? Well-intentioned people would offer platitudes that were meant to soothe but only inflamed my indignation at the unfairness of it all.
I did not want to hear everything happens for a reason. I did not want to hear I'm sure it will all work out. I did not want to hear you're young; you can always have another baby.
I wanted to hear I'm so sorry. I wanted to hear I can fix it.
I knew that last wish wouldn't and couldn't happen, which made me even angrier.
5. After anger, determination.
Eventually my anger morphed into determination — we would fight for our child with every ounce of our strength. We found specialists who could give us more information, worked with them to develop a plan of action and prepared for an uncertain and unknown future.
We decided we would submit to regular high-risk prenatal care in the hospital in which I would give birth, tour Children's Hospital and meet with the surgical staff who would be caring for our child after she was born, and explore the neonatal intensive care unit (NICU) in which our baby would stay after her surgery, were she were able to survive it.
We learned all about the specifics of our baby's diagnosis so we were as informed as two non-medical professionals could be, researched into what we could expect with a premature birth and made sure we would be close enough to the hospital at all times. We had no guarantees our efforts would bear desired fruit, but we knew we would not stop until every possible avenue had been exhausted.
We did it for our daughter.
6. Then comes waiting.
I hated waiting. I wanted to know my baby was going to be OK. We kept waiting for the remainder of the pregnancy, hoping I would somehow be able to last until I was at 38 weeks along so our daughter would have the best chance at survival.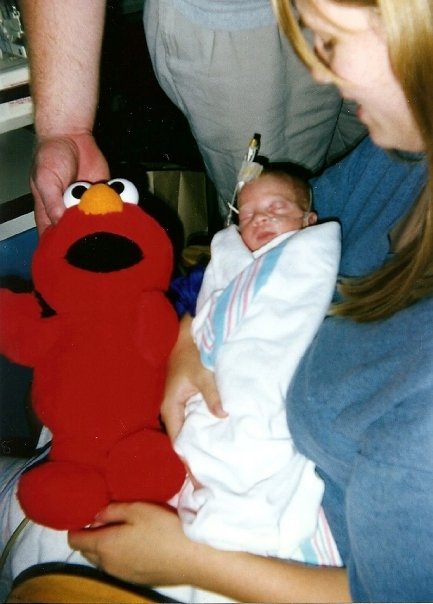 7. And then endurance.
Unfortunately, our daughter was born prematurely, just as the doctors had warned us she most likely would be. She did survive her surgery and her stay in the NICU, and she came home a tiny, fragile little thing who had somehow beaten the odds.
The rollercoaster process of the unexpected premature delivery, surgery, hospital stay and then home care of a post-surgical and physically-compromised premature baby was harder than I had ever thought. Harder in some ways than the waiting.
But even in the midst of those long, exhausting and draining days, there was…
8. Unexpected joy.
In the midst of the numbness, despair, anger, determination, waiting and endurance, there were moments of unexpected joy.
The first time I saw my daughter's sweet face in the ultrasound photo.
Hearing my daughter's angry cries when she was born instead of the expected silence from her inability to breathe due to underdeveloped lungs.
Finally being able to hold my baby.
Watching my husband cradle his tiny daughter in the NICU, her frail body propped up with several pillows and with tubes and wires protruding from her body, rocking her, as he sang, "You Are My Sunshine" to his little girl.
Seeing my daughter take her first steps — something we were told might never be possible.
9. And hope.
No, not every story has a happy ending. I am so blessed this particular one did (my daughter is now 18, is vibrant and full of life, and continues to beat the odds every day), but I also personally know the sorrow of stories that don't have their happy ending.
What I have learned, though, is that in the midst of all of the heartbreak, hardship and struggle, there is hope. When all is said and done, I am grateful for what I have gained through it.
Strength I never knew I had.
Endurance for what I thought would overwhelm me.
Compassion for those walking through similar hardships.
And an all-consuming love for my child.