Detroit Lions, You're More Than Football Players to My Son With a Chronic Illness
---
Dear Detroit Lions,
I know your bodies are sore and your confidence is running on empty. I am writing this to hopefully give you some inspiration. I am just the mom to a little boy who loves you. I am the mom to a 5-year-old little boy who believes in you. I am the mom to an amazing little boy who can't play contact sports, like football, because of his medical condition.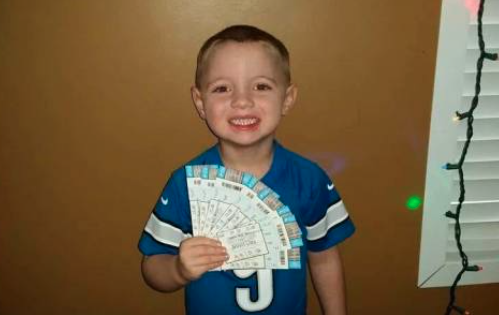 Each hit Matthew Stafford takes, my son cringes. "Oh, no, Stafford!" "Look, he's bleeding, is he OK?" "Mom, I think Calvin hurt his ankle." He gears himself up each week to watch you play and his little heart breaks with every loss but he never gives up on you. He looks at me with his big hazel eyes. "Next week, right Mom?"
He has laid in a hospital bed many times, and if he is in the hospital when you are playing, you better believe he makes sure his game is on that TV.
So, no matter how many jerseys people spit on or burn, no matter how many fans leave that stadium early, you are still somebody's hero. While you are waiting to run out on that field, you might be worried about what the fans are thinking or what the media is going to say. You might think you are just a football player, but you are so much more, and I want to thank you for taking the time out of your busy schedules to make my son smile.
Oakley had taken a liking to #35, Joique Bell, when he started playing for the Lions. He thought he could run fast and jump high (his words). Come to find out, Joique's sister received a kidney transplant after being diagnosed with renal disease. This hit close to home as Oakley was born with kidney disease and will eventually require a kidney transplant once his are unable to keep up with his body's growth.
Mr. Bell had held a contest on his Facebook page for an autographed jersey. It was a contest where you had to post a photo and whoever received the most likes won the jersey. Team Oakley came together, and Oakley had received the most likes! Next thing you knew, Mr. Bell's manager, who is also his mother, contacted me and asked me to give her a call.
She said she wanted to surprise Oakley and have Joique give it to him personally after the football game we were attending. After the game, we went and met Joique's mom, Candy. She brought us back into the family reception area where Oakley and his siblings were able to meet him and several other players, such as Golden Tate and Coach Caldwell. They were so nice and even allowed us time to take some photos with them.
Not long after, kicker Sam Martin hosted a Christmas party for the Project Scissor Gait Foundation, which is a foundation a good friend of mind started to help children with Prune-Belly syndrome and arthrogryposis. Several families with Prune-Belly syndrome attended, and a few players also came out to meet the children as well. It was held at Dave & Busters in Livonia, Michigan.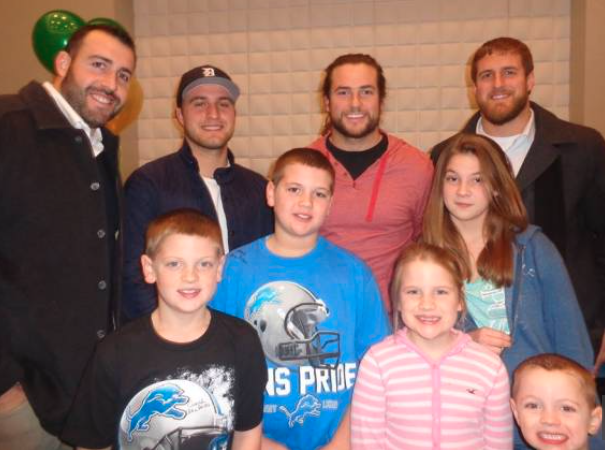 To the Detroit Lions team members: you are his inspiration, and maybe he is yours.
Follow this journey on medicine & smiles.
The Mighty is asking its readers the following: Share a powerful moment you or a loved one has had with a public figure. Or, write a letter to a public figure who you feel has helped you or a loved one through his or her work. If you'd like to participate, please send a blog post to [email protected] Please include a photo for the piece, a photo of yourself and 1-2 sentence bio. Check out our Submit a Story page for more about our submission guidelines.