To the People Who Showed Us Down Syndrome Isn't So Difficult
---
On World Down Syndrome Day, in addition to wearing blue and yellow, rocking our socks, performing random acts of kindness and bringing blue and yellow cupcakes to my son Evan's preschool, I want to take the time to say thank you to all the allies we've encountered on our journey. Though I know our lives will be peppered with the need to educate individuals and institutions that have connections to our son, there are many people along the way who have warmed our hearts and shown us that some things are not so difficult.
I want to thank our family. For the briefest moment after Evan was born, I wondered what his having Down syndrome would mean for the family. We quickly learned it just meant there was another child in the mix to love, and he happens to have Down syndrome. Their support and encouragement has meant so much.
I want to thank my new family, the Down syndrome and disability communities. It is such a relief sometimes to be among people who just get it and to have people who empathize as we compare our respective lists of therapy and physician appointments.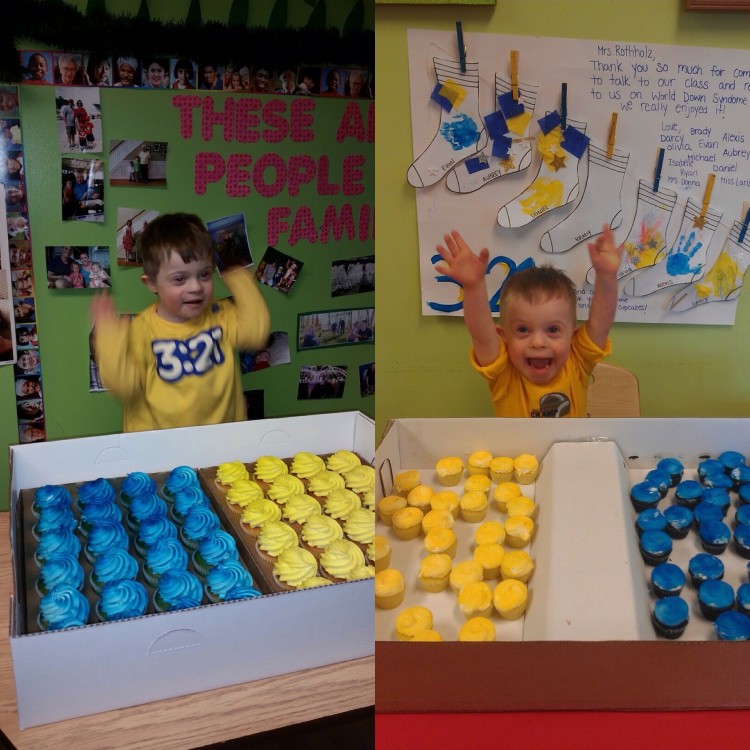 I want to thank all the people Evan has encountered in preschool. Ev is kind of the mayor, and every day, he's greeted by kids who want to give or receive hugs. He attends his friends' parties, and everyone just understands that sometimes he might need just a little extra help and that it's OK. The parents are rock stars, and they treat Evan like they treat any other child. I hope that the parents I encounter throughout Evan's lives are like the parents in Evan's current school.
I want to thank the national and local organizations that have touched and improved our lives: The National Down Syndrome Congress; the National Down Syndrome Society, the Montgomery County Down Syndrome Interest Group, the T21 Club of the Delaware Valley, and so many others. Thanks to these groups, we've learned so much about Down syndrome and made new and lasting connections.  Most importantly, I've learned that we're all on this journey together.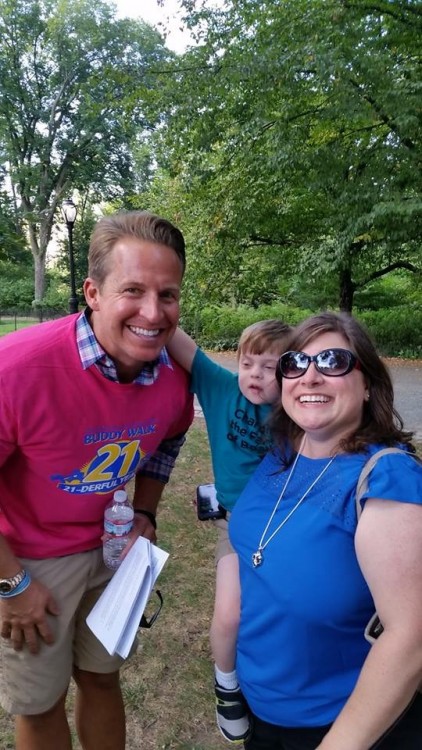 I want to thank some unexpected allies. Chris Wragge at CBS New York emcees the National Buddy Walk and has been a great supporter of those with Down syndrome. I was already a fan, but when we connected on Twitter and I found out his involvement in the DS community, I became a super fan. Chris, you've really touched my heart. New York Times bestselling author Karen Rose has been amazing. I'll never forget the day I read one of her books and nearly dropped it because there was a character with Down syndrome — and one portrayed as competent — in it. I reached out to her to thank her, beginning some great two-way conversations about Down syndrome. I was so touched when last year she responded to my request that she post a message on her Facebook page for Down Syndrome Awareness Month.
I want to thank other moms who were inspired to create businesses that focus on people with disabilities because of their loved ones with Down syndrome. Debra Ruh of Ruh Global Communications has taught me so much about disability employment. Katie Driscoll of Changing the Face of Beauty, an organization that focuses on inclusion in advertising, showed me that one mom's voice can change a corporation's advertising practices. Diane Grover, who built a coffee business called Dreamers Merchants, taught me that a coffee bean can fulfill the dream of employment for those of all abilities. I learn from you all every day. Your energy and your can-do nature inspire me.
I finally want to thank the wonderful team behind Evan's success. His early intervention therapists: physical therapists, an occupational therapist, speech therapists, special instructors/itinerant teachers, behavior therapists, a personal care assistant. All his teachers and service coordinators. His primary care physician at Pennridge Pediatrics, his specialists at the Children's Hospital of Philadelphia, the team at the Children's Hospital of Philadelphia Trisomy 21 Center, and family and friends who've offered support.
On World Down Syndrome Day, I'm reminded that it really does take a village to raise a child with Down syndrome, and our village is particularly large. Thank you for being a part of our village.
The Mighty is asking its readers the following: Write a thank you letter to someone you realize you don't thank enough. If you'd like to participate, please send a blog post to [email protected] Please include a photo for the piece, a photo of yourself and 1-2 sentence bio. Check out our Submit a Story page for more about our submission guidelines.