March 4, 2016
When My Friends Came to My Rescue in Ways I Could Never Imagine
---
They say, as we grow older we grow wiser, that perhaps we learn about what is truly
important in this life. I have always treasured my friends, but until recently I never fully understood how powerful true friendship can be.
In a time of crisis, my friends came to my rescue in ways I could never imagine. My
friends put cash in my hand, they filled my car with gas, and they drove me when I couldn't function. When I couldn't even process a coherent thought, they did my thinking for me. My friends sat by my side in the middle of the night when I couldn't sleep. They sat by my side at the hospital during the day and took over for me so I could sleep.
My friends near the hospital opened their homes to my husband and me so we could leave the hospital and get a proper night's sleep and a shower. My friends back home visited and brought gifts. They brought all the things we needed from home. They took me to lunch, they took me to dinner, they took me out for coffee, and they hugged me and walked with me.
My friends grocery shopped for me and brought me dinners. They took care of my house, took care of my cottage, and took care of my dog. They made sure that when we returned, our home looked beautiful and welcoming. My friends that had connections and resources used all they had to get us everything we needed and more.
Even my friends who were on the periphery and didn't really know what was happening sent cards and texts and messages and hugs and good thoughts. Every single kindness, no matter how big or how small, was a blessing.
My friends suffered with me. They cried for me, they worried about me, and they lost sleep over me. It distressed me to know my friends were hurting, too, but I understood. I understood that there is solidarity in motherhood, that the pain of one mother is shared collectively by all, and every child is our child.
My friends didn't judge me or try to advise me. They were simply there for me. They dropped everything to support me. It was an awesome and humbling and overwhelming experience.
Being on the receiving end of such love has changed my life. It taught me exactly what to do when someone needs help. It taught me how to "be there" for someone in need. It taught me to reach out and take action. So many times we wish we had done something. We don't follow through for a variety of reasons. We don't know what to say, or we think our cooking isn't good enough, or we don't know what is appropriate, or we are too busy. Now I know how much any sincere gesture is appreciated. It doesn't have to be big, bold, or perfect; it is just a matter of acknowledging there is someone who needs you, and you fill the need any way you can. My friends did that for me, and I am forever grateful.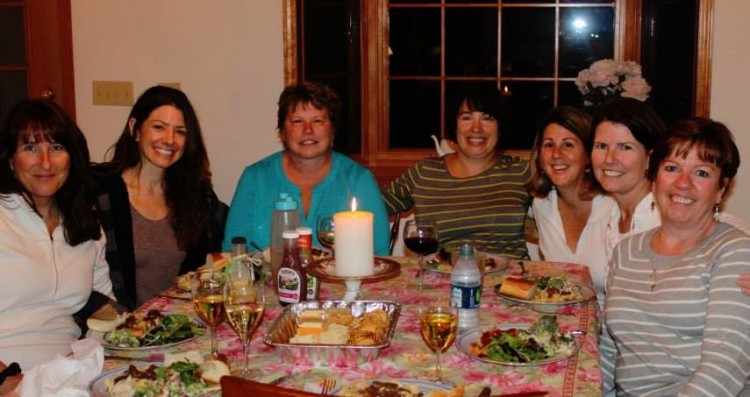 The Mighty is asking the following: Tell us about a time someone in your community went above and beyond for you or your loved one with special needs. If you'd like to participate, please send a blog post to [email protected] Please include a photo for the piece, a photo of yourself and 1-2 sentence bio. Check out our Submit a Story page for more about our submission guidelines.