Our Conversation With Bill Clinton on Employment and Rights for People With Disabilities
---
Dear President Bill Clinton,
No Boundaries is a workforce training program that works with individuals with intellectual and developmental disabilities to train for work and train for life through online and on-land experiential learning.  We had the privilege to come and see you speak at Beth Emet in Evanston, as our office is just one block down the road.
My job is to be the business and community engagement coordinator for JJsList.com, and one of those duties is to connect businesses and community leaders with people with disabilities.
That day we met you, we found a good community leader to meet!
We had the chance to listen to you make your best pitch for Hillary Clinton for president.  We used that opportunity to talk to our learners about civic leadership and how important it is to listen to all the candidates so that we can make informed decisions. This is an important skill, not just in politics, but in work and life as well. We all listened and enjoyed the rapport you built with the crowd — which reminded us of why you were elected for president twice. Many of us grew up hearing or seeing your name, but this was a chance to put a face to the name.
After you spoke, we had the opportunity to meet with you for a few brief minutes. That's when the conversation got very interesting. We introduced you to our group of Disability Awareness Players and explained what our work is about. We got a chance to tell you that we work diligently to bridge the gap between businesses and our consumers with disabilities with the goal of gaining employment and independence. Unfortunately, all over the world, programs like ours are losing funding at a time when unemployment for individuals with disabilities hovers around 80 percent.
With 57 million individuals with disabilities in the United States, that roughly translates to nearly 46 million people who are either unable to find employment in a vocational environment that is increasingly competitive or have simply fallen out of the workforce. You mentioned that in your time as president, you enacted some of the most sweeping legislative measures to ensure that people with disabilities are included, but that the economic environment of the late 2000's had taken a bite out of those efforts. We've felt that bite.
It is our experience that one of the most effective factors for inspiring people to get back into the workforce or to transition from the school systems into the workforce are individualized mentorship and job-coaching programs that go to bat for individuals. Businesses say they want to hire people with disabilities, but they often aren't fully informed on the communication strategies that precede a successful connection.
We know that the pathway to employment is not a one-way street, and a skilled and motivated workforce is as important as an earnestly inclusive employer.  We believe that is a product of disability awareness.
With that in mind, we had the chance to let you know that we'd love to hear and see more about the issues and rights of individuals with disabilities in public discourse.  Five days later, Hillary included the need to defend the rights of people with disabilities in her nationally-televised speech after the Illinois primary. That was a great step!
We told you we would continue to persevere and you told us, "Yes! Keep on fighting and know that we will continue fighting for you as well!"
We'll hold you and your associates on both sides of the aisle to that!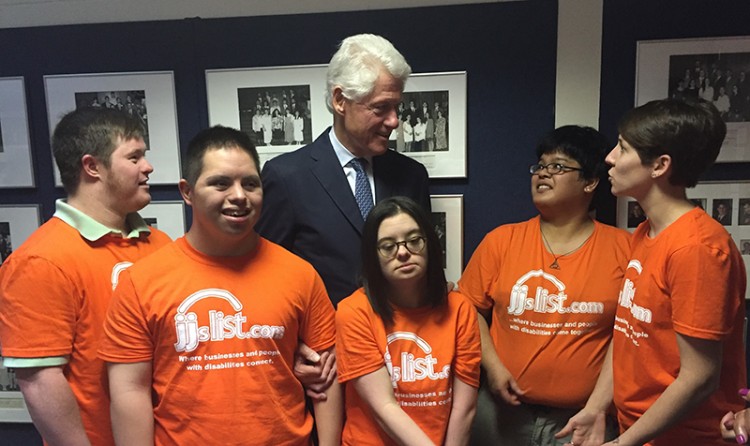 To learn more, visit the Disability Awareness Players website.
The Mighty is asking the following: Share a powerful moment you or a loved one has had with a public figure. Or, write a letter to a public figure who you feel has helped you or a loved one through his or her work. If you'd like to participate, please send a blog post to [email protected] Please include a photo for the piece, a photo of yourself and 1-2 sentence bio. Check out our Submit a Story page for more about our submission guidelines.