How My Newspaper Yarn Designs Mirror My Mental Health Recovery
---
The process I go through to make my newspaper yarn designs mirrors my therapy and recovery journey. It has mainly been about building a new way of "being." I can't change my brain or my history, but I can try to dismantle some of the power held by the stories which make up my ingrained feelings, thoughts and behaviors. These are stories which do not help me to thrive (though they have helped me survive). It's not possible to get rid of these well-rehearsed stories, so it's more about accepting why they are there and reshaping my response to them by not buying into them. It's about creating something new from these stories.
Much like recovery or therapy, the process can be painful, difficult and tedious.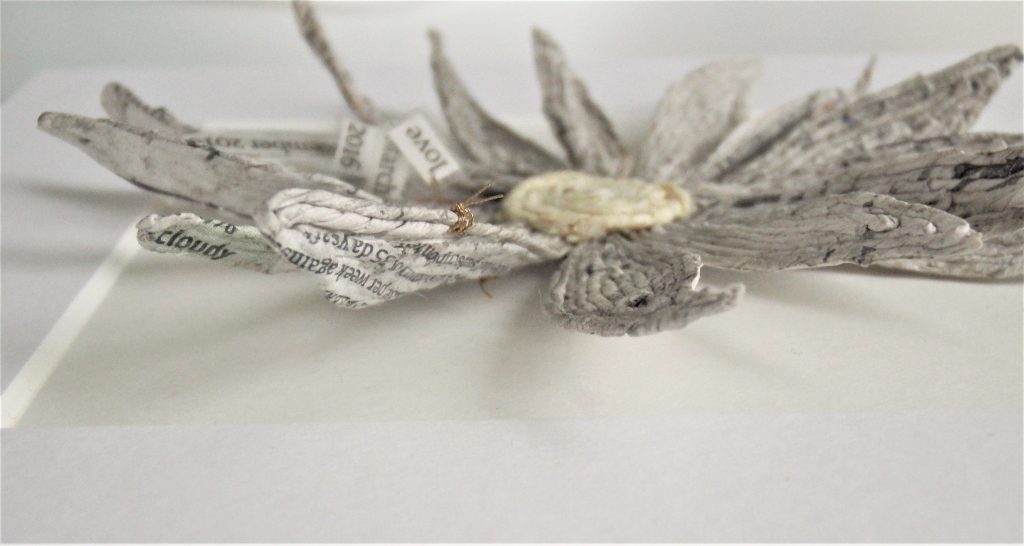 So I take stories that seem so sure of themselves, printed in black and white and presenting themselves as fact. And to start I crumple the paper, to soften and ready it for the process. I liken this to the fact that sometimes it is a "breakdown" or crisis, or some other major event that triggers me to seek help. The softening produced by this crumpling is the safeness and calming created in a trusted therapeutic and in safe supportive social relationships.
Without this, the process will just result in the paper ripping apart.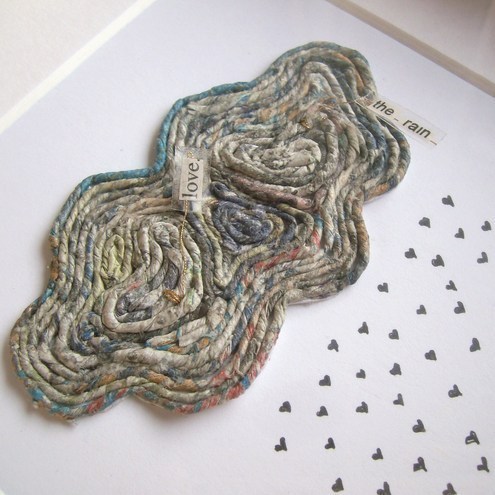 I then cut strips of paper, paying attention to the colors they contain and the slow process of twisting it through my fingers to turn it into yarn begins. I keep the colors I want and mold the paper yarn using my fingers – a part of my physical body.
In the same way, experience of new feelings and ways of being have to be felt with your body to truly understand and learn. Our feelings are real physiological, biological things which happen inside our bodies. All the thinking in the world cannot change your feelings. We need that embodied experience to really learn new ways of feeling.
We can learn from hearing about something or seeing something done, but we only really understand when we do it ourselves. It seems to me we often concentrate on the words and thoughts of our lives and can easily forget the spaces in between, where our essence of simply "being" resides. I think this is where compassion, soothing and connection acts, on the spaces between the words. Only in embracing the whole can we recover a fulfilling life.
This is a slow, messy process resulting in sore ink-stained fingers, but it's needed to create something new. I can create anything from this yarn. It was once a set story (full of bad news and trauma) as well as sometimes misinformation. It is now flexible, pliable, stronger and more beautiful and can be used to create any design. The words have got new meanings in their new contexts as part of the yarn itself, or lifted from the newspaper to be given new life as little tags on golden thread.
We are not our history. We can be so much more.
Follow this journey on GoodNewsFromBad
We want to hear your story. Become a Mighty contributor here.
Images via contributor