4 Stories From Mothers Adopting Children With Disabilities
---
The 14th of May is Mother's Day in the U.S. — a day to celebrate being a mother or celebrate your mother. There are many for whom it is a bittersweet day to remember a mother who is no longer with you. No matter what your circumstances, it is a day to think about motherhood.
There are children in places around the world who don't have a mother. Children born with a disability in third world countries, in places like Eastern Europe and Asia, are often discarded into orphanages. They aren't given the chance to know what it feels like to be held and loved and picked up when hungry or in pain. It is these precious children that Reece's Rainbow serves.
We find families for children who otherwise would spend the rest of their lives languishing in orphanages and institutions. We have worked for going on 11 years to find mothers and fathers for these precious children who were blessed enough to be born! More than 1760+ are home with their mothers right now.
In honor of Mother's Day I am sharing the stories from four of our Mothers. Each one is at a different stage in this process of adoption and becoming a mother of a child in need of one.
A mother of a child with Down syndrome tells her story of how she learned of Reece's Rainbow and what led her family to the choice of adopting another child with a disability.
The first time I ever met someone with Down syndrome was the day my son with Down syndrome was born. Michael was my second biological child, born just 10 months after our wedding, when we had become a new blended family of seven. His five older siblings, ranging from 8 to 21 years old at the time adored him and he brought us closer together as a family.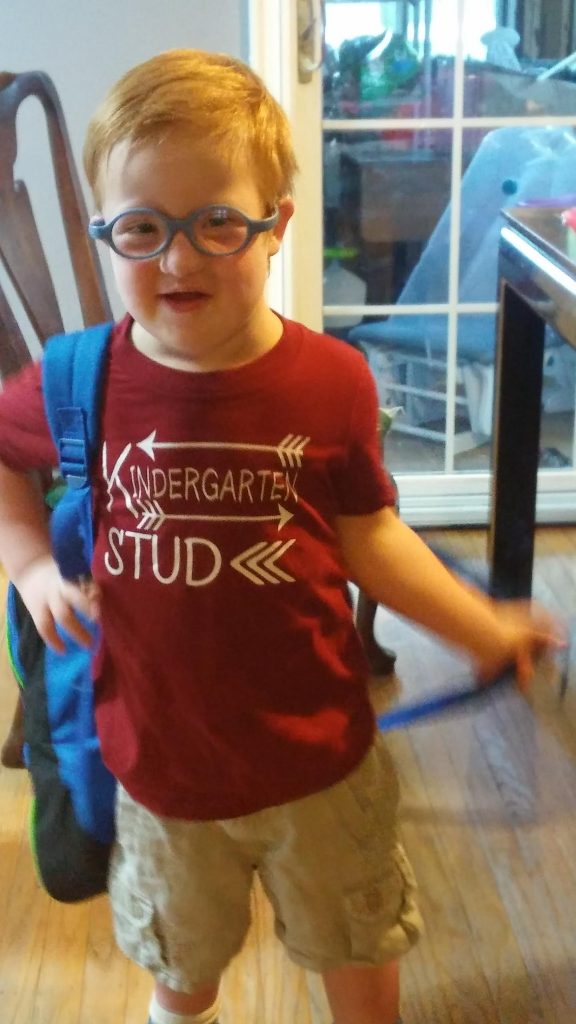 When I was pregnant with Michael and I told people in my local church family that my child was going to have Down syndrome, I kept getting the same response. People would tell me about another family who attended our church who had four… or five… or six… kids with Down syndrome. (I think they had all lost count.) In my naiveté I would think "What causes that?" and start worrying about the probability of all my future kids also having Down syndrome.
Of course, I soon figured out they had gained their chromosomally enhanced children through the miracle of adoption. But I was a little confused as to why anyone would choose to adopt children with Down syndrome. I mean, I was OK with having one child with Down syndrome since that is what I was given, but I didn't think it would be something I would ever choose. (Please remember that I had still never met anyone who had Down syndrome.) Also my thoughts surrounding adoption were pretty much limited to it being something people did only after dealing with infertility. The reality of the orphan crisis, or institutionalized children were never on my radar.
After Michael was born I still didn't know anyone else who had a child with Down syndrome. So when this adoptive mom from my church showed up on my "suggested friends" list I contacted her. Her kids were adorable and it turned out that they were in process to adopt another beautiful little girl with an extra chromosome from Bulgaria. Of course she was sharing a lot about the adoption, which led to me reading a lot about international special needs adoption in general. My eyes opened wide. It is hard to explain but I went from being completely clueless to feeling completely broken-hearted about the struggles of institutionalized children.
When I was watching my son do physical therapy, I would think about kids in cribs with no one who cared if they learned to walk. When my kids cried for me to come rock them at night, I thought about the kids who had no one to come and rock them if they cried. I would stay up late spending hours looking at pictures of kids on Reece's Rainbow, crying my eyes out.
And then I took all that and put it in a box. I stopped reading the articles and looking at the waiting children. Because we couldn't adopt, not then; maybe not ever. I wish I could say that in the waiting I spent my time advocating for orphans, or raising money for orphans, or committing myself to serious intercessory prayer for orphans, but that would not be true. I wish I could say I was OK with letting my heart be broken even when I didn't have an action plan to go along with it, but that would not be true either. I felt powerless and inadequate and wondered why I felt this burden to begin with.
Psalm 37:4 says "Delight yourself in the LORD, and he will give you the desires of your heart." I believe the reason he gives us the desires of our heart is that he is the one who gives us those desires in the first place. He places burdens on us so we will be spurred to the "good works, which God prepared in advance for us to do". (Ephesian 2:10).
Of course I believe God follows an entirely perfect timeline in comparison to my short-sightedness and impatience. On January 24, 2017 we found out we were officially committed to adopt a little girl with Down syndrome from Eastern Europe. In the waiting we have grown, both as a family and individually, in ways that I believe will help us immensely on the journey to becoming adoptive parents. And I will never wonder again why someone would choose to have a child with Down syndrome. We are so lucky and grateful to soon be the parents of two.
Michelle Zoromski
Michelle began as one of our Reece's Rainbow families, but has become our Grants & Operations Manager and then in March when our Founder/ED retired has now taken on the Executive Director role! She and her husband Brian adopted Lilya in 2010. One of their other five children, daughter Ruby, was born with Down syndrome which is what led them to Reece's Rainbow.

Once we started the process, in our hearts, Lilya was ours. We had to temper our expectations – we knew it wasn't official until we met her and accepted her referral in country. But to us, she was one of our own, and we would do everything we could to bring her home to us.
For me, the process mirrored my pregnancies with my other children. The waiting, the expectations, the dreams for the future… and right from the start, from our initial commitment, unconditional love.
When the paperwork was completed and we were waiting for the next step – the steps that were out of our control – that wait seemed endless.  One of the greatest gifts we received during that endless wait was a short video.  It was a brief video, only a couple minutes, and there was the shortest snippet of Lilya. This tiny view of a little girl – she was not the subject of the video, but she was the center of the universe for us. I watched that video more times than I could count – the little girl with the crooked bangs was no longer a photo, an image — she was a real life, walking, wheezing, tiny girl.
Even now, almost 7 years ago, I remember the smallest details of the process. We were halfway around the world from our children at home to bring another child into our family.  To us, she was ours, just as much as our other children. Driving around the capital of a foreign country, with the referral paperwork in hand… sitting and waiting in the office of the orphanage director… and in enters this tiny girl who had no idea how her life would be changing.
Visiting Lilya at the orphanage was such a unique experience, a moment in time unlike any other. We would go play with her, and she soaked in the attention of these two new adults with the funny language. And much as my memories of my children being born are etched in my memory – I will never forget the days of walking up to the orphanage and a tiny blond girl running out to meet us with her arms wide open.
Crystal is a Reece's Rainbow adoptive mom but also a professional writer. I've included the link to her contributor bio here on The Mighty! She is sharing about their adopted daughter, Guyana who is already home.
I set her down in the sand, watching for a reaction. Her Hershey-brown eyes, already nickel-sized, grow even bigger, and her hands by her sides freeze. The newness of ancient rock and shell and bone bits touching her skin would have overwhelmed Guyana a year ago. Though she's still unsure now, she trustingly glances up for reassurance, to make sure she's still safe. "What is this place?" she asks, dramatically gesturing toward the water.
That's what used to separate us, I think. But I tell her it's the ocean. Guyana takes it all in, nothing in her five years of Armenian orphanage life preparing her for the sight of the Atlantic. Her daddy scoops her up, her 24 pounds nestled safely in his strong arms. And together they step into the waves. Soon, after a brief moment of panic, she is floating on her back in wonder, her paralyzed legs held up in total trust by someone who crossed the world for her.
Watching them, I realize I feel unsure at times like Guyana does now.Last Mother's Day, I flew eastward to become a mother for the fourth time. Since our newest little birdie came home, her smile, giggle and extraordinary spirit have kept us all flying high. But I have had brief moments of panic, too. I've touched newness — unpronounceable diagnoses, bureaucratic hospitals, insurance nightmares, public ignorance — that nothing in my 32 years prepared me for. At times, I have felt overwhelmed. "What is this place?" I ask dramatically.I glance upward for reassurance, to make sure I'm still safe. And inevitably, someone scoops me up and swims for me, and I'm safe in the arms of a community and family who see not only my girl's worth, but mine, too.And together, we keep stepping into the waves, floating in total wonder.
Monica Eide
Monica is a mother from Norway and a very faithful Reece's Rainbow warrior! She and her daughter are an invaluable help with the RR twitter & Instagram! She is introducing one of our waiting children. This is a child we have on our website in need of a mother.
This is Lucas. He lives in an orphanage in eastern Europe but what he really needs is a forever family, a mom.  There are so many children in the orphanage and but very few nannies.
Lucas doesn't speak much but he knows how to ask for food, because he is always hungry. He used to cry a lot, felt lonely and hopeless, but the nannies may now be giving him medicine to sedate him.
He will soon be transferred to a mental institution for adults, and there he will be left in bed all day, because there are fewer grownups there.
The good news is that Lucas can still be adopted, though the odds are stacked against him.
Lucas has cerebral palsy that affects all of his limbs. That means he will need therapies and medical care. The good thing with CP is that it won't get worse. It is what it is, and his condition can improve with the right therapies. Where he is now, he doesn't get any therapies at all.
He was born in 2008 which means he is no longer a sweet, squishy baby. He'll be 9 this year and parents looking to adopt usually want babies as young as possible. Lucas wasn't made available for adoption until he was older, so he lost that chance.
As well, Lucas is a boy. Did you know that for every boy adopted, two girls get adopted? A lot of boys sit and wait like he does. He is such a quiet and sweet boy.
For Mother's Day I know Lucas wishes for a new Mama. He can bring so much joy. He loves to smile, and loves music. He dreams of smiling and laughing, even singing with a forever family!
Please visit his profile on Reece's Rainbow to see more photos of him, learn more about him or inquire into adopting him!
We would like to wish all mothers, every kind of mother, a very Happy Mother's Day! If you would like to learn more about how to adopt a child through Reece's Rainbow, please visit our website. We help families raise the money they need to offset the expenses of international adoption. We also have many ways you can change the course of a child's life forever, even if you aren't in a position to adopt. We have both a child and family warrior program if you want to focus on one child or family. As well, one of the easiest ways to help our children find their forever families is simply sharing their need on social media. You never know if that child's soon-to-be mother will be reading your post!