June 26, 2017
Why It's Difficult Attending a Pride Parade With a Chronic Illness
---
I marched in my first pride parade when I was 7 years old. It would be another six years before I even started to grasp what being queer meant. When I was seven, I knew that my job was to hold up a banner (it came up to my nose) and shout important things. I remember the calls, from the classic, "What do we want?!" "Gay rights!" "When do we want 'em?" "Now!" all the way to my favorite: "We're here, we're queer, and we're not going shopping!"
I was so indomitable at that age. I had no awareness of the stares or the anger or the frustration from the sidelines, even in the relatively conservative area of New Hampshire where we marched. I felt powerful, unstoppable, and alive, even if I didn't truly understand what that power meant yet. I came home and ran around the house excitedly, full of energy. I arranged my stuffed animals in a demonstration outside of my closet, where I imagined the people they were shouting at must be. I bubbled and babbled long into the night long after my mother probably would've preferred I mellow out and go to bed.
Childhood energy and resiliency doesn't last, however. I'm 35 now, and I live with Ehlers-Danlos syndrome (EDS), hypermobility type. Day to day life is a careful series of steps and choices in order to make sure I can manage through the day. A jog in the morning, while healthy to your average person, is an activity that could threaten my health and wellness. I could fall and hurt myself. I could dislocate my ankle just from turning and pivoting wrong. I could embarrass myself in front of my neighbors by screaming as my tiny adorable dog wrenches two of my fingers out of place just by excitedly romping off to sniff something fascinating.
Those are the things I prepare for, the things I am aware of, and that doesn't even get into the daily constraints of chronic pain. I have hair down to my waist, and adore putting it up in complex braids. Unfortunately, sometimes the idea of keeping my arms over my head that long seems like a march of pride all on its own; "What do we want?!" "Normalcy!" "When do we want it?" "…ow."
The notion of attending a pride parade these days, fills me with dread. I use a wheelchair part time when I'm in situations which require a lot of standing and walking. Is the parade route wheelchair friendly? Has someone in a wheelchair actually been consulted about that? A hill that lasts for half a mile and barely goes up a few degrees gets very tiring when you're operating a chair. Potholes are impassible. A curb? Someone will have to help lift, or I'll need to stand up and lift the chair. That brings a whole other pressure of worrying about people who make rude comments about those who use wheelchairs part time and how they can stand, so why don't they?
Is there emergency medical support onsite? Will the local police be attending to protect the rally, march, or parade, or are they adversarial? Will I end up in a jail cell because an organizer didn't get the right permit and someone has decided to make an example? If I do, will they let me have my medicine?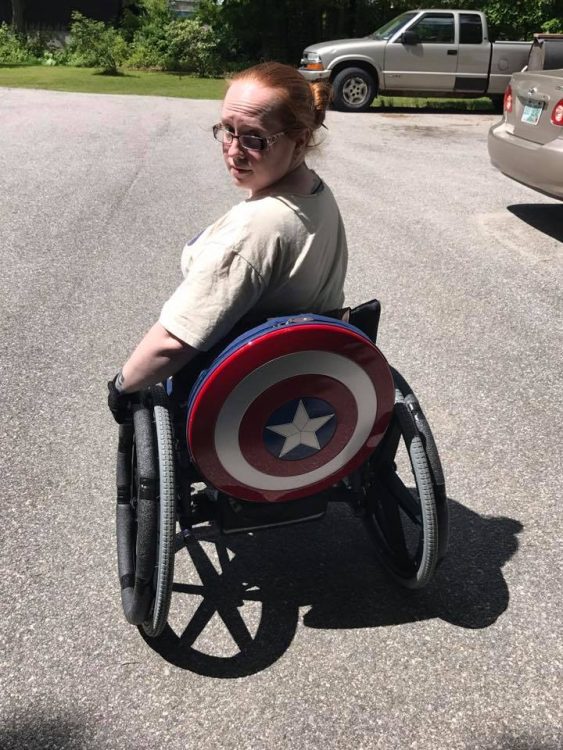 Then, there's the pain. How much am I hoping to get done the following week? Do I plan to do any serious walking or rolling? What about waking up early, or travel, or taking on some overtime at work? If I spend all my wherewithal on a pride parade, rally, or march, am I going to be too wiped out to do all my normal hours at work that week? How long is the drive to get there? Is it in traffic? Am I going to be exposed to sun for too many hours?
Being out and proud with a chronic illness is hard. There's a responsibility that I feel to stand up and to shout and to cheer, because somewhere there's a tiny 7 year old girl holding a banner up to her nose and I want to show her I'm there and I believe. My EDS won't always let me do that. Sometimes, it barely lets me do my household chores and get a good night's sleep.
I'm not an out and proud parader anymore. I wish I were, but it's not possible for me to trade on my good days to that extreme. I've learned to accept that, and to start finding other ways to be proud. I support Parents, Families and Friends of Lesbians and Gays (PFLAG). I offer personal comfort and advice when people need it. I act as a mentor, a friend, and a proud cause member when someone needs backup. I'm active on social media and I do not stay silent when talking is important to make sure that queer voices are heard.
At the core of pride is the notion that we are present, devoting ourselves to our cause and our equality. "Present" doesn't always mean being there arm in arm in front of a huge float covered in fabulous people. Sometimes it means being present to witness for someone going through a tough time. Sometimes it means speaking up when I might otherwise stay silent.
Sometimes it means taking care of myself first, because I can't be here, queer, or even going shopping if I don't keep myself in one piece.
We want to hear your story. Become a Mighty contributor here.
Thinkstock Image By: nito100