The Unexpected Body Image Struggle I Had After Giving Birth to My Youngest Child
---
Editor's note: If you live with an eating disorder, the following post could be potentially triggering. You can contact the Crisis Text Line by texting "NEDA" to 741-741.
When body image is discussed alongside the subjects of pregnancy and breastfeeding, it tends to appear the context of the woman's feelings about her changing body and the impact that her altered body image might have upon the breastfeeding journey. Rarely, if ever, do I hear my experience taken into consideration.
When a woman has spent (in some cases) years of her life growing and nursing babies, what happens to her identity when it is all over? When she is no longer a radiant Madonna with new life blossoming within her? When she is no longer a #NewMom upon whom a young baby depends on in their entirety?
What happens when she is just a woman again? When her body is just a body once more, rather than a giver and nurturer of life?
Does she just snap back into her pre-existing headspace? Or is there sometimes a transition in there, in which a woman may have trouble understanding or accepting her body as just a body? What do so many years of biological giving do to a person's psyche?
These are genuine questions. I don't have the answer, and my only hypothesis is based on my own anecdotal experience, which is not very scientific.
Although I have lived with some degree of bulimia for most of my life, I surprisingly loved the way my shape changed during my pregnancies. I know this is not always the case for people with (or without) eating disorders — some women find their physical changes very hard to come to terms with. But personally, it made me feel good about having curves. I enjoyed watching my rounding tummy poking through my clothes, knowing it was for this beautiful purpose.
I hated the part that came afterwards, when I was just left with masses of weight gain and no life growing inside me to make me feel OK about it. But, between four babies born over seven years, it was never long before I was pregnant again, and in the interim, I was able to subdue the lack of self-worth by focusing on my role as a nursing mother.
Now, long after giving birth to my final baby, I still sometimes find myself stroking my slightly rounded tummy in the same way I used to when I was pregnant. Call it a misplaced moment of sentiment. Then it hits me. I am not pregnant and this is just fat. Fat that my abdominal muscles, after the wear and tear of four pregnancies, is now unable to hold tight in the way they could when I was 18. I should feel OK about that, but I don't.
Among these superficial concerns lurk deeper insecurities. Who am I now? After giving my body to my children for so long, who am I today? Now that this is no longer my main purpose?
I now realize this sudden shift in my sense of self left a gaping great hole in my personal identity. It cleared the path for what was once a fairly mild eating disorder — a mostly manageable condition that had rumbled on quietly for most of my life — to take a much greater hold over me for some time. Those superficial body image fears became enmeshed with an evolving identity crisis and led me down a fairly destructive path. Of course, there were many other factors that contributed to this outcome, and there is every chance it would have happened anyway. Undeniably, though, it was a factor.
The photo I have shared is of myself on the very last occasion I nursed my youngest child, then only 11 months old, a day before I was admitted to hospital. This image will always symbolize to me the time and experiences I lost with my family through failing to take care of myself, and serve as a future reminder that my own identity is just as important as those of the people I love.
I am coming out of the other end of this tunnel now and enjoying new ways of constructing my new identity with stronger, healthier building blocks. I often wonder, though, how other women feel, physically and mentally, once that chapter of their lives is over — the bit nobody seems to talk about very much. Do you have any thoughts or experiences that you can share about who you became and how you changed once your childbearing days concluded?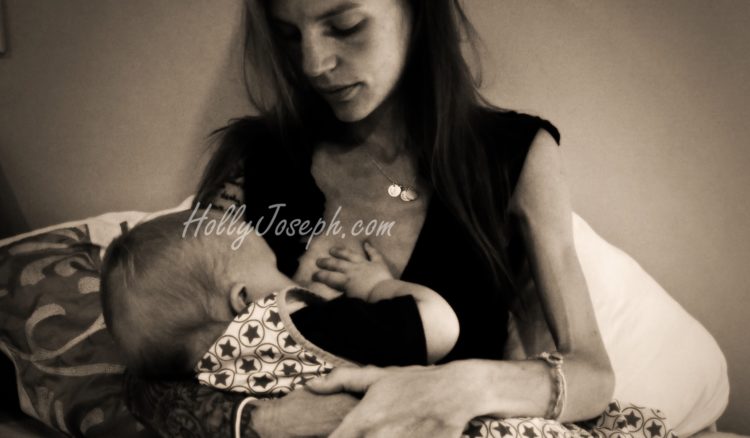 Follow this journey on MamasMarbles.com.
If you or someone you know is struggling with an eating disorder, you can call the National Eating Disorders Association Helpline at 1-800-931-2237.
We want to hear your story. Become a Mighty contributor here.
Thinkstock photo via Pimonova.