I Had My Melanoma Mole Removed a Day Before My Birthday
---
My journey with cancer starts in late August of 2016, with the removal of my mole happening just one day before my birthday on September 9, 2016.
I remember everything clearly like it was yesterday. I had gone to see my doctor to have a mole checked because my cousin, who is six months younger than me, was diagnosed with melanoma and had to have a lymph node dissection.
I had never been a worshiper of the sun, but the mole was a dark color, and it concerned me. My doctor didn't think it was anything to be worried about since it didn't have the usual ABCD markers for skin cancer, but he did a biopsy to be safe.
He called me a week later with the results and told me to sit down. I knew that couldn't be a good sign.
He said, "I'm glad we did the biopsy because you have melanoma."
Everything right after that was somewhat of a blur, but I remember writing down the number for the dermatologist that I was to follow-up with for removal.
At that time I was working for a children's cancer research nonprofit and I had heard countless heartbreaking stories of treatment — and in some cases, death. I thought my diagnosis paled in comparison to what they were going through, but I was still worried.
I kept telling myself, "But, I didn't have any symptoms except a small black dot on my right abdomen."
A bit scared and unsure, I went to my dermatologist appointment thinking it would be minor — just like the initial biopsy. Boy, was I wrong. I had to have a 3-centimeter-wide and 4-centimeter-deep amount of tissue removed, I got 25 deep-tissue stitches and I had 30 above-skin stitches.
I was left in an excruciating amount of pain and was unable to care for myself and perform daily tasks.
I thought after the removal it meant it was over.
But that's when my fight against this disease truly began — and I have a 4-centimeter-wide scar as a reminder.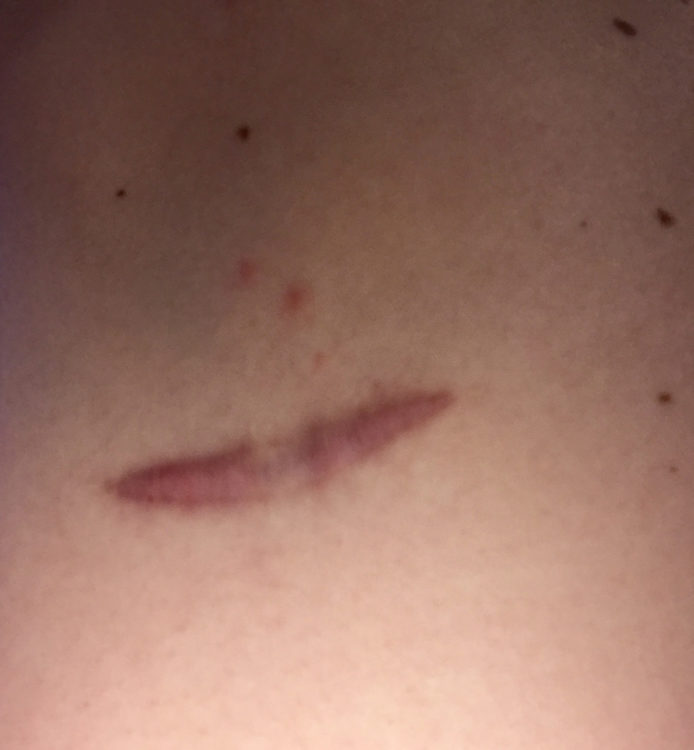 Now I have an increased risk of developing another skin cancer, including melanoma, salivary gland cancer, small intestine cancer, breast cancer, prostate cancer, kidney cancer, thyroid cancer, soft-tissue cancer and non-Hodgkin lymphoma. Because of this I am extremely careful in the sun, I have appointments every three months with my dermatologists for a skin and lymph node check. Oh, and I'm weary every time I have a sore throat or swelling in my arm pits.
I want to remind everyone that a cancer diagnosis doesn't come with any typical "look," and it's important to support every fighter. Also, please be safe in the sun. Even minor sun damage can lead to skin cancer.
I want to remind myself I have something extra to celebrate this year on my birthday — my one-year cancer-free anniversary.
We want to hear your story. Become a Mighty contributor here.
Thinkstock photo by Andesign101