Paying It Forward for My Husband (and All Men) With Prostate Cancer
---
Andrea Thomas is a volunteer, member of the ZERO Prostate Cancer Run/Walk Committee in Sacramento and the wife of a prostate cancer survivor.
Why am I volunteering? That is a loaded question. I guess because finally, I can breathe. Let me explain:
I am the wife of a prostate cancer survivor. I suppose in a roundabout way that makes me one, too — a survivor, of sorts.
I can still picture the doctor walking swiftly into the room, and without eye contact, he reaches out to shake hands and simultaneously announces he has good news and bad news. It was one of those fish handshakes. You know the shake, where no one squeezes the other hand? I don't know if it's because I was already leaving my body and lacked strength to squeeze his or because the doctor was part fish. Either way, I stopped listening and checked out and went numb.
Blah, blah, blah… something about cancer, PSAs, stage one, it's still early…. blah, blah, blah… darn it, Andrea, pay attention.
What is he saying? No, this is not happening. Clearly I heard it wrong. He picked up someone else's file. Yes, that's it. He has the wrong patient. I am married to an athlete. He's young. He's a clean eater. He votes. He flosses, loves God. Who will run the dogs?
I remind myself to breathe as I struggle to come back to earth. I pop into my head for a quick pep talk: "It's all right, we will get through this."
After what felt like an hour of medical rhetoric (clearly seconds) I interrupt the doc mid-sentence to check in with my husband. "Bill, are you OK?" He responds quickly and rather matter-of-factly, "I'm OK, are you?"
The voice in my head says, "Ah, no. Nada. No, no and no!" But my outside voice said, "Yes"as I half smile and put my hand on my husband's shoulder.
At least, that's what I think I said. It's still a bit foggy. Somewhere between (me) reprimanding the doc for his clinical attitude and Bill and I getting into our car, grief had already taken over my body.
They say life changes in a moment. I say moments change our life.
I learn on the drive home Bill was expecting this news. After all, his father died of metastatic prostate cancer just a few years prior. Before we even pull into our driveway I have already imagined what the loss of my husband would look like. We hadn't even started the fight and I conceded to the disease.
Dang, this grief thing unpacks quickly.
Fast forward — we learn about ZERO. We fundraise, put a team together and attend our first ZERO race just two months after Bill's treatment. Our friends join us in solidarity. With each lap I find myself bargaining with God, leveraging for more time on earth with this beautiful man. I've officially lost what stage of grief I am swimming in. Bill and I are holding hands when we cross the finish line. We both are crying. My husband, an Ironman, is walking in victory. I am angry this disease exists.
Another stage. Another battle.
Race #2 and I am reminded Bill was stage 3 just a little over a year prior. Time flies when it's not standing still. I like this race. I see familiar faces, but most importantly, my husband's face. The journey here could have easily had a different ending.
I watch closely to what I think must be sons and daughters, partners and wives, families and friends of lost warriors and those still fortunate to walk along side of us. Tears of joy and or sadness — its hard to tell them apart. They look and taste alike — I know because I'm sobbing.
Once again I see my husband's name on a survivor poster. He is a survivor.
Awareness was the key. OK, I think we can do more. I can do more. I tell Bill if this race ever comes to Sacramento, I'm going to volunteer. I want to pay it forward. On the drive home he tells me there is talk that next year our city might get the race.
I'm so in. Acceptance is my new norm; I'm getting the hang of these grief steps.
I talk to so many men about prostate cancer. I'm fearless and emphatic about it. Often the men will blush or try to change the subject or tune me out. Many men are open to listening. I often wonder if they think I know what I'm talking about. After all, it wasn't my cancer.
I tell them if my husband had not been aware, intentional and persistent, he would not be alive today.
Prostate cancer does not just impact men. It impacts all who love them. It's our cancer, too.
ZERO has provided Bill and I with tools, encouragement, hope and purpose. There is something powerful about this race — the ambience, the connectivity and the intentionality. We are stronger together. Volunteering is the most simplistic way of giving back and paying it forward. Showing up, helping and supporting allows us to give voice to those who have lost the battle.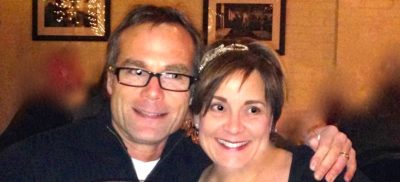 If one man is impacted because I volunteered, then while it's not good enough odds (as we must do better), it is good and it is enough for me to get off the couch and support the campaign.
I'm so in.
This post was originally published on the ZERO — The End of Prostate Cancer Blog.
We want to hear your story. Become a Mighty contributor here.
Thinkstock photo by goodsgood