June 21, 2018
How Lupus Affects (and Doesn't Affect) My Marriage
---
I am lying in bed beside my husband. He is watching some program called "The Handmaid's Tale," a dystopian television show that I tend to call counterintuitive to our sex life. Meanwhile I am drinking red wine and plotting otherwise.
This is all completely at odds with the fact that just over a year ago, I had stem cell surgery for lupus. I went into surgery completely unaware of what the outcome would be. I came out with miraculous improvement to my health and my life has been on the upswing since.
Prior to my surgery I lived from flare to flare. I had a walker, a chair, and several canes. Lupus severely impacted my ability to carry out many tasks in my life and also influenced my romantic relationships. Moreover, what I read on the internet and the way illness was depicted in the media really influenced my beliefs over how I could have a relationship myself – and also have a successful relationship because of the sheer weight of the challenge it brought.
Comparatively, they were also some of the best years of my life, and I had some of the most love and fun I've ever had despite being so sick.
I have been with my husband now for several months. It has been a whirlwind romance and soon after meeting we decided to get married. We had a small wedding on the beach near our home where his parents also got married when they were younger. Only our immediate family attended. Everything about it was beautiful. I had a white bouquet, a short white lace dress, and a flower in my hair.
Living with chronic illness, I always had the fear that when the day came I would not be able to walk myself down the aisle or that I would need my cane. That I would have to see how I felt to actually plan or pick a day, and that even when the day came, I may not be up for it…For my own wedding. That I would not be able to take on the full gamete of wedding planning. But none of these fears came to fruition, and the wedding was all I could have asked for. My husband, for the most part, has never seen me sick.
I have been healthy for the most part since I met my husband and since we got married. I remember when we were planning our vows and discussing the wording of them how much certain phrases meant to him and then I told him how much "in sickness and health" meant to me. He almost chuckled, saying to me that those things were obvious to him, and that I didn't need to worry.
If you have a chronic illness you will understand, though, because my biggest worry wasn't whether he would be bothered if I got sick again – but that I would get sick again. It was that he would see me that way. That the life I've built with him and the responsibilities and jobs I've taken on since returning to the land of health would disappear should I suddenly become ill again.
Because as those with chronic illness know, it's not when, it's that it will happen. And how we'll cope. 
And frankly, I've never seen or heard of anything positive about marriage and illness.
So today, I googled "Lupus and Marriage" and found the following: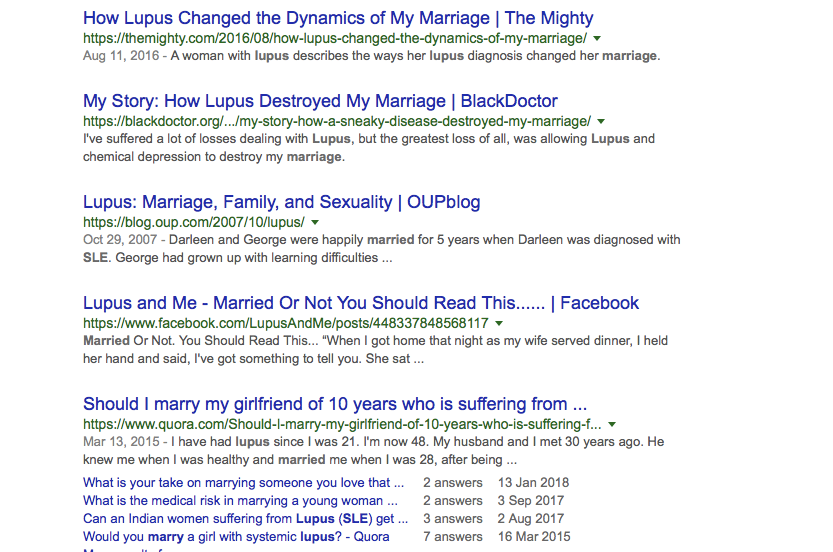 "Would you marry a girl with systemic lupus?" is my favorite. Or, "What is your take on marrying someone you love who has lupus?"
It makes me sad that there is so little real information available about relationships and lupus.
After almost seven years of battling Lupus, I vividly remember the countless moments after first being diagnosed where I believed it had taken everything from me, and that my health would never return. I missed out on so many rites of passage due to my health that being married or getting married seemed a bit absurd, and rightfully so. I remember believing that there would never really be good things again in my life, because my health would "always take them from me." But my health did return, and I found a balance, and, my life is great now.
I like to dance while my husband does the dishes. Dance. And it doesn't hurt. Since my surgery, I can dance for hours and my knees don't get sore. And I don't take prednisone or chemo anymore.
And I am lucky enough to be able to run after him around the house, tackling him at times, even, since nowadays, I don't have difficulty walking or have to use a cane.
I remember cooking for him on one of our first dates, sweating bullets, because I was so nervous. And I am actually a really great cook, so what should have been a well-sauced stir fry ended up a bunch of vegetables downing in a pan of sauce — and I didn't stop once to think, "I'm too tired to cook this dinner. My hands hurt too much to stir this, or to chop this, or maybe I should pull up a chair by the stove so that I can do everything and measure my energy a bit better."

And this is all great. And it makes it even harder when I have a bad day and I can't get out of bed (yes, those still happen), and then he comes and tucks me in with my heating pad and says he'll just bring me some water. I have to explain to him about how my energy starts at a lower bar than other people and so I'm like a flag at half mast sometimes, and we just have to work with that – remission or not. He says that's OK, because that's what marriage is about.
But regardless of whether or not I have a bad day, or if I have or have not brought a cane – my marriage is not worse because of this. We still have a blast and go on dates to the beach and then pretend we are on safari while we are driving up the sand dunes.
What does affect my marriage? The typical things. Things like what we'll have for dinner, or who will do the dishes. Or things like when we'll go out for dinner, or what house we'll buy, and where.
All regular things. All non-catastrophic, non-Lupus related things. They are not issues related to my health, and most days my health is intact.
And even when it is something that is health related, the world doesn't end. On one occasion, we even spent three hours in traffic going to pick up my lupus medication. Things were OK, though, and the panic, guilt, and anxiety that I had around it was a waste of time. And yes, even though I am for the most part still healthy, there are lots of questions that my health raises.
I'm having surgery again this year. There are questions about children, work, and all sorts of other things. I wonder if I'll be able to take them on and retain the level of health that I have now. We have to manage things in our life to keep me as healthy as I am.
But my being ill hasn't ruined our relationship. Neither have the adjustments that we have had to make in order to retain my current level of health.
Because that's all it is, managing — adjusting — tweaking, and having fun along the way.