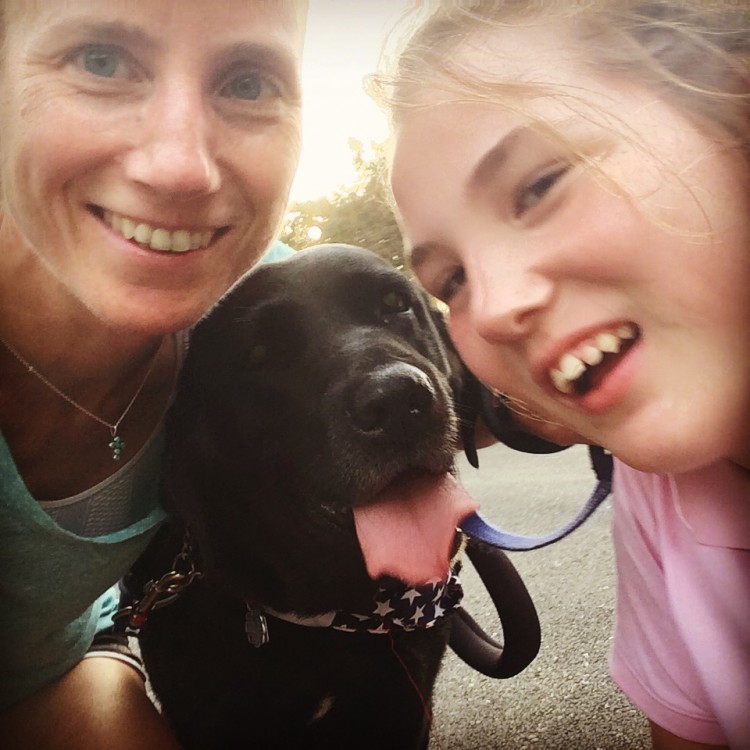 As parents we so frequently instruct our children to "just be yourself." Over and over I impart this advice to my three young sons whenever they express anxiety about a new social situation. However, in addition to the boys, I have a daughter who has an autism spectrum disorder, and honestly I hesitate to ever give her this advice.
Though my husband and I, and a rare few, will always love and delight in Erin's uniqueness, we know the world at large is not quite as accepting. Since receiving her diagnosis at 22 months, we, along with a host of specialists, have devised a rigorous regime and barked a litany of instructions to help her function within the parameters of what social norms demand. Quiet voice, hands in your pocket, no jumping, calm body, give the person space, look me in the eye, say hello, say goodbye, say thank you. It's hard enough to assimilate and make friends as a typical kid – for children on the spectrum, their quirks, their language, physical and behavioral challenges can make it next to impossible.
Three years ago, however, Erin met someone who, for the first time in her life, demanded nothing from her – a friend who was not bothered by her tendency to jump up and down and flap her hands, who did not mind her difficulties with voice modulation and spatial relations – who in fact welcomed and encouraged her need for close proximity. This person genuinely loves and accepts her for who she is – for being herself – and has since showered her with a level of affection, devotion and patience that is beyond human – largely because he is just that.
He's a dog – a special dog, named Pablo.
Erin calls Pablo, a black lab with big brown eyes, her "best buddy." Sometimes, to the boys infinite amusement, she refers to him as "Smee" – because he often sports a red bandana like the deckhand in Peter Pan.
Pablo came to us through a program called Heeling Autism operated by Guiding Eyes for the Blind.  The primary goal of this program is to provide safety for a child with autism and specifically to prevent them from bolting or wandering in public. While this is a tremendous relief for parents who may have dreaded and avoided public outings with their children, the gifts the children and families receive from this program are manifold.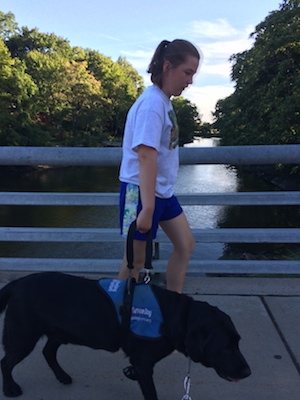 One of Erin's favorite activities is walking to town with Pablo. Erin doesn't participate in any organized sports, so this serves as her central means of exercise. With Pablo at her side, they log several miles a week, his steady gait grounding and keeping her focused on the road ahead. He also helps her engage and connect with all who cross their path. They've become a familiar sight along the route. Cars honk, neighbors wave, kids and adults alike greet them along the way.
While Erin is the main recipient of Pablo's time, attention and affection, our entire family has gained immeasurably from his presence in our life. Behind every child affected by autism is a family affected and forever changed by this diagnosis. While Erin's three younger brothers have never known a life other than one in which their older sister behaves differently than their friends' siblings, I know there are days they wish for her and for themselves a different experience. Every time we enter a new situation or setting as a family, anxiety levels rise, as we can never be certain how Erin will react.  How will she respond? Will something set her off? Will we have to leave immediately? Who will leave with her and who will stay with the boys? Or will we all just exit and call it a day? There's a fair amount of uncertainty regarding even the most mundane of family outings.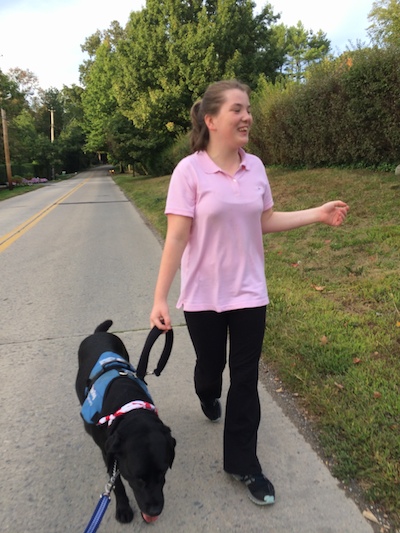 While a dog doesn't change the fact that their sister has autism, he certainly has enhanced the equation. Pablo has plowed through many a social barrier not only for Erin but for her brothers as well. When approached by this gentle giant sporting his bright blue service dog vest, people naturally let down their guard. Pablo puts people at ease and places Erin in a position in which she must interact and communicate in a way that seems natural – almost typical. Children and adults alike stop to ask Erin and the boys if they can pet her dog. They ask his name and his age and how long we've had him. Suddenly a conversation is set in motion and smiles are exchanged as Pablo happily steps into the spotlight and the rest of us find ourselves experiencing a rare moment of calm within the confines of a public space.
Pablo has also been an answer to many years of wishes and prayers. Like many kids, ours wanted a dog – and had lobbed in this request, year after year, pretty much since they could speak. A dog for Christmas? A dog for my birthday? A dog for his birthday? A dog for her birthday? A dog in summer – or when we go back to school? No, no, no, and again, no. As we pointed out time after time, life was challenging enough taking care of them – not to mention Erin. There was no way we could ever have imagined introducing a dog to this picture — until we learned of a program that places trained dogs with families touched by autism.
Heeling Autism has not negated the challenges Erin or our family face, but it's helped bring about a fair amount of healing by introducing us to someone who wants no one to change, who loves without condition, who stands resolutely by your side as you have a complete meltdown because you can't find the purple one, who licks tears and wayward crumbs off your face and will play fetch when everyone else has gone inside, who will jump on your bed and keep you company as you sleep, who will listen to you read for hours and not correct a word, who doesn't care if your socks match, or your shoes for that matter, who will walk for miles by your side and sit for hours as you search for just the right library book, who will never say it's time to go, we're late, you're taking too long, stop acting that way – someone who just wants you to be yourself and stay close and when mom's not looking, to share your hamburger.
Many people ask what it is exactly that Pablo does for Erin. There are many answers to this – and then there is only one, which Erin announces no less than ten times a day: "Pablo loves me!"
Want to end the stigma around disability? Like us on Facebook.
And sign up for what we hope will be your favorite thing to read at night.