When Your Child Doesn't 'Grow Out' of a Seizure Disorder
---
Sponsored By

My son Aaron always wanted to be his father's sidekick. We live in the country in Western New York, so this meant being together outdoors, working on our land, and anything involving a mower, hitches, or tractors. Aaron is 32 now, and for most of his life, this was impossible — it was just too risky that he would have a seizure.  
Before his first seizure, Aaron was a healthy toddler who was meeting all his milestones. Then one day, while I was home alone carrying Aaron in my arms, he stiffened up, throwing the toy in his hand. I noticed his eyes rolled to the back of his head, and he was slightly convulsing. I didn't know what it was — I had never seen a seizure before. After about 30 seconds, his eyes fixed on me, and I realized he had come out of it. I called 911, and we took our first ambulance ride to the hospital. The doctors said this seizure could be an isolated incident and ran some tests, but we didn't get any answers. 
Aaron had another seizure two days later. We went to the nearest children's hospital and ended up with the Chief of Pediatric Neurology. Because Aaron had a "normal" birth and had been meeting his milestones, they said it was a seizure disorder he would likely grow out of. We hung onto that possibility for years, even as his seizures became more difficult and led to more trips to the ER. 
Trying to manage his seizures was a roller coaster ride. Things would be stable for a while, but then turn on a dime. For the bulk of Aaron's life, his seizures mostly happened at night but there were also seizures during the day. Every time he had a seizure, I wondered if I could've done something differently. "What did I feed him? What did we do that day? Was there extra stress or was he extra tired?" We tried a combination of medications for a while, but they'd always stop working, so we'd change over and over again. I was constantly watching him, worried he was going to have a seizure. 
As much as we want to keep our children small, they get bigger. I remember when I could no longer scoop Aaron up at night and move him to the middle of his bed. When he first grew hair on his legs, I thought, "This little boy is becoming a man," and I wondered how I would be able to take care of him. Eventually we were connected with a great doctor at a facility a couple of hours away, and that connection was a lifeline. We would look forward to each appointment, hoping there was a new answer, a new medication, or a new direction. We still held onto the possibility that Aaron would outgrow his seizure disorder.
When Aaron turned 18 years old, we were devastated to learn we had to switch from his pediatric neurologist, with whom we had a long-standing and trusting relationship, to an adult neurologist. Luckily, we found one close by who was wonderful. During that very first appointment, she asked us, "You've been told he has Lennox–Gastaut syndrome, correct?"
 We answered, "What is Lennox–Gastaut?" 
That was how we received our diagnosis. It was a shock, but at the same time it was a relief to have a concrete answer. Of course, we went researching online. I learned that LGS can be one of the most difficult-to-treat forms of epilepsy and symptoms can evolve over time, masking the signs needed to confirm a diagnosis. In addition to seizures, children often experience, an inability to solve problems, and attention-seeking behavior. Up to nearly two thirds of young children with LGS may also show signs of developmental delay before the first onset of seizures.
Even with this diagnosis, there were still a lot of unknowns about what our future would look like. I read about clinical studies and researched treatment options, but the best resource for us was connecting with a community of other parents through the LGS Foundation. 
We learned about an upcoming conference in California. Even though travel was always a challenge for us, we applied for a full scholarship. We were in the dark for so long about Aaron's seizures and eventual diagnosis and felt so isolated and alone. When we received the scholarship, we felt like we had won the lottery. Attending a conference full of information and getting the opportunity to talk with actual families living with LGS and going through the same things we were was an incredible experience. It was great for Aaron, too. That conference was a wake-up call in terms of exploring everything that could be possible for Aaron in terms of treatment. My husband and I left even more committed to find more options for Aaron. 
It was through another conference we attended that we heard that CBD, or cannabidiol, was an upcoming option that may help people living with LGS have fewer seizures. Of course our first thought was, "Is Aaron going to have to smoke something? Where do we even get this?" We were surprised, yet curious. We learned about EPIDIOLEX®(cannabidiol), the first and only FDA-approved prescription CBD medicine (note: EPIDIOLEX is approved to treat seizures associated with LGS, Dravet syndrome, or tuberous sclerosis complex in patients one year of age and older). It made us feel better that the active ingredient in EPIDIOLEX – a highly-purified form of CBD – is plant based and not synthetic. And because it follows the strict regulations of the FDA, we could trust that it didn't contain contaminants like toxic heavy metals or pesticides.
IMPORTANT SAFETY INFORMATION
Do not take if you are allergic to cannabidiol or any of the ingredients in EPIDIOLEX. EPIDIOLEX may cause liver problems. Your doctor may order blood tests to check your liver before you start taking EPIDIOLEX and during treatment.
Please refer to the EPIDIOLEX Medication Guide and Instructions for Use for additional important information.
Please see additional Important Safety Information & Indications below.
We then talked to our healthcare team about trying EPIDIOLEX. We discussed possible side effects, including diarrhea, sleepiness, and potential impact to liver enzymes, but believed EPIDIOLEX was worth trying.
After starting on EPIDIOLEX, we began to see more space in between Aaron's seizures during the day. When we checked his monitors in the morning, we saw he was also having fewer seizures at night, including some nights without any seizures at all. He continued having fewer seizures as we worked with his doctors to find the right dose for him. When he would get a break from some of his seizures, it was like this massive fog began to clear. Fewer seizures meant Aaron was able to have better rest at night and more rest in between seizures during the day, giving his brain more time to process what was happening around him. With that time to recoup, he was able to think a little more clearly and talk in complete sentences. We saw him retaining more information and his ability to socialize grew. We've had friends over, and even they saw  changes in how Aaron interacts and speaks with them.
Now, we've reached a point where we feel more comfortable letting Aaron do things without us being right there with him. He loves bowling and playing basketball with the Special Olympics. We've had at least eight bowling birthday parties for him! He's involved in a day program where he joins other people in the community for exercise and learns about academics, nutrition, and life skills.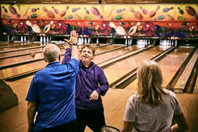 Of course, Aaron still absolutely loves being outdoors. He's a hard worker and looks forward to projects he and his father can do together. Before, my husband would be a nervous wreck most of the time, always on edge and ready to grab Aaron in case he had a seizure. Now, we're more comfortable knowing he's not having as many seizures, and my husband loves having Aaron's help. He's finally able to truly be his father's sidekick. 
To be where we are today is quite a blessing we didn't expect. I would encourage anyone raising a child with a seizure disorder to never give up hope. Don't look too far in the future, because you don't know what the future holds. Take it one day at a time, and enjoy your child and their small successes, or "inch-stones," as we like to call them.
Learn more about Aaron and his family's story, and watch videos from other families on their journeys living with epilepsy here.
Important Safety Information & Indications (continued)
What is the Most Important Information I Should Know About EPIDIOLEX (cannabidiol)?
EPIDIOLEX may cause liver problems. Your doctor may order blood tests to check your liver before you start taking EPIDIOLEX and during treatment. In some cases, EPIDIOLEX treatment may need to be stopped. Call your doctor right away if you start to have any of these signs and symptoms of liver problems during treatment with EPIDIOLEX:
loss of appetite, nausea, vomiting

fever, feeling unwell, unusual tiredness

yellowing of the skin or the whites of the eyes (jaundice)

itching

unusual darkening of the urine

right upper stomach area pain or discomfort
EPIDIOLEX may cause you to feel sleepy, which may get better over time. Other medicines (e.g., clobazam) or alcohol may increase sleepiness. Do not drive, operate heavy machinery, or do other dangerous activities until you know how EPIDIOLEX affects you.
Like other antiepileptic drugs, EPIDIOLEX may cause suicidal thoughts or actions in a very small number of people, about 1 in 500. Call a healthcare provider right away if you have any signs of depression or anxiety, thoughts about suicide or self-harm, feelings of agitation or restlessness, aggression, irritability, or other unusual changes in behavior or mood, especially if they are new, worse, or worry you.
Take EPIDIOLEX exactly as your healthcare provider tells you. Do not stop taking EPIDIOLEX without first talking to your healthcare provider. Stopping a seizure medicine suddenly can cause serious problems.
What Else Should I Know When Taking EPIDIOLEX?
The most common side effects of EPIDIOLEX include increase in liver enzymes, sleepiness, decreased appetite, diarrhea, fever, vomiting, feeling very tired and weak, rash, sleep problems, and infections.
EPIDIOLEX may affect the way other medicines work, and other medicines may affect how EPIDIOLEX works. Do not start or stop other medicines without talking to your healthcare provider. Tell healthcare providers about all the medicines you take, including prescription and over-the-counter medicines, vitamins, herbal supplements, and cannabis-based products.
What Additional Information Applies to Women?
If you are pregnant or plan to become pregnant, EPIDIOLEX may harm your unborn baby. You and your healthcare provider will have to decide if you should take EPIDIOLEX while you are pregnant.
If you become pregnant while taking EPIDIOLEX, talk to your healthcare provider about registering with the North American Antiepileptic Drug Pregnancy Registry (by calling 1-888-233-2334). The purpose of this registry is to collect information about the safety of antiepileptic medicines during pregnancy.
Because many medicines like EPIDIOLEX are passed into breast milk, talk to your healthcare provider about the best way to feed your baby while taking EPIDIOLEX.
What is EPIDIOLEX (cannabidiol)?
EPIDIOLEX is a prescription medicine that is used to treat seizures associated with Lennox-Gastaut syndrome, Dravet syndrome, or tuberous sclerosis complex in patients 1 year of age and older.
https://ad.doubleclick.net/ddm/trackclk/N5654.3695630THEMIGHTY/B25145162.336889159;dc_trk_aid=528633434;dc_trk_cid=172181409;dc_lat=;dc_rdid=;tag_for_child_directed_treatment=;tfua=;ltd=">EPIDIOLEX is safe and effective in children under 1 year of age.
Please refer to the EPIDIOLEX Medication Guide and Instructions for Use for additional important information.
You are encouraged to report side effects of prescription drugs to the FDA. Visit www.fda.gov/medwatch, or call 1-800-FDA-1088. You may also contact Jazz Pharmaceuticals at 1-833-424-6724.
EPX-25927-0422