An Unusual Work Call Turned an Ordinary Tuesday Into a Day I'll Never Forget
---
I received a call at the office one Tuesday morning from what seemed like an elderly man.
"Kunst Painting. How can I help you?" I said.
"I'm looking for Bob. Is he around? I need an estimate today… not tomorrow or the end of the week. Today!" he spouted impatiently.
I went through my typical probing questions to figure out what type of estimate and possible client he might be. When someone calls asking for "Bob" (my grandfather who retired well over 15 years ago), I know they're in desperate need of painting. Fifteen plus years without painting? Well, you get the picture.
"I didn't catch your name, sir," I said.
"Bill," he murmured.
"I'll see you in an hour, and thanks again for the call." I hung up.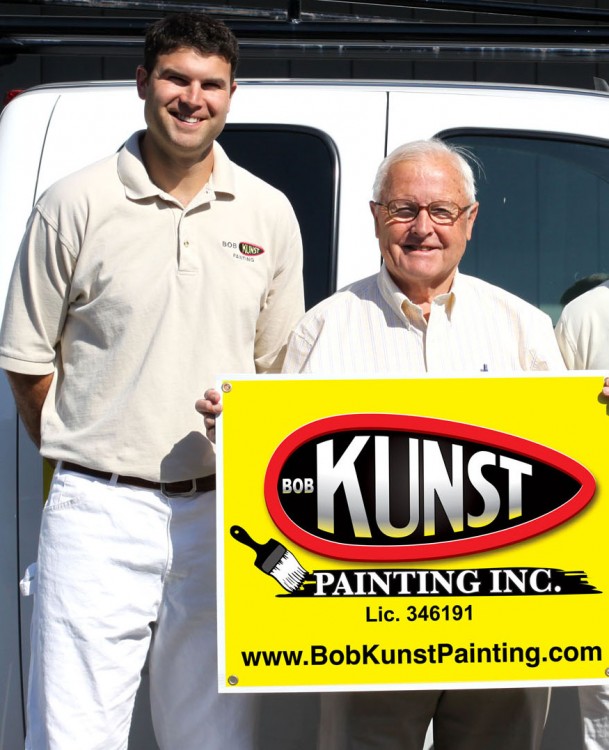 As I pulled down the quiet street where Bill lived, memories of my grandfather (who we call, "Papa") filled my mind. Papa's van smelt like a combination of dirty paint thinner and the remnants of a Wendy's cheeseburger. I can still hear his suitcase full of 4, 6 and 8-inch block brushes sliding back and forth. "You know, John, if I can give you one piece of advice it's that you should be your own boss. First one hired, last one fired!" Papa said.
The narrow, tree-filled street Bill lived on wasn't anything to write home about. It was in need of major repair; the sidewalks were a skateboarder's worse nightmare. I turned my truck engine off, grabbed my clipboard, business card and measuring wheel from the passenger seat and headed towards Bill's single story, four-bed, two-bath barn red home (painted in some sort of barn red). The sun and elements had nearly worn right through every bit of color. It was patchy and looked like some college kid vomited red wine all over the siding.
I was 10 feet from the entrance when the door swung open.
"You John?" he asked.
"Yes, sir. That would be me," I said with a calm smile.
"You look like your grandfather, only younger… and taller," Bill said in a hurried manner.
At this point my mind was still stuck in memory lane with Papa. What did this Bill guy want? I thought. Obviously, he needed a paint job, but why was he in such a hurry all of the sudden?
As Bill walked me around the outside of his house, he pointed out several mishaps and flaws that needed to be addressed. He mixed in stories of his kids growing up and playing in the backyard. When we reached the back patio, Bill slowly sat down in what seemed like his chair. The four-legged, mustard-yellow chair looked as old as him, yet comfortable and sturdy as a grandfather's chair should be.
"Bill, just curious, what's the hurry? Why did you need me hear by midday?" I asked. "It's not like the house is going to fall down."
"John, you seem like a nice young man. By the way, your grandfather was the nicest man, so I'm already leaning towards liking you" he said with a smirk.
I grinned, thinking, This old guy is a hoot.
"I'm in a hurry because I woke up today willing for the first time to pull the trigger, to make a change. I've been coming out here since before you were born, mostly to watch the birds eat my fruit trees. They like those apricots the best! My house hasn't changed in 20 years. Not since my son died."
My eyebrows lifted as Bill began to open the floodgates. He fascinated me. Actually, most old people fascinate me, but something about Bill caught my attention, and I yearned to know what this man was about.
"It's time I fix this place up a bit. I come out here every day and reminisce. I'm 79 years old, and most of my family has either died or moved away. Since my son died of leukemia 20 years ago, I've fixated on the memory of us painting this old place together and wish we could do it all over again."
My heart sank as I sat down next to Bill; the padded chair creaked; it hadn't been sat in for quite some time. Emotions ran through my body faster than my heart could pump blood. Tears began to build.
"I understand, Bill. My 4-year-old son was born with Down syndrome and is currently battling leukemia. He was diagnosed November 12th. There isn't an hour that goes by that I don't think about him, the disease and the affect it has had on our family. I couldn't imagine losing him." My eyes were burning.
We walked the rest of the house and chatted about how far the medical field has come in the last 20 years, the chemo treatments, the blood work, the bullsh*t. I shook Bill's hand, and he pulled me close. "Cherish the moments you have together and get a brush in that boy's hand," he said. "It was the best thing I ever did."
I got in my truck and left. As I drove back to the office, I thought of Papa again and what Bill just said. If it weren't for Papa's advice back then, I would have never met Bill and heard his story.
Jack — get out the brush!
For all of February, The Mighty is asking its readers the following: Describe the moment a stranger — or someone you don't know very well — showed you or a loved one incredible love. No gesture is too small! If you'd like to participate, please send a blog post to [email protected] Please  include a photo for the piece, a photo of yourself and 1-2 sentence bio.
Want to end the stigma around disability? Like us on Facebook.
And sign up for what we hope will be your favorite thing to read at night.