This Teen With Down Syndrome Just Received a Late (but Amazing) Christmas Card
---
It started with a mother's Christmas wish.
Last December, Mary Ann Pyron asked her Facebook friends to send her then 18-year-old son, Blake, Christmas cards. Blake, who has Down syndrome, loves receiving mail. When his mother's request made local news, he found his mailbox in Sanger, Texas, quickly filling up. Pyron expected maybe 20 cards — more than 300 came in from all over the country.
One letter stuck out.
Sergeant Kenneth Osborn, deployed in Afghanistan, heard about Pyron's Christmas wish and sent the now 19-year-old a letter, along with a hat and flag (that he flew for Blake) from his base and two scarves from a local Afghan family. Blake received the letter on Monday, Feb. 9.
The letter reads:
Dear Blake,

Hey buddy. I saw you on TV and wanted to send you some stuff from Afghanistan. First and foremost, inside is a flag that I personally flew on two operations out here for you. Those operations were conducted on Christmas Day and New Years, and I'm happy to say that all of our men made it back safely. With this flag is a certificate signed by me and a sticker representing our unit, Hammer Company Task Force ODIN. Next is a hat from the base that I operate on out here. Lastly, I have included two handmade scarves from a local Afghan family out here. The scarves are purple and yellow, the colors I saw you wear on TV. I just wanna say that I think it is really awesome that you are the captain of your team. I was in charge of our operations in which your flag was flown. So I got to be just like you, a captain of a team. Well I gotta go buddy, I want you to know you are my hero!

Your friend,

SGT Kenneth Osborn
"Blake was thrilled," Pyron told The Mighty in an email. "He loves our troops."
The Pyrons later connected with Osborn on Facebook.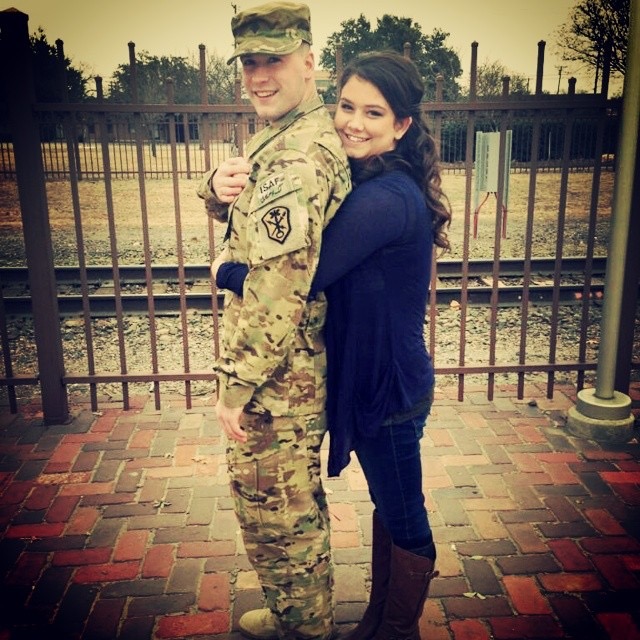 Want to end the stigma around disability? Like us on Facebook.
And sign up for what we hope will be your favorite thing to read at night.