To the Friend Who Doesn't See My Son as 'the Weird Kid With Autism'
---
They say if you have one or two really good friends, you've got it made.
Well, if that's true, then TJ, our 14-year-old with autism, has got it made.
For your typical 14-year-old, having a friend means hanging out at each other's houses, texting, chatting on the phone, going to the mall and going to school events like football games or dances together.
For my son, a friend means a very different thing. 
To be TJ's friend, you have to be patient. TJ may not talk to you that much — or at all.  He really likes talking about things he's interested in but will forget to ask about things his friend may be interested in. TJ usually has his favorite movie or TV show running through his head, so he may blurt out lines at random times and make no sense. He does a great job at school, holding it together and contributing as much as he can, but when school's out, his favorite thing is to play by himself at home. No hanging out for TJ. When he does, it's with me, and I'm pushing his social interaction agenda.
TJ has had three or four good friends since he started school. These guys have joined him for "lunch bunch" with the speech language pathologist (SLP) so TJ could practice having a two-way conversation. They've practiced walking with him after school to the library in the center of town so TJ could feel more independent. They've helped him out here and there throughout his entire school day to keep him on track so he wouldn't get in trouble for not paying attention or for fidgeting too much.
I've always said that these friends are TJ's heroes. I've always been so grateful for these heroes — more than they will ever know.
One hero stands out. His name is Colby.
Colby and TJ met in sixth grade in a shared class, where Colby found TJ drawing (his favorite self-soothing activity). Colby asked what he was drawing and then asked if TJ could draw something for him. 
To Colby, TJ was never "the weird kid with autism." To Colby, TJ was always just TJ. Funny. Sensitive. Kind. Fun to be with.
In seventh grade, I gave TJ $5 for an after-school bake sale. He was so excited; he couldn't wait to buy as many chocolate chip cookies as his $5 would allow.
But somehow, throughout the day, he lost his money.
Colby found TJ crying. He explained how he lost his $5 for the after-school bake sale.
Without a word, Colby reached into his own pocket, grabbed $5, crumpled it and dropped it at TJ's feet.  Then he pointed to it and asked, "TJ, is that it right there? On the floor? Is that your $5?"
TJ stopped crying immediately and picked up the money. He was so happy. 
And so was Colby — so happy to have helped his friend. I didn't even hear about this story until about a year later. Colby didn't do it for any praise. He did it to help his friend.
Colby's the kind of of friend I always dreamed TJ could have. I never thought it'd happen. Colby and TJ are quite simply, buds. Colby's mom calls them "Peas and Carrots." That's how well they go together.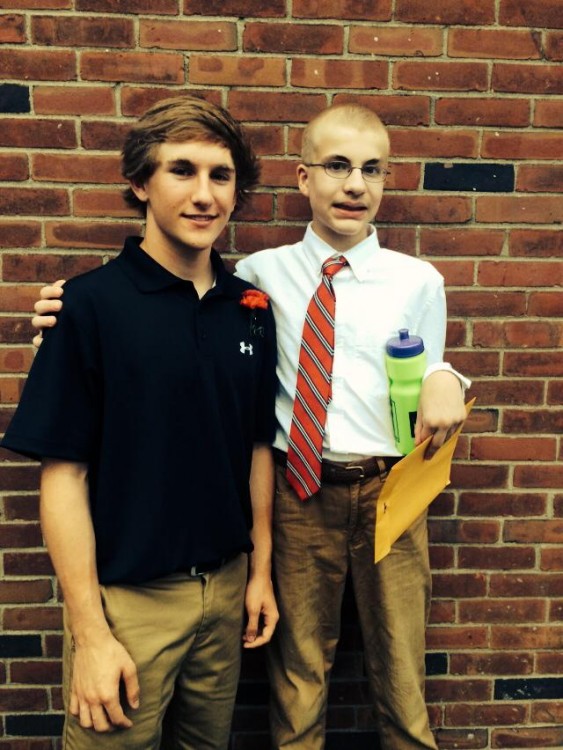 These Peas and Carrots are now in ninth grade at the big high school. Colby came with us to tour the school this summer. It helped TJ feel less anxious about starting a new school. 
Colby plays football. He's also a wrestler. He has lots of friends. His social calendar is packed.
He also volunteers with the Unified Sports program at the school, working with kids with special needs in various sports programs like bowling and bocce — a program that makes sports fun for these kids. 
TJ doesn't take Unified Sports. For him, when school is done, it's done. TJ wants to go right home. He chose to participate in an after-school club about wildlife animals, but it was too long for him, and he now only attends half the meeting each week.
Even though activities take these two in different directions, they always find ways to connect. Colby and TJ and a few other boys meet with TJ's guidance counselor for lunch. Colby and TJ share a math class, so they get to see each other every other day. And at Christmas, Colby continued his now two-year tradition of bringing TJ his own ornament of his favorite cartoon. This year it was from "South Park."
TJ loves it and smiles every time he sees it. He didn't want to put it away with the rest of the ornaments.
But the best part is that to TJ and Colby, they aren't doing anyone any favors by being friends. They just really like each other. They truly care about each other. And they've got each other's backs no matter what.
As Colby always says, "I just really like TJ. I am so proud to be his friend." 
It's more than this autism mom could have ever hoped for. 
Thank you, Colby. You are our hero.
Follow this journey on Laughing… Like It's My Job.