It's a question that gets asked frequently and casually by your boss, your coworkers, the lady at the check-out counter and your friends: "How are you doing?"
The How Are You? Project wants you to answer honestly, and won't stop asking until you do.
Started by seven college students who are interning at MRY, a creative and technology agency, the centerpiece of the project is a 10-hour-long video of one of the founders, Trevor Hains, sitting in a coffee shop.
That's right, 10 hours. He's just sitting there, waiting for you tell him how you really are. If you click, "Fine, thanks," the video starts over. When you're brave enough to select, "Actually, let's talk," you're taken to the project's website, where they have information and tips about how to ask the question to a friend who might be having mental health problems.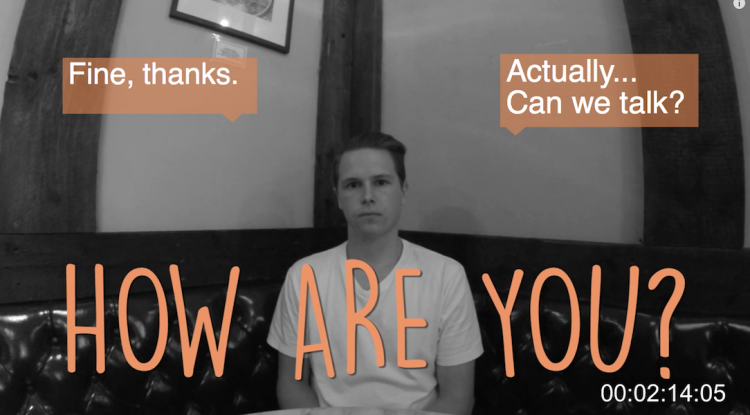 "When we first started to think about the topic, all of us immediately went to how much students rely on their friends. We really thought about our everyday interactions," Carly Harris, one of the founders the How Are You? Project, told The Mighty. "We say, 'How are you,' every day, but it's lost its meaning."
Although the question is simple, the implications are huge. According to the project's site, 64 percent of students no longer attending college dropped out because of a mental health reason. While 6 percent of undergraduates and 4 percent of graduates in 4-year colleges have seriously considered attempting suicide, nearly half of each group didn't tell anyone about it. So when someone answers, "How are you?" with, "Fine," they might not always be telling the truth.
Heather Ford, founder of the How Are You? Project Georgina Morgan's close friend, lost a friend to suicide last year — Madison Holleran. Holleran was a track star and student at University of Pennsylvania. Her death was sudden and seemingly without explanation.
"If you looked at her Instagram close to her death, she was having the perfect freshman year," Ford told The Mighty. "She constantly posted pictures from parties and with her friends at school. They showed someone who was having the greatest time. I don't really think anyone could see how badly she was struggling."
The How Are You? Project suggests if you're worried about a friend, sincerely express your concern in a nonjudgemental and understanding manner. Really listen and then follow up. It's all about taking the question, "How are you?" seriously. 
"At a very basic level, we want college students to think about how they can change their everyday interactions," said Harris. "Close friends might not even realize you're open to talk to them about these issues."  
You can use #howareyouproject to promise you'll mean it when you ask, "How are you?"