When I Hear What My Son With Autism Doesn't Say
---
If we're lucky, we have a few close friends, a few besties we can count on for the good times, the hard times and the times when life just takes a big, giant dump on you. Each one of those friends plays a different role. There's the grab-a-bottle-of-wine friend who helps you connect with denial when you want to shut it all out and drown your problems with wine, cheese, chocolate and idle chit chat. There's the friend who takes that bottle of wine and helps you put your big-girl pants on while dragging you kicking and screaming into your wine-free reality.
And then there's the friend whose soul is so similar to your own, you're convinced you were friends, if not sisters, in another lifetime. The friend you share a quiet connection with, a deep-rooted bond based on hearts and minds that are so alike. The friend who hears what you don't say.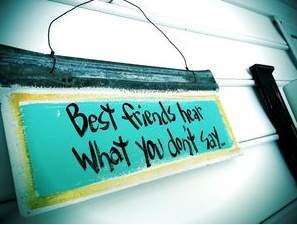 This friend, who knows my brain and my heart almost as well as her own, bought me this sign for my birthday that reads, "Best friends hear what you don't say…" I love it because it's true and because it's us. This friend and I have heard one another without ever saying a word.
As I stared at my sign that hangs on my most favorite place in the world, my beloved back porch, I couldn't help but compare this unique, wordless bond I share with my friend to the quiet bond I share with my son, Ryan. Of course Ryan would never call me his "friend," let alone his "best friend" because, well, I'm just Mom, but my connection with Ryan is equally unique, and just like my friend and I, sometimes I can hear Ryan without him saying a word.
Although Ryan is completely verbal, he doesn't say much. There are no sitdowns where he shares his feelings with me. I get almost no information on how his day went, what's happening in his life and how he feels about it. I understand this is typical behavior for many teens, and I understand hormones make Ryan's silence seem even louder, but most teenagers have a bestie they can confide in. A friend who shows up, a friend who helps them forget, a friend who gets it, a friend who hears what they don't say. Ryan does not. Autism makes finding that connection, that bond, that friend difficult. And even if he finds it, knowing what to do with it is even more difficult.
With Ryan, there's also no, "Hey Mom, how are you? How was your day?" coming from his mouth. I know he cares about me and my day, but autism makes that social back-and-forth exchange difficult for him, so it's easier not to ask. Not asking doesn't equal not caring. As I sat swaying back and forth on my porch swing, recognizing the parallels between my friendship with my girlfriend and my relationship with my son, I couldn't help but smile.
In that moment, I realized most of the time, even through the silence, I hear what Ryan doesn't say.
When Ryan comes up and presses his forehead against my own, he's saying, "Mom, I have something good to tell you, so please ask." When he walks in the front door after school and goes straight to his room without putting his backpack in the foyer closet, taking off his shoes and coming to give me a hug, he's saying, "There was a glitch in my day." When Ryan pulls at his eyes and grabs at his face in an attempt to hold back his tears, he's saying, "Mom, I'm hurting, I'm sad and I don't know how to tell you."
When he sniffs 50 times in 30 seconds, he's saying, "I need some type of deep pressure, squeezy-tight hug because my sensory system is overloaded." When Ryan's hand flicks back and forth and back and forth until it is just a blur of skin, he's saying, "I'm anxious" or "I'm excited." When he fights back a smile and contorts his face in an anti-smile grimace, Ryan's saying, "I'm proud, happy, excited, but I'm not sure how to react or share my joy." If I "listen" closely, I hear what he doesn't say.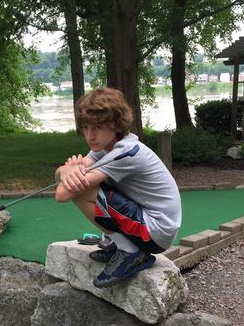 And although Ryan may not directly ask me about my day, when he catches me silently crying, he will snuggle close. Even though he doesn't utter a word, I can feel his "I'm sorry you're sad, Mom" in his knock-me-down hug. I can see Ryan's compassion and his sympathy for my sorrow when a tear or two falls to match my own. I can hear his joy when he laughs with me even if he has no idea what I am laughing about. Yes, Ryan hears what I don't say, too.
So just like with my bestie, I have that quiet, unspoken connection with Ryan, too. And I know he has that quiet connection with me. Ryan shares his life, his joy, his accomplishments and his heartache with me. I just have to see it, I have to feel it and I have to hear it, even when he says nothing at all.
As I relax on my back-porch swing, wine in hand listening to the crickets and the sound of Ryan scripting the latest Minecraft YouTuber coming from his bathroom window, I look at the sign and smile. "Best friends hear what you don't say…" helps me to remember that although Ryan will never refer to me as his "best friend," I will always hear him.
Even as my little boy slowly morphs into a full-fledged, silent, brooding teenager, in those moments where I worry he's slipping away from me, if I listen closely, I can still hear what he doesn't say. Ryan may not have a friend who tells him to "put on his big girl pants" ("Why would I wear girls' clothing?") and face what lies ahead, but if Ryan finds one friend who sees him, who feels him and who hears him when he doesn't say a word, I believe they'll both be happy, secure and comfortable in their silence.
In a world that's busy, loud and full of noise, sometimes a best friend (or a mom) really can hear you without any words spoken, without any connection from your mouth to their ears. All anyone needs is a connection to your heart, and they'll always be able to hear what you don't say.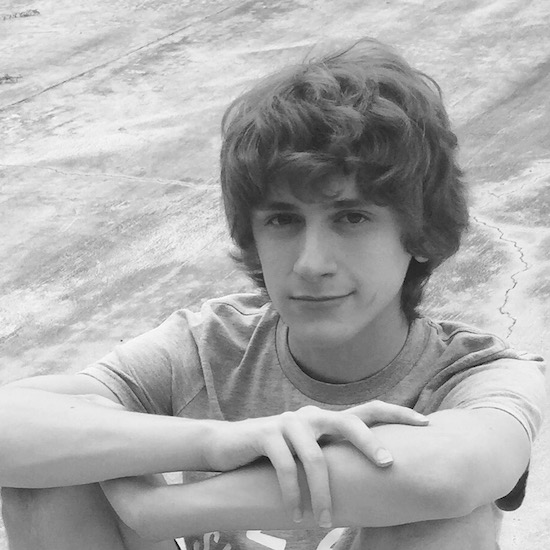 Follow this journey on The AWEnesty of Autism.