The Awesome Reason 3 Grown Men Are Attending a One Direction Concert
---
What could be worse than thousands of screaming teenagers and two hours of boy band music  — all after a 250-mile road trip? For John Simon, Tony Cerame and Jason Struttmann, the answer is no progress in multiple sclerosis (MS) research. Simon was diagnosed with the "unpredictable, often disabling disease of the central nervous system" in 2008.
After the diagnosis, Simon's friends wondered how they could use humor to raise money and awareness for MS. While others fundraise through charity walks and silent auctions, Cerame wanted to do something more creative. Then it dawned on him — how much money would people give if they knew their donation meant the three friends would have to soberly listen to live music they've deemed insufferable? So far, the answer is more than $16,000.
Through what they've named "Sober4MS," Simon, Cerame and Struttmann have attended Creed, Insane Clown Posse, the Backstreet Boys and Cher concerts, often dressed up and never with an alcoholic drink in hand. Donations via their CrowdRise campaigns go to the National Multiple Sclerosis Society Gateway Area Chapter.
Their next gig? One Direction on July 28 in Kansas City, Missouri, a 500-mile roundtrip from their home in St. Louis. They'll be dressed as "fanboys" (mega fans) in full One Direction gear.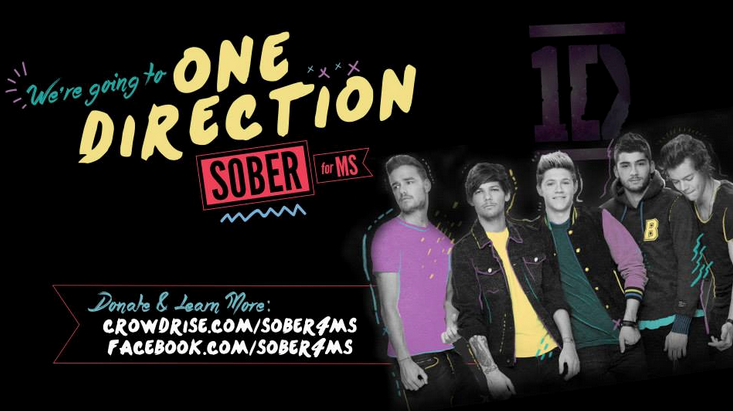 "We don't judge people on what they listen to, but it's another ridiculous thing and it's a little different than the other acts we've seen before," Simon told The Mighty. "It's something we think can motivate people to donate to get us to suffer through."
Their goal this year is to raise $10,000. If they reach $2,000 before their trip to see 1D, they'll also commit to listening to only boy bands for the duration of the ride.
Fundraising aside, Sober4MS has helped Simon connect with other people living with the disease. He's become close with a woman he calls "Mama Carolo," who also has MS. She discovered the Sober4MS Instagram, and the two have since supported each other through hard times, despite the fact that they've never met.
In addition to all this, Sober4MS has held three fundraising events in St. Louis where everyone does get to have a few beers and listen to good music. The local events feature live music, food from local restaurants and a raffle.
The Sober4MS guys are thrilled with their success, but one disappointment sticks out. Nickelback cancelled their North American tour.
"I can't believe I'm saying I'm crushed that Nickelback cancelled their tour," Cerame told The Mighty. "I never thought in 1,000 years I'd say that."
If you'd like to make a suggestion for their road trip boy band playlist, or if you want to donate to Sober4MS, click here.
Update — Fri. August 8: They made it through the One Direction Concert sober. Watch their hilarious experience below.
Related: Why 3 Friends Are Attending the Worst Concerts They Can Think Of — Completely Sober