To the Waitress Who Stepped Out Of Her Comfort Zone for My Son
---
Dear Kira,
I don't know you and you don't know me, but today you affected my life.
It was just another Thursday night, soccer practice for my oldest daughter. I was running late (which seems to be the story of my life), and in the rush to get all three kids buckled into the car, I left my son's wheelchair in the garage at home. I realized it halfway to the soccer field but wasn't concerned. I was planning on going back home for dinner after dropping off my daughter.
But luck would have it that on the way to practice, my 4-year-old announced she had to go to the bathroom, "bad." Oh that Charlotte, she always waits until the last minute, I guess like someone else I know.
I dropped off my soccer player and went to Skyline (a Cincinnati chili chain). I decided we'd have dinner there so my daughter could use the restroom.
With my 6-year-old son on my hip and my 4-year-old in tandem, we went inside. I couldn't bring my little man into the bathroom with us because I didn't want to put him on the floor. Instead, I set him in a booth where he would be in my view. I stood outside the bathroom with the door propped open so I could keep watch on her and him at the same time. I kept telling her to hurry because I was afraid my son would try getting down on the floor, his favorite place to lay. Since I needed to get back to him, I didn't wash my hands, nor my daughter's.
When I asked if you had hand sanitizer, you toured the place but couldn't find any. So then you stepped out of your comfort zone and offered to do something most people wouldn't do.
"I'll sit with him while you both go wash your hands."
I had to take a second to make sure of what I really heard before joyfully accepting your invitation. I knew this was likely a once-in-a-lifetime experience: a stranger in a restaurant offering to sit alone with my son.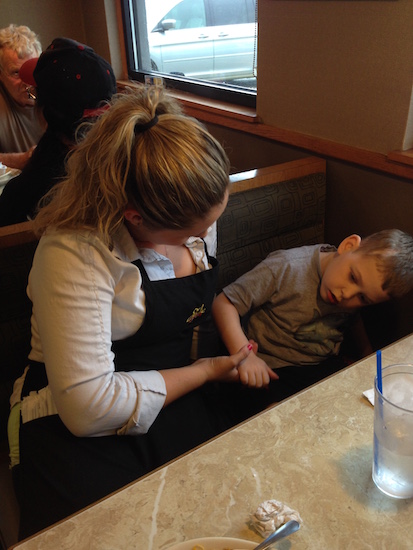 You could see he couldn't hold his head up, that his hands turned in from cerebral palsy. You were able to tell he couldn't talk and expected he might even drool. You offered anyway. And even though we were gone for less than a minute, you took that time to hold his hand and talk to him knowing he couldn't talk back. For a minute you felt what it was like to be him, what it was like to be me.
Thank you for not being scared, for pushing away any anxiety you might have had. Thank you for treating my son like a little boy instead of a little boy that scared you. Thank you for refreshing my vision and reminding me that empathy is all around, often in the places I would least expect it.
Sincerely,
Jack's Mom
The Mighty is asking its readers the following: Describe the moment a stranger — or someone you don't know very well — showed you or a loved one incredible love. If you'd like to participate, please send a blog post to community@themighty.com. Please include a photo for the piece, a photo of yourself and 1-2 sentence bio. Check out our Share Your Story page for more about our submission guidelines.