What Was Impossible to See on Diagnosis Day, I See Clearly 3 Years Later
---
It's been three years since we stood in a front of the geneticist who gave us a diagnosis we never heard of: trisomy 5q. All sounded so unreal. I kept repeating that word in my head. Trisomy. It was nothing I'd imagined hearing. Then again, what exactly did I want to hear? Even today I'm unsure. What she has doesn't have a cure, and we didn't know how it would impact her life.
I remember my head spinning, my heart racing, staring at her, tear after tear falling and the specialist handing me one article from the internet as an explanation of her diagnosis. She had a copy in one hand and read it out loud to us.
My daughter's diagnosis came from a printer. One article was found about it.
Stepping out of the office, I was at lost. Where do I go from here? Where do I go from "your child has heart issues" to "your child has a rare trisomy"? How do I tell others? Do I have to tell others? Trisomy means delay; it means people not accepting differences; it means many health issues. I could only see the bad while holding such a beautiful human being in my arms. I couldn't imagine the worst, but at the time, I believed I had to.
When I heard she may not walk or talk, and she may be severely delayed, I didn't know what to expect. It wasn't just a parent's job anymore; we had to have a team of specialists. Our home was invaded by strangers who wanted my little one to succeed, too. Strangers to this day I can count on when in doubt of something.
This month marks three years with an actual diagnosis. That little girl who wasn't going to walk according to some doctors is now trying to run. Next month it'll be a year since she started walking.
That little girl who woke up at all hours to eat just like a newborn now gets 12 hours of sleep. Today I can be thankful for her feeding tube, when originally I doubted if we made the right choice and if by placing it, if she would ever eat orally.
I once was ashamed to tell her story, afraid people wouldn't get it. Afraid of her differences and acceptance from others.
Today I can tell her story without any hesitation. Today I'm trying to make a difference for the next parent who gets the same diagnosis so they don't ever feel lost.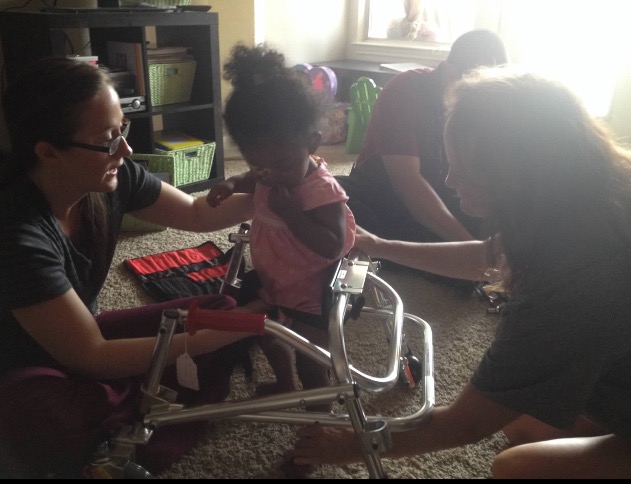 If you Google trisomy 5q today, you won't find just one article — you can find several. This is because of those who believe our story is worth sharing, those who believe being different is beautiful.
I'll be forever thankful to amazing organizations that believe in our children's differences and do everything for those kiddos and the world to know about them. I'll be forever thankful to amazing photographers for taking the time to capture my little one's magic. I'll be forever thankful to the specialists who believed in my child and made sure her needs were met.
Unless you've lived it, you can't imagine how difficult it is to hand your child into a surgeon's arms, spend nights in hospital while holding your little one's hand and praying things will be OK.
Unless you've lived it, you can't imagine how hard is for some people to see your child the way you see your child. She's simply amazing. Despite all the health issues, the delay, the fights to eat food orally or to get a sound from her, she is happy, and today, I truly know this is all that matters — knowing she's happy.
I couldn't see all of this three years ago. I imagined the worst.
Today, I make sure she's heard. I am her voice until she can be her own. I am her nurse, her therapists when they're off-duty, agenda-keeper, tear-dryer, her arms she comes to when needed, the one who protects her and makes sure she knows no matter what difficulties she may have her way, things will be OK. I couldn't ask for a better child to guide me through motherhood.
Today, I can't picture her any differently than her own little self.
It would be a lie if I told you my heart doesn't ache when a typical 3-year-old comes to me and tells me stories when she isn't able to yet. But in her own little way, she tells me what she wants, and I can only be thankful for that. I know her favorite songs, I know what she wants by a simple gesture and I know what makes her happy — you can't beat that.
I wish I'd known three years ago when I left that office in tears that things would be OK, that the road will be long, that she would go through more than most people go through in a lifetime — but that our lives with a miracle would be pure joy, that I would be proud of all she has accomplished.
That day, I apologized for her diagnosis, I apologized for all the things she may or may not be able to accomplish on her own. Today, I just want to apologize for ever doubting her, because she isn't defined by her trisomy 5q — she's just who she was meant to be all along.
Happy three years of diagnosis, baby girl. My life is just way better with you in it. You've taught me way more than I ever thought you would. You've been my best teacher all along.
The Mighty is asking its readers the following: Describe the moment someone changed the way you think about disability and/or illness. If you'd like to participate, please send a blog post to [email protected] Please include a photo for the piece, a photo of yourself and 1-2 sentence bio. Check out our Share Your Story page for more about our submission guidelines.