When Delta Air Lines Went the Extra Mile for a Boy With Autism
---
I have a friend with a son named Jonah. Jonah is on the autism spectrum, is mostly nonverbal, attends occupational therapy with my son, G-Prime, and he likes Delta Air Lines. I mean reeeeeally likes them. He draws their logo and makes Delta costumes and gets massively excited when he sees their name. He's their superfan! When his mother heard I would be flying Delta, she asked if there was any way I could get a selfie with a plane in the background and maybe some of their cookies. Easy peasy!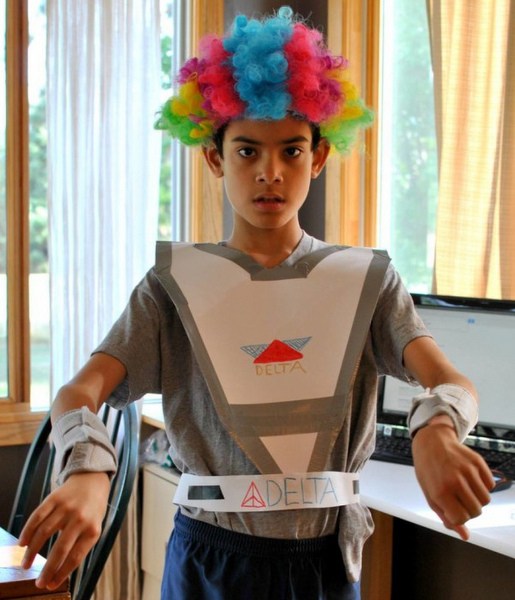 Before my flight, I ran around the windows at my gate, taking pictures of Delta carts, Delta planes and Delta baggage carts. When I explained what I was doing, the Delta employees working the gate let me take a selfie with them in the background.
Once I was on the plane, I spoke with the flight attendant in my section and asked if I could take pictures of him and get some packets of cookies for my buddy, Jonah. Not only did this gentleman oblige me, but several of the passengers behind me passed forward peanut and pretzel packets and wished me and Jonah the best. You fellow flyers are awesome!
After we landed, I snagged a picture with the flight attendants and pilots and was satisfied that I accomplished what his mom had asked. Plus, I had extra goodies for him. Yes!
On the return flight, I got to the airport early, checked in, found my seat and settled in for a three-hour flight. But it didn't happen. There was a mechanical issue, and a part needed to be fixed. We had to de-board the plane and wait for six hours until the next flight would be leaving. People were stressed out, disappointed and upset. But to Delta's credit, they handled things beautifully. Pizza, snacks, board games and activities were provided for those forced to wait, and they assisted the rest of the passengers on finding new flights and making necessary connections. I understand how hard this delay was for most of my fellow flyers, but for me it was the perfect opportunity to get a few last shots of Delta planes, baggers loading luggage and, best of all, the pilot of the plane agreed to record a special video message for Jonah!
That four-second, five-word video meant the world to Jonah. His momma messaged me that he was jumping around, and we had made his day! Everything I sent had been downloaded onto his iPad, and he was gleefully going through the pictures and videos over and over. Mission accomplished?
I sure thought so, but Delta wasn't done. A certain flight attendant named Nicole had been on both the flights that I had been on and had heard me talking about Jonah and his intense interest in her employer. During the flight, Nicole sat down next to me and asked me questions about Jonah and my son. She asked what Jonah would like best from them, and then this sweet woman brought me a Delta swag bag filled with goodies, a snack box, a lunch box, baggies, a coffee cup and extra packets of cookies.
Some people may not get why this was a big deal. It was just a few pictures. The video was only a few seconds long. The items donated aren't that expensive. All those things are true, but for Jonah it meant so much more. This boy faces challenges in terms learning, growing and connecting with others on a daily basis. The world assaults his senses in a million ways, and he doesn't have the words to communicate all of his needs. He works hard to overcome this. His mother works hard to help him. And those few pictures, videos and goodies told Jonah and his mother that they matter. They are important and people care! It communicates they are not alone in this journey of autism. And that makes every little effort given worth more than you may know.
Thank you, patient passengers. Thank you, kind captain. Thank you, Nicole. Thank you, Delta! Thank you!
Follow this journey on The Musings of Mo.