September 9, 2015
When Our Disabilities Jump-Started a Friendship Between My Housemate and Me
---
Dorming as a college freshman was a disaster, so I opted to live in an on-campus apartment for my sophomore year. As soon as I received contact information for my five housemates, I shamelessly Facebook stalked them, eager to make guesses about which one might wind up being my closest friend.
Lizzie's favorite color was red, she loved to read and write and she had mild cerebral palsy. Instantly, I was intrigued. There were few things I loved more than writing stories and delving into books, and I hoped someone with mild cerebral palsy wouldn't be alarmed by a roommate who was totally blind.
My initial email was almost certainly full of screaming all-caps and thrilled exclamation points. I asked Lizzie about her favorite books, her stories in progress, her plans for the upcoming year. Lizzie's reply, I'm sure, was calm and collected, meticulously addressing each of my questions and comments. Neither of us mentioned our disabilities; Facebook made them obvious, and we each must have assumed that the other already knew.
When we met in person, Lizzie and I quickly realized that our first set of emails would mirror our friendship to a tee. I was the loud, over-the-top half of our duo, forever insisting that we go downtown on the weekends, host Uno marathons, ditch our homework in favor of reading young adult novels aloud together and gab endlessly over mochas and chocolate chip cookies at the coffee shop. Lizzie, on the other hand, was practical, responsible and levelheaded. At the start of each quarter, she'd check our progress toward graduation and sign us both up for the appropriate classes. She dispensed medicine when I got sick, reminded me to occasionally eat a square meal (which she would cook) and prodded me to give my homework more than passing attempts. While I dragged Lizzie to the mall or to the dining hall with our friends, she taught me how to do laundry, clean toilets and add honey to my peanut butter sandwiches.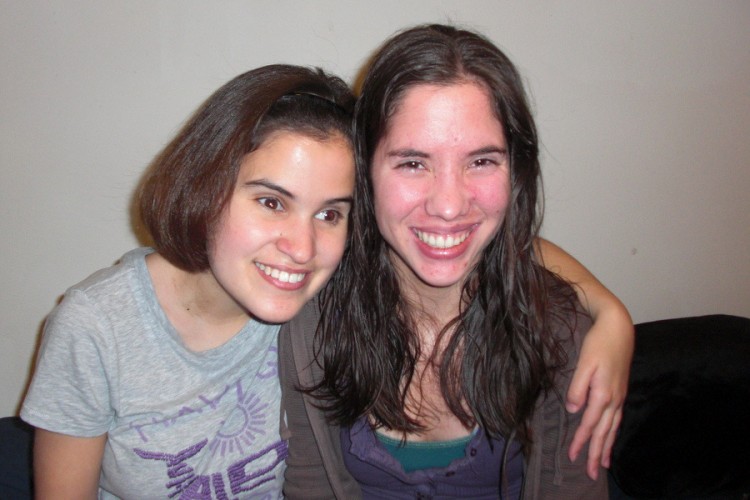 Our personalities couldn't have been more different. Lizzie would affectionately tease me about my always-sunny disposition, my optimistic, giddy enthusiasm, my tendencies to giggle and hug and gleefully jump up and down whenever anything remotely exciting happened. I, for my part, loved Lizzie's snarky sarcasm, her wry sense of humor and her candid honesty, which bordered on bluntness around the people she knew well. We never failed to amuse one another, perhaps because our outlooks on life were so unique.
Our remarkably reciprocal friendship would have been noteworthy in and of itself, but our disability-related interdependence deepened our closeness even more. In my experience, a singular bond often exists between two friends who are disabled in different ways. Asking for help — and needing that help in the first place — feels exponentially more comfortable when your friend is in the same boat, and you are able to help them in turn. So it was with Lizzie and me. She read aloud assignments which weren't Brailled, navigated inaccessible web sites and oriented me to different locations on campus. I learned about her leg braces, about how Botox injections eased the spasticity of her leg muscles, about how she did things differently when one hand worked significantly better than the other. If she fell, I helped her up; thankfully, we were around the same size, so standing behind her and hoisting her to her feet was easy.
Our matching dark hair, dark eyes and 5-foot-nothing heights, combined with our constant togetherness, caused more than one person to mistake us for sisters. We were regulars at the on-campus grocery store, where Lizzie would expertly steer me through the tight mazes of shelves as I shouldered our giant tote bags. Whenever we walked anywhere, it was hand-in-hand, Lizzie leading the way while I braced her on the rickety staircases.
When I first met Lizzie, I naively assumed that we would connect over being two of the very few physically disabled students on our university campus. But while my blindness was immediately visible in the shape of my Braille and cane, Lizzie could hide her cerebral palsy, if she chose to do so. My blindness — and my ongoing quest to form an alliance with it — was something I openly addressed with others out of necessity. Lizzie, in many ways, had already accepted her disability and achieved independence; yet, sharing that facet of her identity, and finding and expressing pride in it, was still new to her.
Our friendship was rooted as much in my blindness and her cerebral palsy as in her family's spaghetti recipe and my constant requests to walk to the nearby, on-campus café to buy tubs of Ben and Jerry's ice cream. We shared as much about our disabilities as we did about homework and crushes and the stories in our heads. Disability may have jump-started our friendship, but it was everything else — our similarities as much as our differences — that continued it.