Mom Blasts Controversial Magazine for Cover Mocking Down Syndrome
---
The latest cover of French satirical magazine "Charlie Hebdo" features politician Nadine Morano drawn as a child with Down syndrome in the arms of former president Charles de-Gaulle. The accompanying headline reads, "Morano: Secret Down's syndrome child of de Gaulle."
One mom won't stand for this, satire or not. Caroline Boudet, whose daughter Louise has Down syndrome, wrote a passionate article for French newspaper "L'Express" to explain the problem with this cover.
"You have hurt all those close to people who have Down's Syndrome," Boudet wrote. "Let me tell you something. Intelligence is opening of the spirit and the acceptance of others, stupidity is racism, it's intolerance, it's Nadine Morano, but it is not Down's Syndrome."
"Intelligence is not a question of genes," she continued. "You have the right to be humorous, as you see it, but your cover hurts me, and furthermore, it's not funny."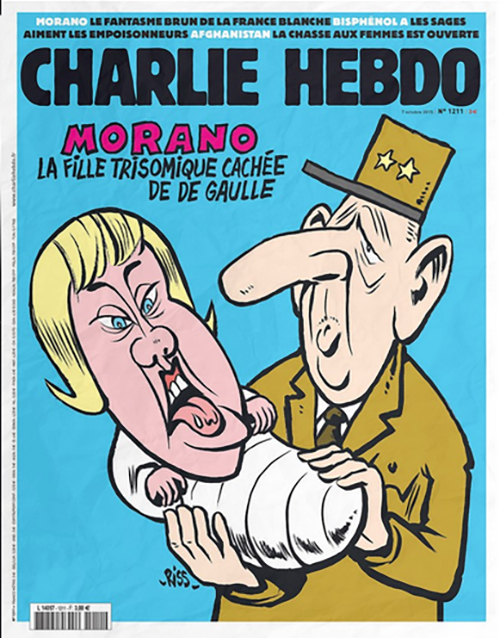 Boudet made headlines in June when she wrote a viral Facebook post explaining what she wanted to hear as a parent of a child with Down syndrome. She gave specific examples of insensitive remarks she heard during the first four months of her daughter's life.
"I know that if one does not experience it, one does not think about it but words do matter," Boudet said in her post. "They can comfort and they can hurt. So just give it a thought…"