10 Reasons I'm Going to Miss the Hospital This Christmas
---
Last year at this time we were snuggling our cozy November baby. We were loving on his health despite him being born 18 days early. We were starting to swallow his staggering Down syndrome diagnosis and wrap our heads around the package of a new future. It was all going as well as can be expected when our newest addition started to seem grey. So, in the coldest of colds and the deepest of snow, I rushed him to his pediatrician who in turn rushed him to the hospital in an ambulance.
There we remained for 13 days: one day after his due date, through Christmas, through his 1-month birthday, right up until New Year's Eve. We endured anguish as our baby boy became a teeny pin cushion and was diagnosed with respiratory syncytial virus and put on life support.
Here's what I will miss about that hospital stay this Christmas.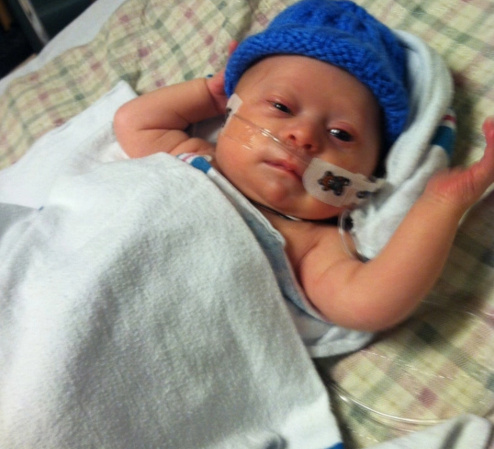 10. The hospital food
Yes, I said the food. Midnight milkshakes became a comfort when the unknown was glaring. It was a chance to desert those four walls and our baby for just a moment. Instead, we would dash to the dining hall and decide what snack to eat. Relief came in the form of deliberating over something that just didn't matter.
9. The abandonment of Christmas commitments
I was juggling the hustle and bustle with a new baby, and my "new normal" capsule was stuck in my throat. I was flailing. The hospital trip gave me an out. I said "Bah humbug" to Christmas cards, cookie cutting and perfectly wrapped presents. These values still stick to me like gum drops on gingerbread houses. Christmas "appearing" perfect is no longer on my list of things to do, but letting go of stress is. My goodness, it is freeing.
8. The holiday spirit in the hospital
The hospital takes on a life like the North Pole in spite of (or because of) what is happening inside. Snowman scrubs and Santa hats visited our room alongside holiday balloons and a giant stuffed dog with a cozy red scarf. There was a workshop of sorts, and we were persuaded to pick out a ridiculous amount of toys for our boys. Then volunteer elves begged to wrap them. It was electric. It was as if the people working there knew lives depended on spirit as much as medicine flowing through IVs.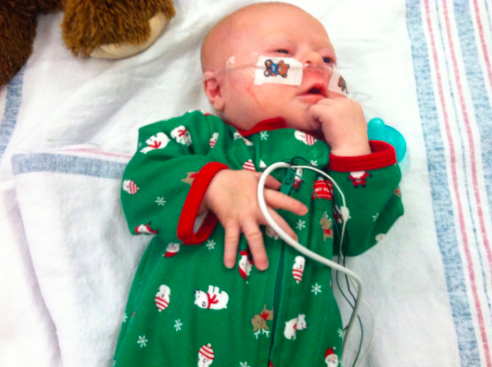 7. The love of the little things that matter
Never once did I miss a party, card or the gifts that fill St. Nick's sleigh. Instead, they were replaced with delicious goodies like friendly faces, crying hugs, a hot cup of real coffee, a smile, a hand to hold and a prayer to share. Those things mattered. They fueled us.
6. Family meals waiting for us in the fridge
During the holidays we all have our family's go-to dish. Mine happens to be my mom's chicken soup, served hot with smells swirling before the roast beef arrives. There are others from both my family and my husband's. On Christmas you just can't get to them all – because of time or because your pants don't fit – but in the hospital, there they were in the fridge just waiting for us. They screamed home, normalcy and comfort. With a zap of the microwave, for just a moment everything seemed right in the world.
5. A united front of friends and family
Celebrations were celebrated without us. Santa still came on Christmas Eve and velvet warmed our loved ones. We missed it… but we were never forgotten. Our friends who are more like family took up a donation at their annual party as they kept us in their prayers. Raffle tickets were bought in our honor and doled out by loved ones who cared. My brother kept the mood light when he visited me on Christmas Eve and my own belly laughed like a bowl full of jelly. My in-laws sat vigil over our tiniest patient so we could attempt a normal Christmas morning with our 3-year-old , and a dear friend sat with my husband and me at the hospital on Christmas night.
We shared a couple of snuck-in brewskis as we spread giggles over our snug little bubba. I heard the bell ring last Christmas and I again believed in its magic.
4. Miracles in the making
Real, gift-giving angels disguised as nurses and doctors worked tirelessly to save my baby's life. They spent their holidays with us. Many shared stories of their children with me and tirelessly watched over mine. I'd fall into a restless slumber as they peered over my darling's crib and wake up to them doing the same. I was warmly greeted when I awoke and felt something missing when they briefly left to be with their real families. I have a new, shiny, Christmas-tree-topping respect for these angels who walk our earth and the miraculous works that they perform.
3. Tender, stolen moments with my husband
During our extended stay at the local ritzy pediatric intensive care unit (PICU), my husband and I had a luxury. He was on school break, so neither of us were working. One of us was always home with our 3-year-old while the other made camp with our ill infant. This left little time for us to be together. It also created precious fleeting moments when we were. These lingering, brief moments strengthened our bond and  taught us as much about our love for each other as they did about our strength. I would never trade these most personal minutes, and I wish life allowed us always to take such good care of each other.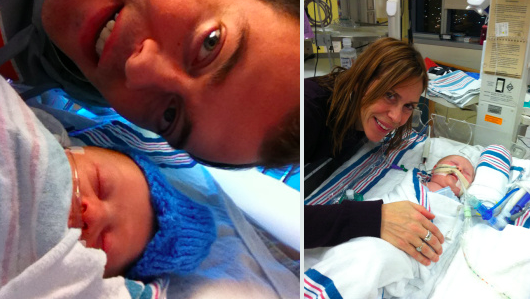 2. Jesus
We know the story of Christmas, the story of Mary and Joseph and how there was no room at the inn. Somehow, Kris Kringle and twinkly lights overshadow the story of a special little baby born in Bethlehem. However, when your child is fighting to survive and you have nothing but time, waiting and faith, I believe Jesus becomes all that is important. I discarded the commercialized version of the holiday and was able to spend some real quality time with the Father, the Son and the Holy Spirit. It felt good, and it felt right. This year I have succumbed to Santa, Rudolph and tiny little elves for my 3-year-old. Don't get me wrong, that feels pretty good, too. But I will always gratefully recall that one Christmas I spent in solitude with Emmanuel.
1. The gift of all gifts
Gifts are tricky. They are tricky to give and to get. More times than not I've gotten something I didn't want, couldn't use or didn't need. I've also given gifts that were duplicates, didn't fit or didn't matter. So, it feels exhilarating to get something I really wanted. Something I wished for more than any Cabbage Patch Kids doll, roller skates or Easy-Bake Oven. The gift of life. That's the best present under the tree.
So although I may be on the nice list this year, nothing can match last year's gift and nothing ever will.
Follow this journey on Finding The Joy
The Mighty is asking the following: Create a list-style story about the holiday season related to disability, disease or mental illness. It can be lighthearted or more serious — whatever inspires you. Be sure to include an intro for your list. If you'd like to participate, please send a blog post to [email protected] Please include a photo for the piece, a photo of yourself and 1-2 sentence bio. Check out our Submit a Story page for more about our submission guidelines.