The Shooting at Inland Regional Center: A Parent's Thoughts
---
I am a parent of a child with autism. Ten years ago, before I knew she was on the spectrum, she received early intervention services. Services that were crucial to her development, to her ability to learn how to walk, to learn fine motor skills, gross motor skills, to speak. Her very future relied on these services — not from a doctor's office, a neurologist or any other specialist. No, a child can only get services like these from a regional center, and today, Inland Regional Center in San Bernardino, California, where she has been receiving services ever since, was reportedly under attack by three shooters. And people were killed. And my heart sank.
I thought of the many case workers over the years who have spent countless hours advocating for my daughter who were placed in danger. One in particular will always be close to my heart. Though the school district diagnosed my daughter with autism, the Inland Regional Center did not, and this would have prevented her from receiving autism services I knew she needed. Her case worker fought to get those services anyway, and she won. She cared enough to do this for my child because she cared about my child's future just as much as I do. And my child is thriving now, making gains, doing things I never imagined, all because of the services from the Inland Regional Center, because her case worker was on my side.
I thought of the respite care I've received through the regional center funding, and what blessings these respite workers have been to have in my home. Without them, I would be hanging by a thread. Their help has been invaluable in giving me peace and support while raising my special children.
Just six weeks ago, I came full circle as I brought my 2-year-old son to the Inland Regional Center for evaluation to determine if he was on the autism spectrum. He had already been enrolled in the best 39-hour-a-month early intervention program for the last 18 months, fully funded by the center. A kind, welcoming psychologist assessed him. She played with him, she laughed with him, she spent two hours with him and she listened to my story and my appreciation for the many services I've received from their center. I recently got a certified letter from Inland Regional Center, saying he was discharged because he had no qualifying diagnosis. He will no longer receive services from this center, but I will forever be grateful for their generosity, and to his case worker, who I pray was not harmed today.
The Inland Regional Center, and all regional centers, are the vital link in the chain of children with disabilities. They provide services that no school district or medical professional provides: they come to your homes. They sit down and listen to you. They fight for your children. They are your advocates when you are too tired to be one. They give services to your children when they become adults. They are right there with you, helping you to understand, to support and to raise your children.
To all the countless therapists and providers who have come to my home as a result of the Inland Regional Center, I say, thank you. You have made my job as a parent to children with special needs more manageable, and more hopeful.
I will forever be grateful to those selfless individuals who have fought traffic to meet me in my living room, to give me comfort like no one else could. They are an integral part of my family's life — in fact, they're almost like family. I owe so much to them and to my children's development.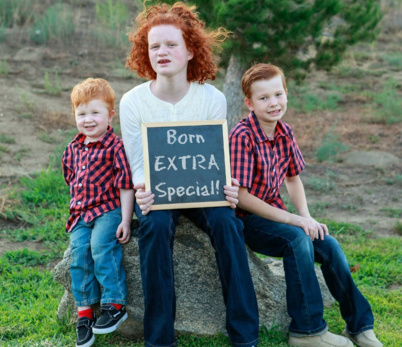 Follow this journey on The Special Reds.
More on the San Bernardino shooting: 
– Live updates
– How to Help Your Anxious Kids When Bad Things Happen
– Dad Reads Texts From Daughter in Building During San Bernardino Shooting
– Politicians Tweet Responses to San Bernardino Shooting
– Video From Inside Building at San Bernardino Shooting