December 3, 2015
To the Person Who 'Can't Believe' I Had Another Child After My Son's Diagnosis
---
A couple years ago, I was telling an acquaintance about my son Treven's autism diagnosis. Then I mentioned that I also have a younger son. The person's comment didn't register as offensive at the time, but now that I think back on it, I wish I could go back in time and set this person straight.
The comment was, "I can't believe that you had another child after finding out your oldest has autism." 
Well… for one thing, Treven was only 13 months old when we found out we were expecting his little brother, and Treven hadn't started to show any signs of autism yet.
But, that's beside the point. We decided to have another baby right away because Treven was a dream baby. He slept through the night at 6 weeks old, and he was happy and loving and hardly ever cried. He actually made my husband and I want another baby right away because he was so easy to love and such a bright spot in our lives. Furthermore, if we would have known about Treven's autism, we still would have had another child.
Not that I should have needed to explain any of that. It always amazes me when people, especially parents, think it's OK to make a comment like this.
I try to be understanding of other people's ignorance, and most of the time I try to assume they probably don't know what else to say, so an awkward comment slips out. And I try to put myself in their shoes. I guess that is one of the traits I've inherited from being a mother of a child with special needs. I try to give everyone the benefit of the doubt, and I try not to judge.
This particular comment is only one of many I've heard over the years in regards to my son's diagnosis…
"Maybe he's just deaf." (My son is nonverbal.) "Are you sure he has autism?" "You're not going to medicate him, are you?" "Well, why don't you just medicate him?" "Why doesn't he eat healthier?" "He's too thin." Etc., etc., etc.
Then, in the quiet moments of the night (if it's a "good" night), I am kept awake by the "little comments." They run rampant through my mind. And they hurt. And they make me question myself. And I worry about making the right decisions for both my child with special needs and my neurotypical child. And that is not something that a parent, especially a parent already on the brink, should have to ponder.
No parent should have to rationalize or explain their parenting decisions to anyone. As a special needs parent, I've had many feelings of, "I'm damned if I do, and I'm damned if I don't."
The bottom line is this: Treven's younger brother is his best friend. And nothing about Treven (not even his worst day with autism) would ever make us not want to parent him or any other child. Autism is hard, but I would never say, "I sure hope we don't have another kid like him." Even thinking this breaks my heart.
Treven is an amazing gift, and we treasure him for the wonderful person he is. He's the best part of me and the best part of my husband combined, and there has never been any regret with creating him, just the way he is.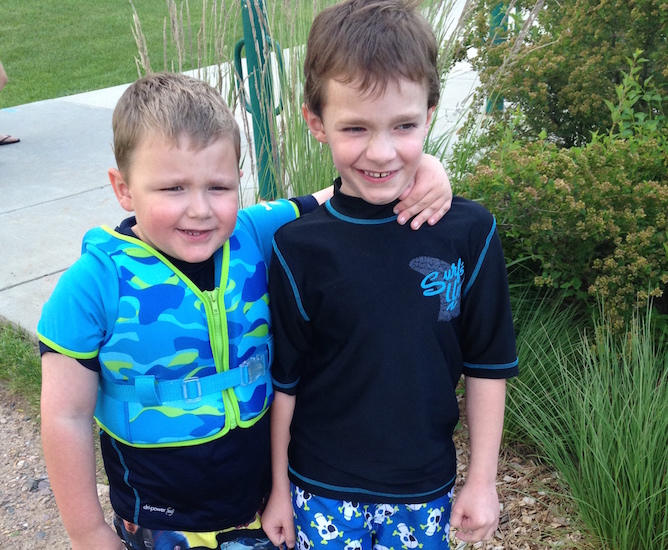 Follow this journey on Love Needs No Words — Chuckie's Life With Autism.
The Mighty is asking the following: Write a letter to anyone you wish had a better understanding of your experience with disability and/or disease. If you'd like to participate, please send a blog post to [email protected] Please include a photo for the piece, a photo of yourself and 1-2 sentence bio. Check out our Share Your Story page for more about our submission guidelines.