When My Child With Special Needs Met Santa for the First Time
---
We weren't quite sure we were going to have a "normal" Christmas this year.
In fact, much of it won't be normal. We won't be able to travel like we did in the past because the humidifier that keeps the air moist and warm for my son Isaiah's CPAP isn't portable. He can be off of it for a few hours, but longer periods of time could dry out his nose, and it'd likely get really sore.
I want Isaiah to have as normal a life as possible. Every year when I go Christmas shopping, I slow down as I see the smiling kids telling Santa what they'd like this year.  I always thought to myself, "I can't wait to do that with our future kiddos."
So in order to grab just a little bit of normal and hopefully start a Christmas tradition for our family, I contacted our local mall through Facebook. I told them about Isaiah and asked them for help.
I asked them to allow us to come in before the mall opens so we could take pictures with Santa without putting Isaiah in harm's way by standing in line with other families. You see, doing that puts Isaiah at risk of the common cold, the flu or whatever a child who stands next to us could have. And because of Isaiah's respiratory situation, something like that could develop into something dangerous for our little fighter.
The marketing manager, Jillian, answered me within 24 hours and got me in touch with Muriel, the Santa set manager.
And with Jillian already giving the mall's blessing (their doors are already open for mall walkers), Muriel asked Santa… and he said yes!
So this morning we got Isaiah ready. He got a good bath, but not before checking himself out in his mirror I rigged up…
He took a bath where he smiled and laughed his way through it… and then promptly fell asleep in his Christmas outfit.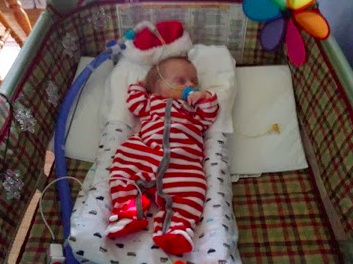 Once it was time to go, we got in the car and made our way to the mall. It was our first trip out as a family where Isaiah wasn't going to a hospital or doctor's office. Before we knew it, it was time to head to Santa's set.
We met Santa and Muriel. Santa was wonderful, and Muriel was fantastic. They made sure Santa's set was clean for Isaiah. Santa's suit was freshly laundered. (Nice job, Mrs. Claus!) Even though there was already a line started at the Welcome area, they brought us past that and into the exit.
Ready for it? Ready for Isaiah first picture meeting the Big Guy?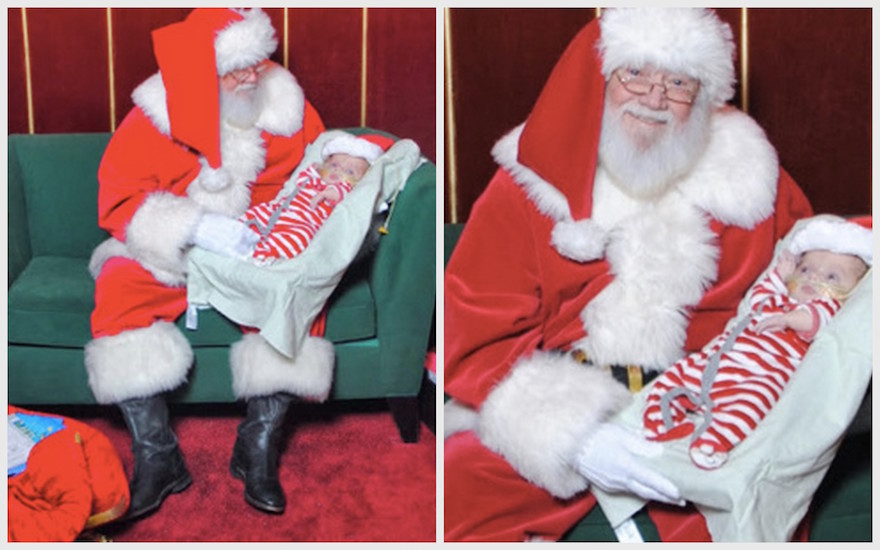 We will never forget this. This Christmas where we've started our tradition to take Isaiah's picture with Santa.
Until next year, Santa…
Thank you to the mall. Thank you, Muriel. Thank you, Santa Claus.
Follow this journey on Oh I Believe in Isaiah.
The Mighty is asking the following: Share one unforgettable holiday moment related to your experience with disability, disease or mental illness. If you'd like to participate, please send a blog post to [email protected] Please include a photo for the piece, a photo of yourself and 1-2 sentence bio. Check out our Share Your Story page for more about our submission guidelines.