January 12, 2016
The Simple Gesture From Phil Loadholt That Meant Everything to My Son
---
My son Tucker is a Minnesota Vikings fan. Yes, even after their recent loss to the Seattle Seahawks. He comes from a long line of Vikings fans — his dad, grandfather, uncle are all Vikings fans. Me? Yep — me, too. I'll yell "Skol!" any chance I get at the television. I have not been a lifelong fan… but loving my son has made me a fan.
When autism and athletics intertwine the most beautiful thing can happen. Players, numbers, plays, records — all memorized. Memorized early on in his life, he probably knew and could recall more about the Vikings at age 6 than many adults. This knowledge of the Vikings is certainly amplified by his ridiculously amazing memory.
Last summer we took a trip to Vikings training camp. It's a time where fans can get up close and personal with the players. There is a morning "walk-through" where players are not wearing pads and helmets, and then an afternoon, more traditional practice.
I decided at 6:30 a.m. I was going to take him. I'd been thinking about it for a couple of days. So — I woke him up at 7 a.m. and said, "Tucker, get ready — we're going to Vikings training camp." I'm not sure I've ever seen him move so quickly.
What does this trip have to do with autism? I sometimes forget. I forget all of the "stuff" that can go along with a new experience. I'm usually much better at preparing him, but I was still pretty exhausted from our recent vacation.
On our way we stopped for a new book because he had read the one in our vehicle eight times. What did he choose? "Captain Underpants." I tried to have a conversation with him about choosing books more age-appropriate. He wasn't having any part of it. He likes that series, so he'll read it over and over and over again. Then I recalled: We were on our way to do something new, something different. This book would help calm his nerves until we arrived.
The book was nearly 200 pages long. He finished it in 45 minutes.
We arrived, and he had no interest in waiting in line for autographs. He simply wanted to watch the walk-through. We sat… we talked… we watched. Then it was time for lunch.
A new restaurant, a different menu, a hot boy.
Dark, crusty grill marks on burger.
Recipe for disaster.
Quivering lip at lunch.
We left, and we took a break. We found a cool spot and sat for awhile. Then it happened. A friend of mine was able to give Tucker a great opportunity — the opportunity of a lifetime, really: to stand in the hallway as all the Vikings players passed by.
Surprisingly, he initially wasn't excited. I soon understood why.
As I stood in the hallway facing the players exit, he stood on the other side of the wall. He would peek his head around the corner to see the players coming. At first I blamed it on the lunchtime meltdown… but that wasn't it at all.
He uses scripts to make conversation. He didn't know what to say. He had no experience stopping a Vikings football player to ask for a picture. He had no experience in even saying hello as they passed by. He didn't have the language.
How selfish and inconsiderate of me. I hadn't prepared him for this moment. Not at all. I was so frustrated with myself, until I decided I would just have to model. I didn't know many of these players, nor did I really know what to say, but I've never shied away from a stranger.
As they came through I began saying "hello" and "have fun." "Stay hydrated, it's warm out there." "Have a great season." As I looked at Tucker I realized he was watching closely — taking mental notes of what to say and how to act. He also giggled when I told Teddy Bridgewater and Chad Greenway to have a "good game." At least I got him to smile and shake his head. They weren't going to a game; they were going to practice.
Then, I saw him. One of Tucker's favorite players — an offensive tackle, Phil Loadholt. Tucker stood in line for his autograph six years ago. They have something in common: both the biggest guys on the team – and here he was, walking down the hallway. Tucker looked around the corner, and his eyes lit up. He turned back towards me with a hopeful face.
I nodded at him and mustered the courage, "Excuse me. Would you be willing to take a picture with my son?" He peeked around the corner and looked at Tucker, pointed, and then looked back at me. "Yes, him — I know…but he's actually just 13."
He smiled, put his arm around him, and said, "You'll be my size in no time. You're a big kid. Keep working." Tucker nodded and smiled.
From that point on Tucker moved beside me. He smiled at every player on the way out. He waved and often said a quiet hello. Adrian Peterson nodded at him.
Mr. Loadholt has no idea what he did for my son. He gave him a new script, he gave him hope for his own "lineman" career – it's not glorious, but it is about loyalty, protection and a calm strength.
Those are the finest qualities that my Tucker possesses and evidently he does as well.
That ginormous man with that amazing smile also won my heart, that is for sure.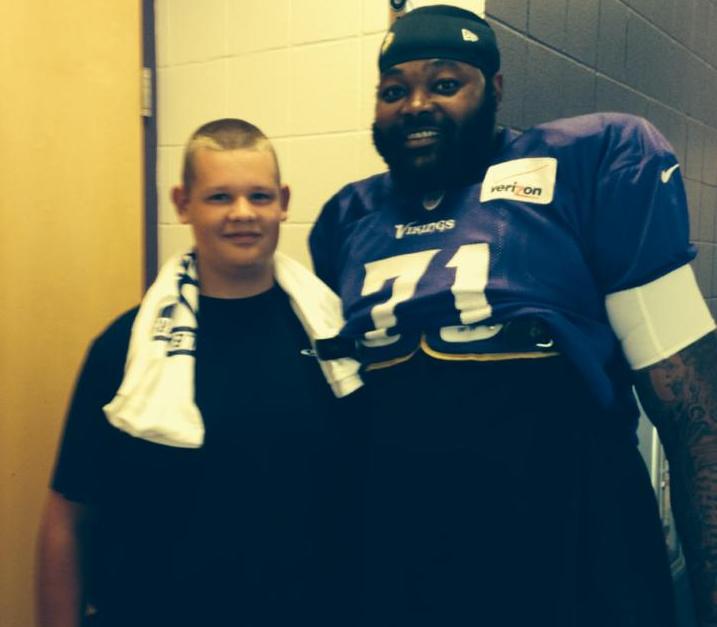 The Mighty is asking its readers the following: Describe the moment a stranger — or someone you don't know very well — showed you or a loved one incredible love. If you'd like to participate, please send a blog post to [email protected] Please include a photo for the piece, a photo of yourself and 1-2 sentence bio. Check out our Share Your Story page for more about our submission guidelines.