When I Opened Up About Almost Experiencing Sensory Overload on a First Date
---
I went on a date recently with a girl. I've known her for a while (we're both members of a local choir) but never spoke to her. I never spoke to her because I was shy and unsure how to start a conversation with her. One day I found something to say to her, which was, "Well done," because she sang all by herself in our choir's concert.
She smiled at me and said, "Thanks." After the concert we sat together talking for ages and realized we had a lot in common. We then spoke again many times via private messages on social media. This eventually led to our first date, which was lunch inside a busy restaurant. I had a really nice time, but it was too busy and I didn't feel 100 percent comfortable and was struggling to keep conversations going.
We were sitting at a table for two that was part of a row, and this made me feel a bit enclosed. There were other conversations going on at the same time. The noise levels all go in at the same level, and my brain was frantically trying to process everything. I was beginning to overload but managed to keep it under wraps for the date's duration.
Later that day I posted this on my Autistic Genius (my website) page:
"Was really tired and hungry and in a busy restaurant, thought I was going to overload. I was fine but found it hard to make eye contact with the person I was with and struggled to hold a conversation. Anyone else ever get like this???"
She later saw this post and immediately sent me a message on Facebook: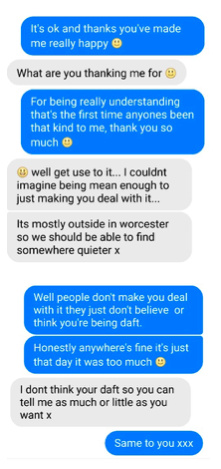 Text messages between Tom and the girl he went on a date with:
The girl: "Just saw the status you posted yesterday… if you ever think somewhere is too busy I am more than happy to go somewhere else quiet with you."
Tom: "It's fine but thanks."
The girl: "I didn't even notice…"
Tom: "It's OK and thanks, you've made me really happy."
The girl: "What are you thanking me for."
Tom: "For being really understanding, that's the first time anyone's been that kind to me, thank you so much."
The girl: "Well get used to it… I couldn't imagine being mean enough to just make you deal with it…" It's mostly outside in Worcester so we should be able to find somewhere quieter x."
Tom: "Well people don't make you deal with it. They just don't believe or think you're being daft. Honestly anywhere's fine, it's just that day it was too much."
The girl: "I don't think you're daft so you can tell me as much or as little as you want."
Tom: "Same to you."
This message made me feel incredible because for those with disability, conditions or things that make us unique or whatever you want to call it, we struggle sometimes to be accepted. We can be sidelined for being different/unique. But when someone holds out their hand and accepts me for who I am and wants to be supportive, it melts my heart every time. This girl could have walked away and never spoken to me again, but she didn't.
What I will say is that this girl and I have continued to meet up. It's still early days in the relationship, but I am feeling optimistic about the future.
To this girl: Thank you for all the acceptance and understanding you've shown me. I hope everyone meets someone as wonderful as you.
Follow this journey on Autistic Genius.
The Mighty is asking the following: Share a dating or relationship story related to your disability, disease or mental illness. If you'd like to participate, please send a blog post to [email protected] Please include a photo for the piece, a photo of yourself and 1-2 sentence bio. Check out our Submit a Story page for more about our submission guidelines.
Lead photo source: Thinkstock Images