My Child Has Trisomy 5q. This Is What It Means to Be Rare.
---
February 29 is Rare Disease Day.

February is also Congenital Heart Defect Awareness Month.

And the month of Feeding Tube Awareness Week.

My child is part of all three.
• 80 percent of rare diseases are genetic in origin.
• 50 percent of the people affected by rare diseases are children.
• 30 percent of children with rare disease will not live to see their 5th birthday.
My daughter Naylah's rare disease is trisomy 5q.
Naylah has a heart defect.
And global developmental delay.
She uses a feeding tube due to "failure to thrive," poor weight gain, reflux, silent aspiration, coordination issues — not because she is a picky eater. Often we are asked why her tube is there if she can eat some food orally. Truth is, if it wasn't for her feeding, she wouldn't be thriving.
She has a chronic ear infection and strabismus and microcephaly and experiences slow growth/weight gain.
Naylah is rare.
Her rare journey started when a cardiologist thought she had more than heart issues; at about 5 months old she got diagnosed with trisomy 5q. That day our rare journey began.
That day an uncertain path started for us; fears took over — fears of the unknown.
It started with therapies and early childhood intervention and countless doctors to see.
Naylah will be 4 years old in May; she's gone through 11 anesthesia and nine surgeries.
I wish I could say we are done, but we are far from it.

This is rare; this is our lives. If we're not at the doctors, we're in therapy. We live in a routine. She's finding comfort in the medical world. When at the doctors office, she will go to her nurses and doctors for a hug or to get entertained by them. When in the hospital for a procedure, she plays with the nurses and happily waves goodbye before they take her away from me. This is trust. This is her knowing we are always doing what's best for her.
I've had the privilege to hold her twice, while she fell asleep for anesthesia. My heart broke into pieces while holding that small human being grasping for air, looking me straight in the eye. I smiled and sung to her until she fell asleep.
I've held her hands in a hospital bed when I couldn't hold her in my arms. I've waited for hours while they did a heart cauterization.
I've seen her heart beat at 250 while she still happily clapped her hands, leaving her doctors' mouths wide open.
Her little body is marked by surgery scars, and I am reminded daily of what she has gone through at such a young age.
I've heard she will not be able to walk, talk or "do much" by many specialists, and today she is defying the odds by doing exactly the opposite. We communicate through a communication device.
I've stayed up for hours searching what else I can do and getting ahead of her doctors so I could be the best advocate for my daughter. We've reached a point where our doctors listen to my concerns instead of by going by the book.
I've cried in silence for hours wondering why I couldn't find a similar case as hers and be able to know what is ahead for her, for us.
I've cried in fear of what tomorrow would be like and how her life growing up would be.
I've tried for hours to find another child with the same diagnosis, to know we are not alone. I still type "trisomy 5q" on the Internet to see if anyone else is looking for a child like mine so we can share our fears, our stories, and what our tomorrow might look like. All I see, all I find is our story, our journey.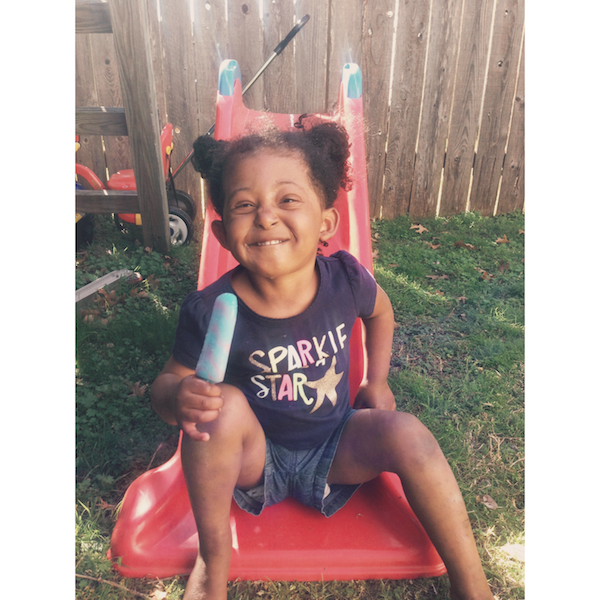 Our journey is written for the next parent who will have a child with the same diagnosis and perhaps will feel less lost like we once did. It's good to know you are not alone, that there is someone out there who knows exactly what you are going through.
We have that with our rare family community — different stories, different paths, some have no diagnosis at all and are still trying to find what makes them so rare. But we share something in common: someone rare, and each one of us is trying to raise awareness.
You don't know the love you have for your child and what you can do for them until it happens to you. You see the world differently; you want people to know the differences and you want them to accept it.

I've become my child's advocate. I fight for therapy hours with insurance, to get referrals for new specialists with our medical company.
Our home has been invaded by strangers — "strangers" who now love my little one and want what's best for her.
That is what rare looks like.
Rare is not knowing tomorrow.
Rare is fighting for your child's rights.

Rare is often feeling alone.

Rare is crying in silence because you fear no one will understand because they haven't walked that path.
Rare is also crying of joy over your child's accomplishments.
Rare is feeling exhausted because sometimes you wonder what else you can do and feel like you have no more energy left behind.
Rare is spending most of your time in the medical world.
Rare is trying to find a balance for your child to experience as much of a "normal" life you can offer.
Rare is knowing the meaning of loving unconditionally. Oh the love, oh the strength that unconditional word gives you.
Rare is knowing your child is happy. Rare is knowing you are doing the best for her. Rare is the rewarding cuddles and kisses and the trust she has in me.
You go beyond your limit; you do all you can for that human being.
So for Rare Disease Day, I'd like for you to know a bit of my daughter's journey.
It's rare, and it's our story.