When You and Your Child Live in the Shadow of Her Next Doctor's Appointment
---
I was talking to my husband about how I feel like we walk around with the looming threat of surgery over us all the time.
At any appointment we have for our daughter, it seems there is always the possibility of some surgery. Eye surgery, ear tubes, tonsillectomy and adenoidectomy, frontal orbital advancement and posterior cranial vault distraction, or midface advancement distraction, or possibly a foot surgery, other bone surgeries, spine surgery, dental surgeries — and there may be more we haven't even got to yet.
The thing is, no doctor has told us that she definitely doesn't need a surgery — whatever the surgery of the day is. And I don't think they ever will.
So insert the word "wait."
Leading up to a doctor's appointment, I find myself holding my breath and anticipating the appointment when we hear she does have to go through another surgery. And every time I hear the word "wait," I can breathe again. We've bought some more time.
The funny thing about time is that it is covered by this cloud of waiting. The looming threat, always hovering over us as a reminder of a potential storm that may come. So we find ourselves living our lives in the shadow of the next doctor's appointment. We make all our plans based on the possibility of surgery.
"Vacation? That's funny! But what if she never gets to see the ocean?"
All our conversations, all our decisions, all our plans have something to do with doctor's appointments and the threat of surgery.
But I realized the real threat is letting the possibility of what could happen make us put our lives on hold.
Saethre-Chotzen syndrome isn't going away. Our daughter is likely to have doctors appointments for the next 20 years. What if we get lucky enough to hear the word "wait" at every appointment?
"Wait" is the best word we can hear at the doctor's office. But we have to leave it there. We can't put our life on hold as we wait for the next appointment, the next report, the next outcome.
What if we took our daughter to the beach and she still didn't have a surgery? What if we took her to the beach and she did end up having a surgery?
What if, in the "wait," we lived like the outcome of a day two months from now didn't matter at all? What if we lived life today?
I think if we can figure out how to do that, then we are close to mastering this thing. And it's hard! It's a learning process. And I know we will have better days, better years, than others.
But I want to step out from underneath the cloud. I want to walk in the sun. My daughter deserves the sun.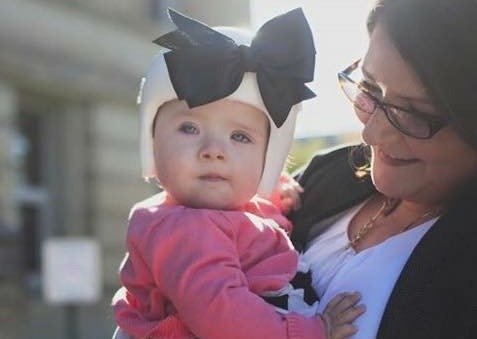 A version of this post first appeared on My Brave Joy.
The Mighty is asking its readers the following: What's one secret about you or your loved one's disability and/or disease that no one talks about? If you'd like to participate, please send a blog post to [email protected] Please include a photo for the piece, a photo of yourself and 1-2 sentence bio. Check out our Submit a Story page for more about our submission guidelines.