When My Daughter With a Rare Diagnosis Danced With Her Father for the First Time
---
We searched for Rodeo Championship BBQ Cook-Off booth numbers 913 and 915, where a party was being hosted for a camp in which my daughter, Samantha, participates. The area outside of the stadium was like a maze, but each aisle was labeled accordingly, and my husband John, Sam and I were getting closer.
From a distance, I heard dance music and I could see some children jumping around in a tent, while the balloon crowns they wore on their heads bounced up and down. I immediately knew this was where we were supposed to be. My heart smiled and I thought, "It's good to be different." Yet, at the same time, I didn't feel like we were "different" at all.
As we entered the area, parents and children we knew greeted us. Any screaming, hand-flapping or pacing behaviors others might find "odd" or "abnormal" or even upsetting were perfectly "normal" and fascinating to me.
Sam was nervous when we first arrived. She sat in her wheelchair and held on tightly to John's shirt and hand. She even frowned a little bit as she began to adjust to this new environment, where the mixed smells of barbeque, popcorn, funnel cakes, cinnamon cashews, corn dogs, hot dogs, and hamburgers filled the air. Within minutes, she noticed familiar, loving friends and realized she was safe.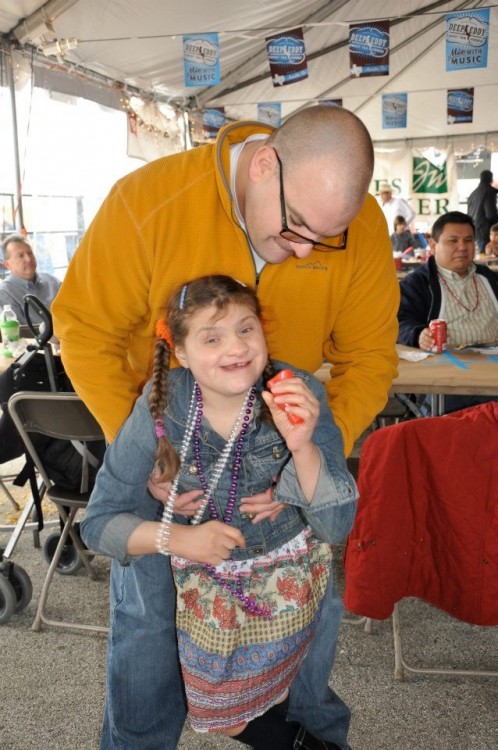 It isn't always easy taking Sam to new places. Sometimes she experiences sensory overload and will begin to scream, cry or run away and hide. Other times she is OK. Each time I expose her to a new experience or environment, I never know what to expect and I am always praying for the best, but I am also prepared for the worst. This is all I can do. Sam is who she is, and she will do what she does. She is full of surprises and this makes life interesting.
There are days, weeks, even months when it seems like nothing new and exciting is happening and Sam's progress is slow. She was born with a chromosome 18 abnormality called distal 18q-. One in 40,000 babies is born with distal 18q-. As a result, Sam was born with a wide, right unilateral cleft lip and complete cleft palate, severe hearing impairment, ADHD, severe intellectual and developmental delays, delayed myelination and autism.
When I first found out about Sam and her distal 18q-, I was distraught. My heart was broken. I wondered how, why and what I had done to make this happen. I wanted to understand why this had happened to my little girl. I wondered why she was chosen to endure all of these challenges. It was unfair.
I had always imagined my little girl as a scholar, a ballerina, or an athlete. I dreamed of teaching her how to color, draw, paint and create arts and crafts. I dreamed of swimming, walking, running and riding bikes with her. I imagined her playing dolls and playing dress-up. I dreamed of shopping with her, taking her to the movies, taking her to Disneyland, riding the teacups, the roller coasters, and doing all the things I did and learned how to do when I was a child. I dreamed of teaching her how to cook like my mom had taught me. I dreamed of her first talent show, her first dance, her senior prom and the day John and I would send her off to college.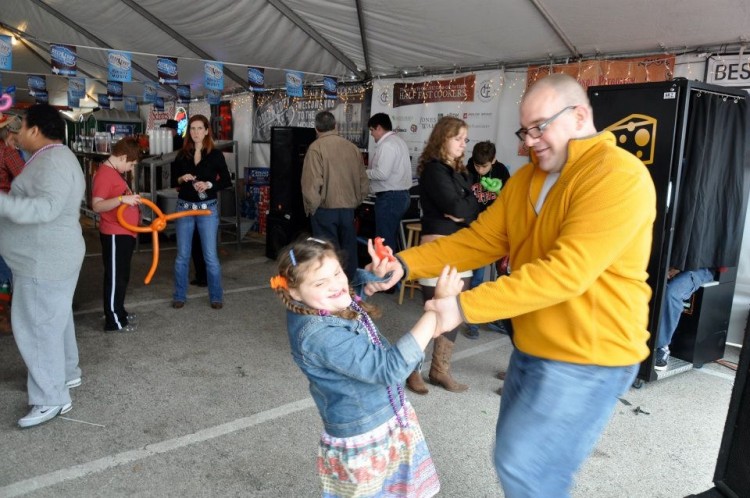 On this brisk morning at the Rodeo Cook-Off, Sam wore a new dress, denim jacket and her black studded cowboy boots. Her pigtails were braided and she proudly wore the white, silver and purple beaded necklaces that one of the volunteers had given to her when we arrived. She was content. She walked around, observed the entertainment and then decided to sit and eat. There were burgers, hot dogs and chips, but she chose to eat the Cheerios I had brought from home and, of course, the chips!
When she finished, she surprised me by happily running to the dance floor. John and I stood nearby, and then she took John's hands and they slowly began to dance. Sam was giving me one of those proud moments that I couldn't wait to share with my friends and family. She wore a smile that lit up my world, and all I could do was smile in return.
I noticed other people were smiling too, and at that moment I realized that my little girl was being exactly who I imagined she would be! My heart was filled with so much love and joy. I knew John's heart was full too.
On this rodeo day, Sam danced with her daddy for the first time.
Do you have a story about your experience with disability or disease? Maybe a moment that made a big impact on you? Please send it to [email protected] and include a photo for the story, a photo of yourself and a 1-2 sentence bio. Check out our Submit a Story page for more about our submission guidelines.