Why I Turned to Broadway for World Down Syndrome Day
---
Theater, like all art forms, is meant to educate, influence, organize and inspire. As a young actor growing up in New York City, I was fortunate enough to have been involved in youth theater companies where we were encouraged to do just that.
We wrote and performed our own material, mostly about politics, social justice, profound personal experiences and the occasional skits about zombies and superheroes. It was very empowering! I no longer perceived theater as a spectacle but as a forum that could affect great change.
As my career developed, so did my passion for arts in education. I spent a decade as a teaching artist in New York City public schools as well as pursuing my career in the professional theater. It was a difficult balance, and things got even more challenging when I became a parent. I put all my time and energy into being a mom. My life was all about baby, and Broadway was a dream put on the shelf. But after a few years, I realized my obnoxious belting in our tot music classes meant that it was time to dust off my equity card and get back on the stage!
Before long I was performing again, meeting wonderful artists and making great connections in the process. Things were going swimmingly, and I was hopeful that it was just a matter of time when Broadway called. But there was quite a different role that I was about to win, which would be the most important role of my life. Five years after having become a mother to my daughter, I became the mother to identical twin boys with Down syndrome, Julian and Noel.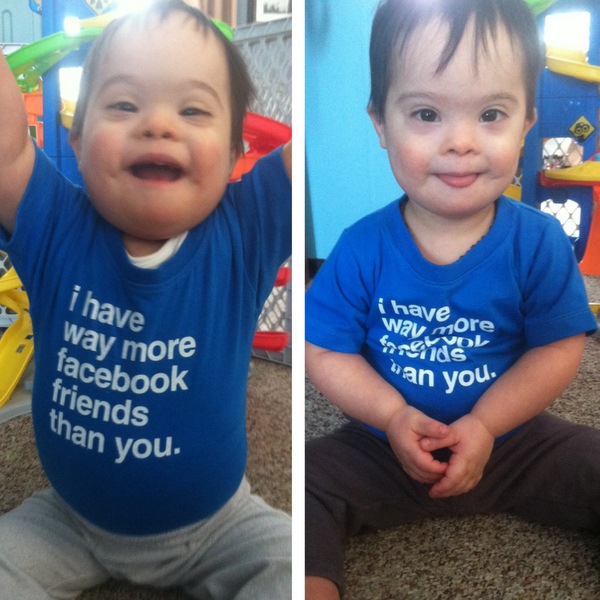 I had a prenatal diagnosis at 12 weeks, and I was terrified, in shock and incredibly sad. Although I loved the little boys growing inside of me, I couldn't help but think of the future I thought they would have. I had never met anyone with Down syndrome, and the medical professionals I spoke with had painted a very bleak picture.
I began to educate myself. Fortunately, because of the tremendous efforts of Down syndrome advocates, I found a plethora of support groups, videos, blogs, articles and essays, all shining light on the achievements and capabilities of people with Down syndrome.
One documentary in particular called "Dakota's Pride" put the joy back into my heart. I learned that people with Down syndrome are capable of anything. Given the right amount of love and support, there wasn't anything they couldn't achieve. I knew my boys would be just fine. Their future would be bright. They were already loved by their family, and soon, the world would meet them and love them as well.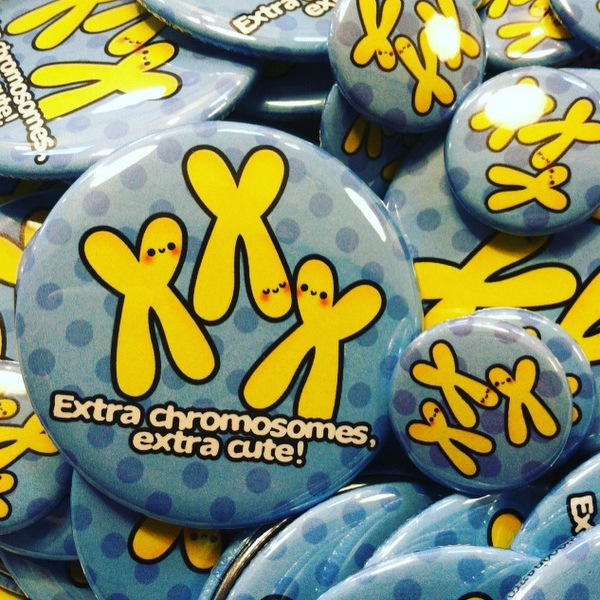 Soon after Julian and Noel were born, my first step in advocacy was starting a community Facebook page where I shared pictures of them doing the same adorable things that any typical child does. Then I dabbled in blog posts and essays, hoping to inspire others and raise awareness. On World Down Syndrome Day (WDSD), we got hundreds of people to wear funky socks! But this year in particular, I wanted to do something different for WDSD. I had pins designed for our family that featured a charming extra chromosome. My friends loved the design and showed interest in buying some. So I ordered more and sold some to friends and family with the proceeds going to a local charity supporting Down syndrome.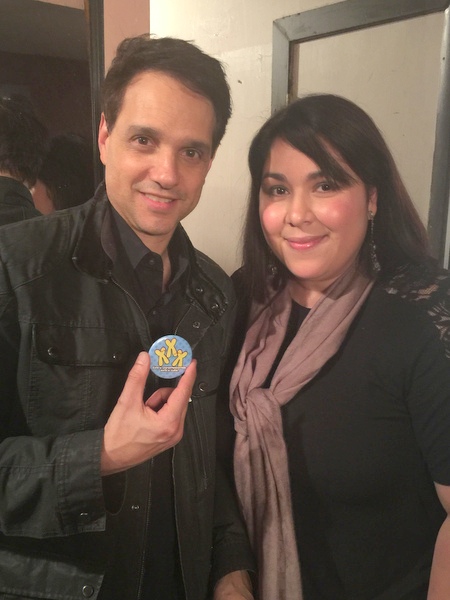 When I learned the theme of WDSD this year is "My friends, my community," it occurred to me to try and gain support from my beloved theater community. Who better to ask for support than the people who educate, influence, organize and inspire people every night on the stage. I took to the Great White Way and distributed my pins, along with information about WDSD to several theaters where my friends work. I even had the pleasure of meeting some celebrities and Broadway stars in person and explaining my awareness initiative. They were more than happy to help by wearing our pin and sharing it on social media.
I specifically asked them to use the hashtags #wdsd16, #myfriendsmycommunity and #julianandnoel. I can't wait to see who gets involved on March 21. It warms my heart to see people, especially those who never knew anything about Down syndrome, take an active role in spreading awareness on World Down Syndrome Day.
It's been a rewarding journey advocating for the boys. And it's been even more rewarding to be their mother. Every day is a lesson in faith and commitment. Every milestone they achieve is a result of hard work and unwavering dedication. They are art in motion.
They inspire me to keep dreaming, not of a lead role on Broadway (although that would be nice), but rather, of a world in which they are met with kindness, respect and acceptance at every turn. A world in which they are people first! As long as we keep raising awareness for the rights of people with disabilities, we show the world that all humans are important in society and shouldn't be defined by their disability. My sons are not their diagnosis. They are toddlers. They are not Down syndrome. They have Down syndrome. They are my boys. They are just Julian and Noel.
The Mighty is asking the following: What's one thing people might not know about your experience with disability, disease or mental illness, and what would you say to teach them? If you'd like to participate, please send a blog post to [email protected] Please include a photo for the piece, a photo of yourself and 1-2 sentence bio. Check out our Submit a Story page for more about our submission guidelines.