A Trader Joe's Employee's Unexpected Act of Kindness After Learning About My Dystonia
---
"Excuse me, miss. Where can I find the raisins?" I asked of the Trader Joe's employee who was just coming my way. It was late in the evening and my husband and I were on our last errand in what had been a very long and particularly hard day. I was in pain, exhausted and I looked it.
"They're over here," the young woman with a petite frame and tossed brunette locks said, and escorted me to the dried fruits. She pointed out that the Jumbo Medley was particularly good. I explained that the raisins were for my mother's morning oatmeal and Mom wanted the regular ones, but the Jumbo Medley looked good, so I accepted those from her hand. After chatting for a few moments about raisins, she asked me about the braces on my arms and my knees. " I have dystonia, have you heard of it?" I asked. To my surprise, she had.
I felt things shift just a little. I told her briefly about the car collision that changed my life forever in 2010, and that now, I was a disabled caregiver, caring for my mother in my home. She smiled warmly and spoke with empathy. While she was speaking, I was fighting to hold back tears.
My mind went back to when Trader Joe's first opened in my neighborhood. I had missed the grand opening because at that time, I wasn't quite ready to tackle the crowds, aisles, noise and excitement of a grocery store. The car collision left me with injuries to my brain, inner ear and neurological system. I had to learn how to compensate, navigate, articulate, and acclimate to my new system of functioning. In particular, I had to learn a new way to balance my body and deal with dystonia, which is like living with an invisible force that is twisting, pulling, pushing and squeezing the living daylights out of me, 24-7. So the day I finally did get to go to Trader Joe's for the first time, it was for me, like walking down the aisle of a graduation ceremony. I thoroughly enjoyed my victory. And every time I returned, I enjoyed a beautiful, friendly and helpful staff of happy employees that added to the experience.
But today was a bit different. Someone actually reached out and gave me more than what I was looking for on a shelf. We bid goodbye, and I made my way to the checkout.
As my items were being rung up, that young woman placed a lovely bouquet of flowers for the cashier to put in my bag. She didn't present them to me with a flourish, she just did it, gently and quietly. I turned and softly hugged her.
The flowers lasted two weeks. The gesture will last a lifetime. Thank you, Kaitlyn. And thank you Trader Joe's for having such exceptional, kind employees.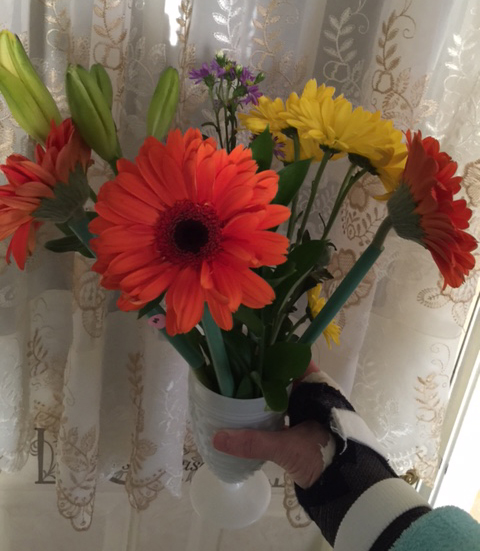 The Mighty is asking the following: Share with us an unexpected act of kindness, big or small, that you've experienced or witnessed in an everyday place. If you'd like to participate, please send a blog post to [email protected] Please include a photo for the piece, a photo of yourself and 1-2 sentence bio. Check out our Submit a Story page for more about our submission guidelines.