U.K. Based Retailer, Marks & Spencer, Creates Clothing Line for Kids With Disabilities
---
Of all the expenses that come with managing a disability, paying extra for adaptive clothing is often a necessary expense.
However, Rita Kutt, grandmother to Caleb Kutt, a young boy with cerebral palsy, wants to make the cost of clothing for special needs kids a bit more manageable.
"[Clothing] was such a financial worry, since Caleb's mum gave up working to care for him full time," Kutt told The Mighty. To accommodate her 3-year-old grandson, Kutt needed to purchase special clothing with room for a diaper and feeding tube. In England, where the Kutts are from, the onesies Caleb needed were anywhere from 12 to 15 times the price of onesies for non-disabled children.
"If the items didn't have to be so expensive, then Caleb could have more private physiotherapy, which is so beneficial for him," Kutt said. "I began thinking that if stores could make [onesies] up to 3-years-old for not much more than £1 each, why can't they make them bigger? After all it's only a little bit of extra material."
So Kutt wrote to Marks & Spencer, a popular retailer in the U.K. that ships internationally and offers free shipping to the U.S., Canada, New Zealand, and Australia. After reaching out to Marks & Spencer's customer service department, Kutt was contacted by the company's buyers who said they were interested in her proposal and thought they could help.
"We've been in constant touch, and they have been sending samples and trial suits for Caleb to try," Kutt told The Mighty. "My daughter-in-law Zoe has been able to give very positive feedback and has made suggestions as to how the clothing could be tweaked to suit older children."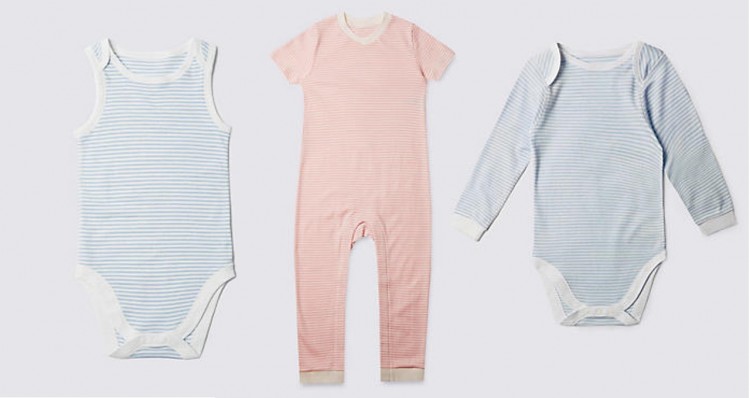 Marks & Spencer's current line of "Specialist Bodysuits" is made for children between the ages of 3 and 8. Prices are affordable, ranging from $5 for a sleeveless bodysuit to $11 for a long-sleeve sleeping suit. Marks & Spencer plans on extending the line to fit children up to 16 years of age and will feature new age appropriate designs.
Following the success of her letter, Kutt has started a Facebook group, "M&S and Me. Special Needs Clothing for Children," to keep people up-to-date with the fashion retailer's line of clothing.
"We're hopeful that with much more affordable clothing for Caleb it will be a weight off his mum and dad's mind, and they will be able to continue with the private physiotherapy he so needs," Kutt said. " I know lots of families will have their own individual expenses to accommodate their children's needs, so this should also help them too."