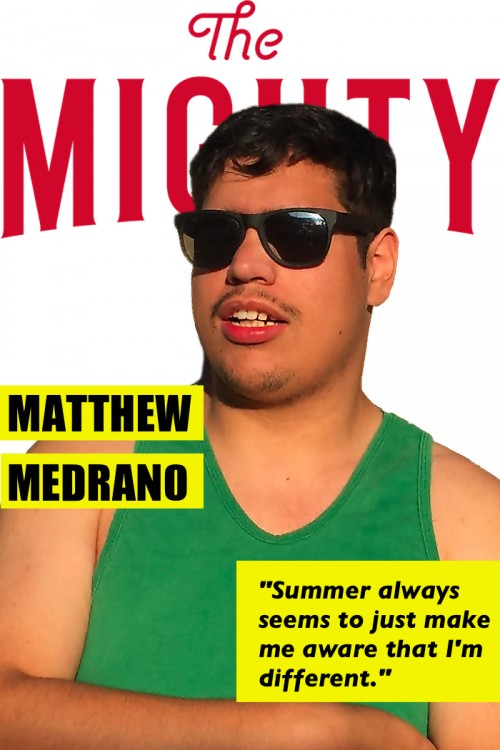 For Matthew Medrano – a filmmaker, writer, and actor living in Los Angeles – having cerebral palsy makes sculpting a "beach body" a bit of a challenge. "I do not have a 'beach body' in any sense of the word," the 23-year-old said. "A beach body seems to be someone with a flat stomach. Abs are a plus, and… here in LA, it almost seems to be a requirement."
"For me, the arrival of summer always meant health food, exercise, and days lounging out by the pool," Medrano said. "While I don't absolutely dread any of it, summer always seems to just make me aware that I'm different." For example, Medrano can't wear flip-flops. Every time he tries wearing them, it feels like his toes are breaking.
"Society has shown us to have a beach body, you practically have to spend all your time at the gym, eat nothing but kale, and cut any and all junk food and alcohol," he explained.
Going to the gym can be particularly challenging for someone with CP.
"When friends rave about the newest exercise craze that helped them achieve their beach body, just watching it makes me want to check into an ER," Medrano said. "To borrow from Emma Stone in 'Crazy, Stupid Love,' it looks like they're photoshopped. And I'm green with envy."
This summer, Medrano is trying to be healthy and maybe lose some weight, but he's doing it all in moderation: "Excuse me if I enjoy a piece of cake or a cocktail once in awhile."
Read More: This Is What It Looks Like When You Feature Disabled and Chronically Ill People in Magazines
Next: Melanie Rickmann Is Tired of Seeing Moms Being Body Shamed