October 6, 2016
How a Kindergarten Project Taught Me to Trust My Son With Autism
---
Sending a vulnerable child off to his or her first foray into the larger world without the shelter (OK, constant hovering) of a loving parent nearby can be emotional for any family. I feel especially vulnerable sending a child diagnosed with autism spectrum disorder (ASD) into a new environment where he, and I, will be tested in ways that we have not yet imagined.
I will admit to possessing a lot of baggage on this topic. We lack proximity to an extended family support network, so prior to the start of kindergarten, I could count on my fingers how many times my oldest son had not eaten lunch with me, much less spent the night without me. For the few times a week he had morning preschool, I barely had time to complete the grocery shopping before picking him up again. I was his interpreter, his defense, and, maybe, we were one another's means of hiding, too. Our normal was never called into question. This was our routine — our small life.
Despite my insecurity about sending him off, pragmatically, my spouse and I made lists of pros and cons. We toured and studied private, charter and public local schools. I brought up homeschooling as an option. School research was our actual hobby for a matter of months. My diligent husband created Excel spreadsheets to calculate our votes with a statistical margin of error. And we came back repeatedly to the answer that our school of choice was the best fit for him, and the best fit for our family. Somehow, as the start date came nearer, that sense of calm ration deserted me.
The early childhood support team we clung to for the past two years changed over to an elementary team fielding a much larger caseload. That first team had walked us through the initial evaluation process and saw me cry in the car before driving away. They watched as we learned to parent: teaching toilet training and enforcing the wearing pants out of doors. The new team may certainly be just as or more proficient at their jobs, but saying goodbye to our trusted support team was challenging.
There was a different aspect of parent presence in preschool. If we arrived 15 minutes late due to an early morning meltdown, no explanation was required. Because our preschool had no busing option, I recognized the students and their caretakers by sight, if not by first name. Asking for patience, and sometimes some leniency, was less of an issue when it impacted one partial-day classroom.
We attended open house to meet the teacher. I took our gaggle of children for trips to practice the school bathrooms and to try out the playground. Nearly a month in advance, we were counting down the days and doing everything possible to make the transition as smooth as possible: countless library books about school, a paper chain countdown, personalized school supplies, a list of acceptable lunch options. We let him plan his entire first day of meals and snacks, and there were not nearly enough vegetables. 
On the first day, I was numb with fear, excitement and pride. Walking away from him was one of the hardest moments of my life. We made it through those first few days where he and I came home yelling and crying and trying so desperately hard to adjust. He didn't eat, drink or use the bathroom. I didn't sleep. I read up on the rules and manuals; he played Legos in isolation. We gave ourselves more time, and I wrote a lot of emails. I nodded and put on a brave face.
I am starting to know his new support team on a first-name basis. He has moments where he is overcome with excitement about his new library card or he found the sticker I put in his lunch box. One day, he came home and spoke about another child by name! Granted, this classmate had sustained a broken arm during recess, but I was so encouraged that he had connected with another person that I enabled the making of a "get well soon" card.
There are glimmers where a new baseline is emerging, where he and I have come to an equilibrium once more, a balance of getting by, and some hard times, and having fun.   
And then today, this came home: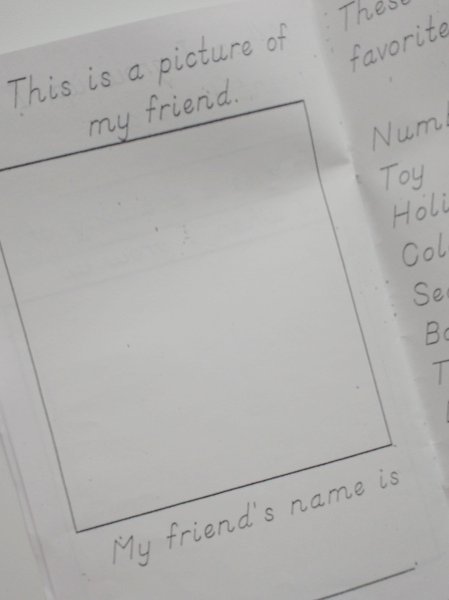 My gentle and loving 5-year-old boy wants to complete the picture with a drawing of the stuffed puppy he has slept with since he was 1. I am so scared. I have to trust that the other parents, parents of children I have never met and whose names I do not know, are putting in their work, too. How will these other 5- and 6-year-olds respond to a boy whose best friend is a stuffed animal? Will they see an opportunity to be a friend to him?
Letting go of control and being willing to risk it, to trust my boy to his own limits and to trust others with his heart, is my experience of kindergarten. We can do this together.