4 Ways My Brother Is My 'Unsung Hero' as a Person With a Disability
---
Siblings in the family of an individual with a disability sometimes get a rough deal. Routine hospital appointments, illnesses and various operations or interventions mean that the child with the disability, through no fault of their own, often gets more of their family's time, attention and resources. Yet brothers and sisters regularly deal with these circumstances with outstanding grace and maturity.
I want to take this opportunity to pay homage to one of the unsung heroes in the life of a person with a disability. In my case, this happens to be my brother David.
Two years older than me, David and I have always had what you could call a "banterful" relationship. He teases me rotten and drives me nuts, but there are some things I am particularly grateful to him for…
1. He got me crawling. Mastering the art of crawling, standing, and walking was a particular challenge for me in my earlier years. But fortunately for me, my brother was on hand to help! Being a clever boy, David figured out that in my pre-crawling months he was able to steal a toy from me, shuffle back a meter or two, and be safe from my grasp as I could travel no further to reach him. After months of annoyance on my part, I decided that enough was enough and launched myself at him… much to his surprise. Apparently his face was a picture as I steamed towards him on all fours to reclaim my stolen toy! He's been careful about stealing my stuff ever since…
2. He got me standing. After months of false starts, and many hours spent in a contraption called a "standing frame," I finally managed the whole "being upright" thing thanks to David. Being the younger sibling meant that I was always interested in what my older brother was up to, and wanted to be at the center of the action with him. One evening David had disappeared for a bath, and I wanted to know where he was. The story goes that I crawled into the bathroom, looked around for him, heard his voice, grabbed the side of the bath and pulled myself up so that I could see David sitting naked in the bath. Again, another surprise for that poor boy!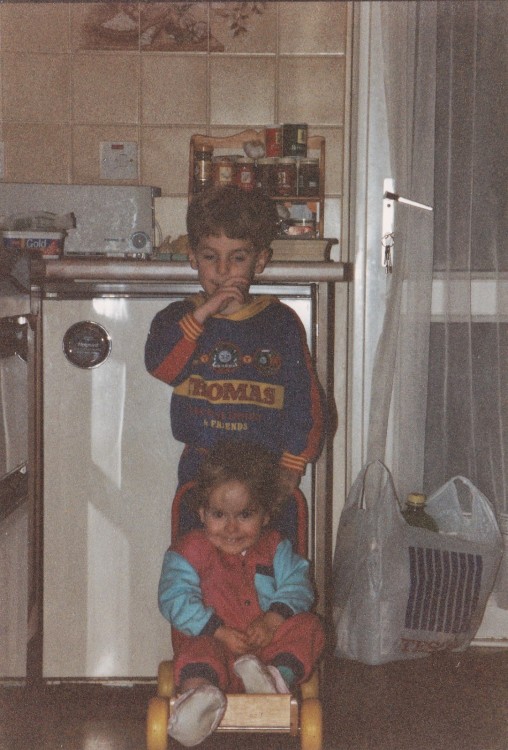 3. He helped me to walk. When I was young, I had intensive physiotherapy courtesy of the NHS. I was visited regularly by a lovely physio, and my parents engaged in a daily routine of exercises to help build my muscle strength and tone. In one physio session, when I was around 3 and a half, I decided that enough was enough and it was time to try this walking malarkey. This of course was a great result for me and my family, especially as medical professionals had suggested this might not be possible for me. The ever-helpful David was, of course, determined to aid my mission to be vertical. He assisted me by acting as ballast in my toy brick truck, which I leaned on to give me support as I tottered around.
4. He turns up willingly in times of need. He's always there when it matters most, providing hugs, brotherly advice and of course – food! David will call me out if I'm being silly, often telling me to "man up" and get on with it, but he's always one of the first to give me a cuddle when things have been really bad. Whenever I need him, he is there and will move heaven and earth to support me.
In my final year at university, I developed sepsis and was admitted to hospital as an emergency. I felt incredibly unwell, and with my parents over 130 miles away in Norfolk, it was down to David to swoop in and save the day. Being the social butterfly that he is, his response, when I rang him at around 8:00 P.M. on a Saturday to tell him I was at the emergency room, was "Oh crap, do you need me to stop drinking?" Knowing that he was potentially going to be called in to swoop to my rescue, he finished his pint and remained on standby to hear what the next steps were. I was admitted to the ward later that evening and David arrived the next morning with chocolate buttons, Diet Coke and catheters – the essentials! What a legend.
Ladies and gentlemen, raise your glasses to our unsung heroes — our siblings!