Why I Became an Ambassador for the Lupus Foundation of America
---
Some people ask me how. How could you be so passionate about something that has altered your life and causes you to struggle? How do you have this strength to keep pushing? That's always an easy one. I try to fight back harder than how hard lupus attacks me.
Lupus has changed the way I think and feel, how I approach different people and situations, how I plan my future… I could go on. What is my forceful method in fighting back? Becoming part of that force dedicated to finding a cure.
I started out volunteering for the Walk to End Lupus Now NYC right after I was diagnosed last year. I had great success fundraising, an enjoyable time with my family and boyfriend and had an emotional first walk inside. It was truly an incredible and inspiring experience. I fundraised to attend the Evening of Hope Gala, where the speakers tugged on my heartstrings and almost drove me to tears and spoke of inspiring projects that could finally lead to a cure. I became part of the Young Leadership Committee in NYC to bring young minds together to unite the entire metropolitan area in raising funds for lupus research. I became hooked. I knew I was making a difference. Then, I was invited by the foundation to become an official Lupus Foundation of America Ambassador and participated in formal training just last weekend. This is such a proud time in my life. This is how I've found the strength to become an ambassador.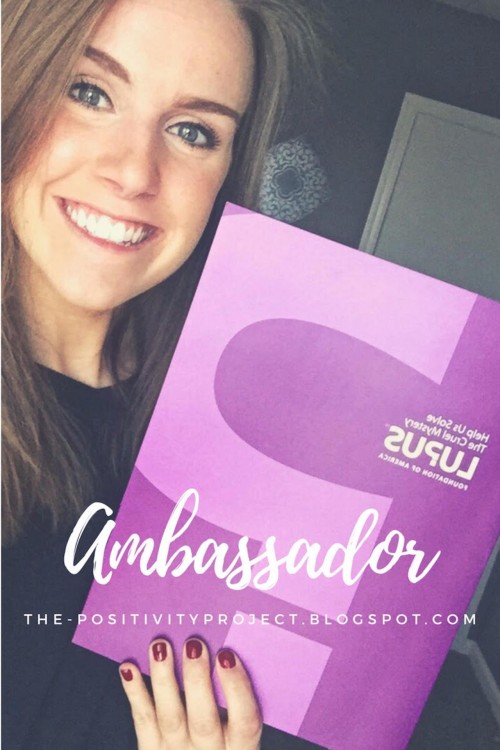 I can control the uncontrollable.
I believe only God knows what my situation with lupus is going to end up like. In the meantime, I can take steps to ensure I live the most fulfilling life possible despite lupus. They call this autoimmune disease "the cruel mystery" because nobody can predict what it will affect day to day. By becoming an ambassador, I can create a force in society that will encourage education about this illness, bring about constructive conversation, increase awareness and funding and increase our chances of finding a cure. This is what I can have control over. I can't predict what tomorrow will bring, but I do know that my efforts will directly correlate with the expansion of vital research. Subconsciously, this is how I cope. Every time I speak or attend an event, I feel this new glimmer of hope. I'm confident that through these efforts, we will find the sought after cure for lupus in our lifetime.
There's a force I can always turn to.
I've gained a new family. Being from the NYC area, I've met people at these events from all walks of life and all backgrounds. We all have one common goal that brings us together. This unity is truly remarkable. We are not only advocates for ourselves, but advocates for each other, and we constantly celebrate each other's successes. Whether that's on social media or in a private conversation, we all know we have someone out there who knows what having lupus is like and who is advocating just as hard as we are. I met with some amazing people at our ambassador training last weekend. Re-acquainting with some old faces and encountering some new ones, we were able to open up and share the dark times of our stories but at the same time celebrate what we were trying to accomplish together. Each one of these beautiful people are taking this disease in their hands and choose not to be negative about the outcomes of their lives; instead they are strong and make the world a better place. Being surrounded by this is surreal, and I finally feel like I am not the only one battling this. I feel like although I lost some quality of life, I gained a second family – which is truly priceless.
Empathy.
This is huge, and it's one of the reasons why I wish to pursue the career path in health care I'm embarking on. I know the daily struggle of lupus, but I'm blessed that I am able to still do so much in my life. When I'm uncertain where my path is taking me, I take time and pray that God will carry out his purpose for me. Through my journey I believe that God is using this illness for good, and not to give me hardship. One Bible verse nails it perfectly. It was sent to me right after my diagnosis, and boy, was it right.
Jeremiah 29:11 says:
"For I know the plans I have for you," declares the Lord, "Plans to prosper you and not to harm you, plans to give you hope and a future."
My purpose in life is to help those who are struggling and unable to help themselves. These people, like myself, need hope in their lives; however, some are unable to have a hands-on approach. They rely on people like us, who understand how cruel lupus is and therefore are motivated to make a difference. We are their hope. This is what becoming a Lupus Foundation of America Ambassador means to me.
We want to hear your story. Become a Mighty contributor here.