August 28, 2017
6-Year-Old Goes Bald for Her Best Friend With Neuroblastoma Childhood Cancer
---
St. Baldrick's Foundation is a childhood cancer charity funding the most promising research to help find cures for kids with cancer.
BFFs Lindsey and Hazel have a lot in common. They're both 6 years old, they're the same clothing size and now they're both bald — but for very different reasons.
Hazel has neuroblastoma and has lost her hair as a result of her treatment.
So Lindsey decided to shave her head to raise money for childhood cancer research in honor of her best friend.
Hazel and Lindsey's friendship isn't an ordinary one. They met after Lindsey's older sister Ashley decided to donate toys to Children's Hospital Los Angeles (CHLA). Lindsey's mom Elise contacted Hazel's mom through Facebook and asked her for information about donating to CHLA — the same hospital Hazel was being treated at.
When they finally met face-to-face the families became fast friends.
"[Hazel's sister] Elizabeth is 8 years old, a year younger than Ashley. It worked out really well — we all became instant friends," Elise said.
And this friendship foursome knows how to have fun. They've ridden a real-life unicorn during a "Create a Smile" day for Hazel and they know how to put on a killer fashion show.
"Since me and Hazel are the same size we share clothes," Lindsey said. In fact, a lot of Lindsey's fashion choices are inspired by Hazel.
"She picks out her clothes because of Hazel, like the shirt she was wearing the day of the shave that says 'My BFF makes every day awesome.' She said she wanted to wear it because of Hazel. She's got a few shirts like that and she'll wear them whenever Hazel's there," Elise said.
The boldest fashion choice inspired by Hazel? A bald head to match her best friend's.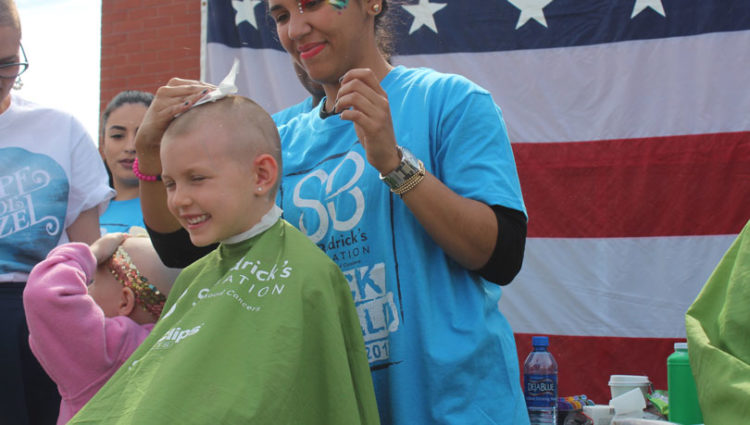 "When we heard about the LAFD/LAPD St. Baldrick's event I said we're going to this regardless — we're a fire family, we're a friend of Hazel's and we're going and supporting them," Elise said.
But Lindsey took her support a step further.
"The Wednesday night before the event Lindsey came to me and said, 'Mom, can I shave my head?' And I'm like, 'Yeah, let's do it,' thinking maybe she would change her mind," Elise said.
But she didn't — and Hazel was right there with her on the day of Lindsey's shave, helping the barber guide the razor.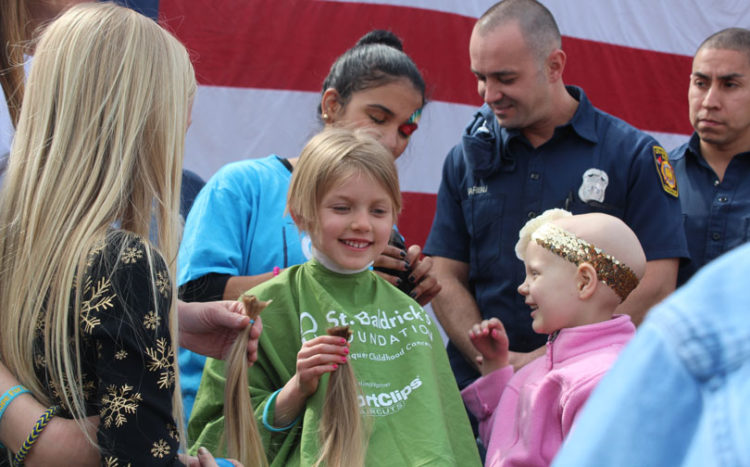 "She didn't flinch. She just completely went through with it… and she still loves it almost a month later," Elise said.
But Hazel wasn't the only reason Lindsey's shave was so special. Lindsey's dad is a firefighter, but he wasn't able to make it to the big event. Thankfully, the firefighters at the station that hosted the event were more than happy to step in and support her.
"I went to the captain at the station and said, 'Lindsey's dad has to work, so could you guys rally around her during her shave?' So they did and she loved that. Aside from Hazel and everything, that was her favorite part of the shave," Elise said.
Lindsey has already raised over $1,200 for childhood cancer research — and she doesn't plan on stopping there. She will keep shaving and fundraising for childhood cancer research for as long as her best friend needs her to.
"She said she wanted to shave it for St. Baldrick's again," Elise said. "She'll keep it shaved until Hazel is cancer-free."
This post was originally published on the St. Baldrick's Foundation Blog.
We want to hear your story. Become a Mighty contributor here.