What Happened When I Attended a Screening of 'Unrest'
---
"Unrest" follows the story of Jennifer Brea becoming ill with ME/CFS. The film goes so much farther beyond this narrative. It's also a science lesson, moving love story, a tale on the adaptability of the human spirit and a call to action. This past spring I attended a screening for "Unrest" at the Ted Rogers Cinema in Toronto. Something powerfully transformative happened during the screening. Something that's hard to articulate in a review.
Having ME/CFS and being in a crowd of others with ME/CFS — watching this film together — was pretty exciting. It's not often we all get together like this. Before the film began, I scanned the crowd with curiosity. I knew there were others in the crowd whose lives likely mirrored my own. There's something instinctive about always trying to see ourselves in others. We are searching to find commonality and a sense of belonging. It also felt good to be in a room full of people with the same purpose: to talk openly and honestly about ME/CFS. Something I had refrained myself from doing for so many years. This is because society often makes illness feel like a taboo or "dark subject." There's an underlying mentality that you're a positive person if you're feeling well, and a negative person when you're not. Thankfully shame and untrue ideas were checked out at the door. We got down to business, and watched the film together.
There were so many powerful scenes. My heart would break during one, only to be mended by another. Omar (Jen's husband) and Jen's love was so deeply palpable. I especially resonated with the impacts of illness entering a relationship. It made me reflect back on my own. How relationships became the hospital for my soul, when illness was emotionally breaking me down. By the end of the film, my sleeve was pretty soggy. I had forgot to bring kleenex. Judging by the sea of sniffles around me, I wasn't alone in this dilemma.
As the credits rolled, something unexpected happened. The silence of the theatre was suddenly pierced by a deep, guttural sobbing. It was coming from the front of the theatre. It was coming from a woman,  held in the arms of another. The sound of pain is a sound one does not forget. Her pain was unmistakable, the weight of grief undeniable. There was no holding back. It was unapologetic, and it was raw. You could only be with it, and in doing so, be with your own pain.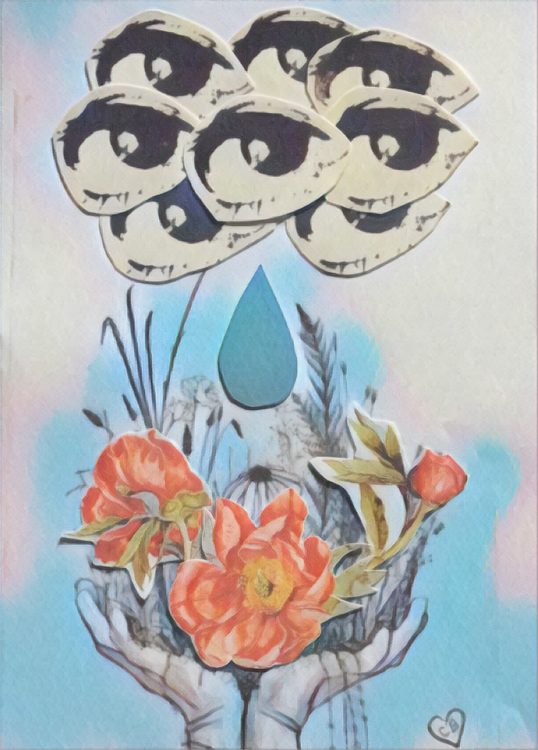 Jennifer was backstage and had not yet come on to speak. She was wearing her microphone. Soon, her sobs began to echo through the theatre. It was an invitation to connect and make room for the shared pain in our hearts. Soon the theatre was filled with strangers bearing their tears. Pain that had previously been held in. Pain reserved for release behind closed doors and into pillows. This is the pain that goes unseen and unheard. The room suddenly became vulnerable, intimate and real.
When we talk about healing, it is often only referred to in a physical sense — as a precursor to cure. There is another type of healing. It is the healing that takes place when your struggling is validated, seen and heard. It is one that happens when we move closer to each other, and truly listen. It is touching with love what has been touched with shame, stigma, fear and overwhelming loss. This is healing of the heart. This healing arose in the theatre because the film "Unrest" resonated and captured our voices justly. I witnessed firsthand an emotional catharsis amongst complete strangers. This will remain one of the most profoundly moving moments of my life. I felt in a sense, we healed out of our separateness through our shared pain – pain universal to the ME/CFS community. Pain gracefully captured by this film.
Share and spread the word about "Unrest." It could help someone with ME/CFS experience the same emotional healing I and others had that day. This was the impact from one screening, in one room. Imagine the global impact on recognition, education, research and funding it could have from more. This film is also really great to recommend to the blank stares you get when you say you have ME/CFS. You can also point them too Jennifer Brea's amazing TedTalk.
This film is powerful, and I hope you are moved by it as much as I was. Oh, and don't forget the Kleenex!
Haven't heard about Unrest before? You can watch the movie trailer here:


Unrest is also available on iTunes now.
I'll let the 100 percent Rotten Tomato Movie Reviews speak for themselves.
We want to hear your story. Become a Mighty contributor here.