Fearing the Uncertainty of My Future With Cystic Fibrosis
---
Three months ago I posted a selfie on Facebook. It was a warm, sunny June day. I was at the river with my dogs and sat in contemplation on the shore absorbing the sun. On this Sunday, I knew I was being admitted to the hospital in the coming days to commence intensive treatment for a bacteria that had colonized inside my lungs: non-tuberculosis micobacteria abscessus. A rapid-growing bacteria that, left untreated, has the potential to cause a decline to my lung health of approximately 2.2 percent per year. A nasty little fucker of a bug, to put it mildly. My caption to this photo was along the lines of "trying to mentally prepare for something I have no idea what to expect." Well, I was bang on the money about not knowing what to expect.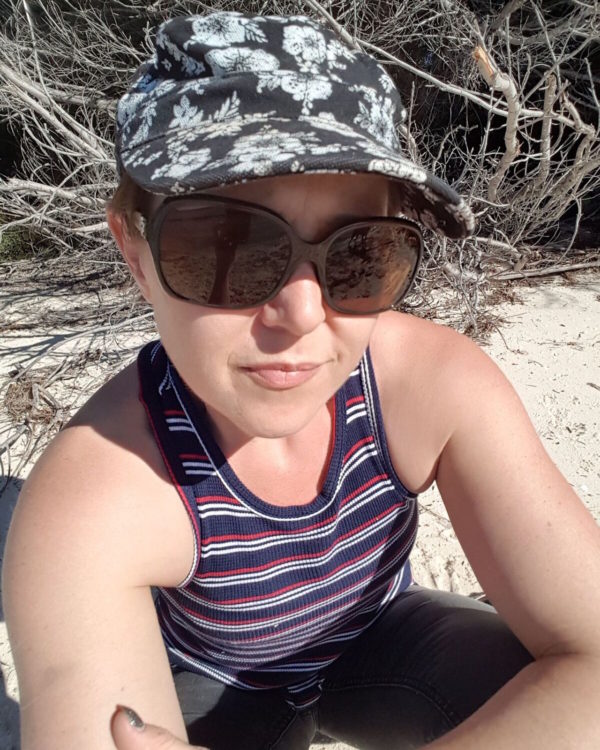 Fast forward to today, and I have just completed 86 days of IV (intravenous) treatment consisting of two very heavy antibiotics. My picc (peripherally inserted central catheter) line was extracted mere hours ago. I am free and I should be happy. Right? I am happy to be rid of carrying around a baxter infusion pack 24/7 and untangling it from around my neck every night as I sleep (or attempt to sleep). I'm certainly happy I no longer have to strap a ridiculous looking bum-bag around my waist in which to stow the baxter when training. But I feel anything but elated.
And I know what it is. What it is that's stopping me from being super excited that I've reached the other side of the treatment. It's the fear. The fear that this won't have succeeded in killing the abscessus. The fear that it will have all been for nothing. The fear that my life is going to be shorter than I thought it would be. Having cystic fibrosis, I know I'm unlikely to live to reach old bones. Over time, I've learned to be mostly at peace with that knowledge. The last thing I want is to be old and really, really unwell. But I find myself now fearful of being young (well, young-ish as I'm certainly no spring chicken anymore!) and really, really unwell. I'm just not ready for it. I can't accept it. I'm already starting to lose my independence and I need help with certain aspects of my life.
Loss… I've had to deal with so much of it since being diagnosed with CF and the one thing I've held onto so tightly for so long is the ability to live a life of my choosing. No one knows what the future holds. No one knows for certain what will happen… But there is a percentage of the population that has a pretty good idea of what is in store for them, should their lives take their natural progression. It's the chronically ill. Me. I can see it. I can feel it. I can breathe it. And right now, I don't know how to live with it.
By nature, I've always been quite a positive, optimistic person. I'm the glass half-full type. I take the hits and look for where the positives are in them. I learn from them, allow them to make me a better person and the best version of myself I can be… And as I type this I think to myself, "Where has she gone? That girl, the one who inspires people by turning something shitty into something amazing? What have you done with her?" While nothing, literally nothing, could have prepared me for the intensity and impact of the treatment on my body, my emotions have become so erratic and I've struggled, really struggled to find the positives like I normally would. Never before have I been faced with such inner turmoil, sadness and panic.
It's changing my life now, this bloody disease. I no longer feel certain I can just do whatever I want and live a life on my terms. I know it's OK to live with a certain amount of fear as it can be motivating, as long as it is placed in a little box where it can be acknowledged, but not given any air time. This is my immediate challenge for the moment. To learn again how to let the fear be part of me without it dictating my thoughts and my actions. I know as the drugs start to leave my system I'll start to feel lighter, and things that have been so difficult over the past three months will get easier. From there, I'll find my spark again.
We want to hear your story. Become a Mighty contributor here.